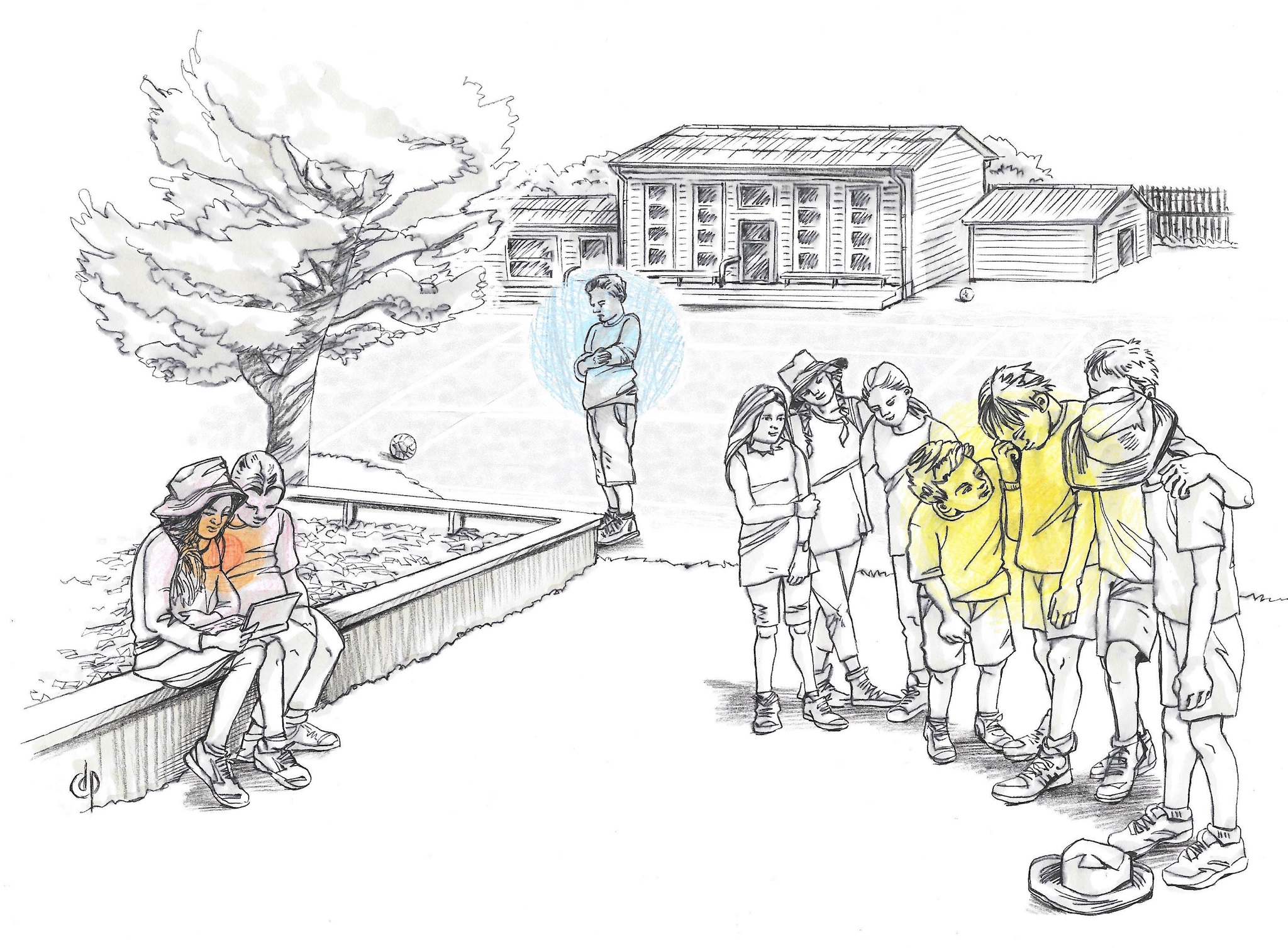 "You can't sit with us," yells the bois­ter­ous young child, "you're stu­pid!" He throws a hand­ful of bark at the dejec­ted class­mate, and the oth­er chil­dren around all start to laugh. The small child walks over to the fur­thest bench and sits, eat­ing his lunch alone.
Wheth­er they had been called names or been hurt by oth­er stu­dents were two of the six ques­tions that the 2012 Trends in Inter­na­tion­al Sci­ence and Math­em­at­ics Study (TIMMS) used to assess bul­ly­ing being exper­i­enced by primary school stu­dents around the world. New Zealand's bul­ly­ing rates were starkly exposed in this study, which con­cluded that we have the fifth-highest repor­ted bul­ly­ing rates among primary school chil­dren worldwide.
Bul­ly­ing is often seen as name-call­ing and play­ground fights, but it can be much more than that. So do we really have a clear under­stand­ing of what bul­ly­ing is? Dan Olweus, from Clem­son Uni­ver­sity in South Car­o­lina, has defined bul­ly­ing as recur­rent and harm­ful acts that involve an imbal­ance in power. This can range from teas­ing based on someone's phys­ic­al appear­ance, to throw­ing tree bark or a punch. Olweus is the found­ing fath­er of bul­ly­ing research and inter­ven­tion after approx­im­ately 40 years of work­ing in the field all over the world.
Bul­ly­ing is not new. Our grand­par­ents received wedgies and had to dodge spit­balls. And now our chil­dren are being bul­lied — both at school, where the hall­ways can at times be a battle­ground, and at home, where their mobile phones and com­puters are being used as weapons against them.
In 2013, Vanessa Green from Vic­tor­ia University's School of Edu­ca­tion­al Psy­cho­logy and Ped­agogy (with stu­dents Susan Har­court, Loreto Mat­tioni and Tessa Pri­or) pro­duced the Bul­ly­ing in New Zea­l­and Schools report. Green and her team found that 94 per­cent of the sur­veyed schools say they have a prob­lem with bullying.
"This report shows just how much of a prob­lem bul­ly­ing is in New Zea­l­and," says Green. "While some New Zeal­anders may think that we do not have a bul­ly­ing prob­lem, this is not what our chil­dren and our schools are saying."
Tech­no­logy has allowed bul­ly­ing to become even easi­er and it no longer stops at the school gates. Chil­dren enter the bound­less and unin­ter­rup­ted world of the Inter­net, where bul­lies can hide behind their avatars and feel power­ful from the safety of their mobile phones.
(…)
To be continued in the FishHead May issue