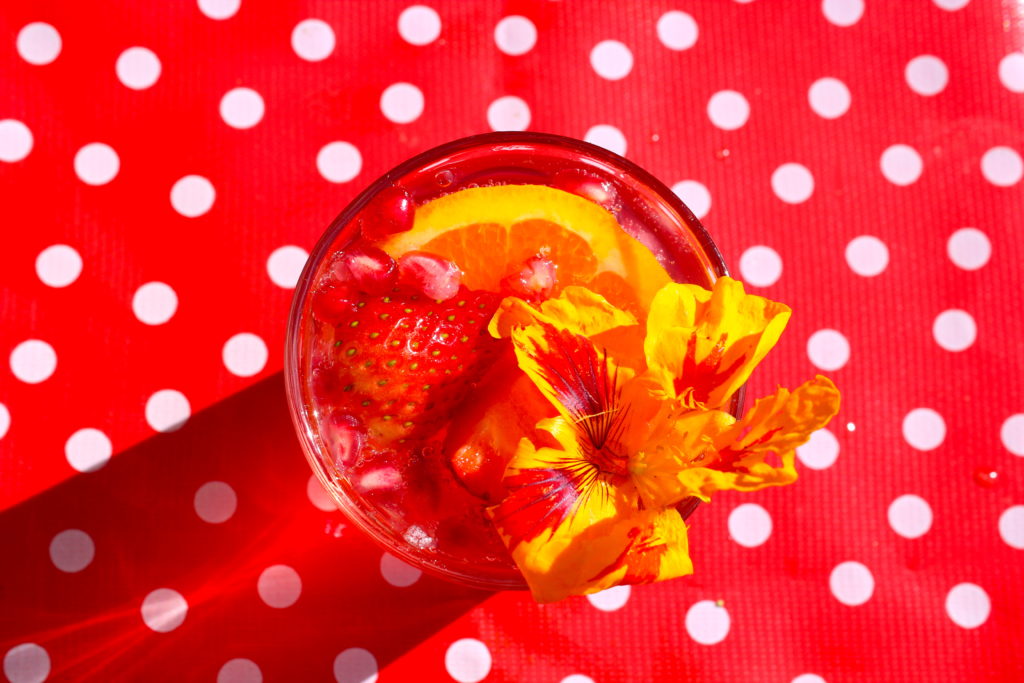 I love the silly sea­son. I love ded­ic­at­ing Decem­ber days to Christ­mas-themed bak­ing and play­ing ter­ribly cheesy Christ­mas music. Every­one seems in a bet­ter mood, and there are parties galore. If we're really lucky, there's sun­shine, and what bet­ter way than to begin a night out in the lead-up to Christ­mas than with a few fest­ive cocktails?
Sum­mer ber­ries and oth­er lus­cious fruits make a great addi­tion to cock­tails, some of them end­ing up a bit like fruit salad in a glass. Straw­ber­ries also make a great addi­tion to bub­bly gen­er­ally, and I've taken that one step fur­ther with this fruity num­ber. After bubbles with break­fast and eat­ing far too much over lunch, laze back on Christ­mas Day and cock­tail away your afternoon.
Fruit salad fizz
Ingredients
1 shot of pas­sion-fruit vodka
2 straw­ber­ries, halved lengthwise
1 tbsp fresh pomegranate seeds
1 slice of orange
A splash of rosé wine
Spark­ling min­er­al water/soda water to taste
A sprig of fresh mint
An edible flower for garnish
Method
Fill a rocks glass with ice. Add the vodka and fruit, then the rosé. Top with spark­ling water, and gar­nish with the mint sprig and flower. Enjoy!
Serves 1