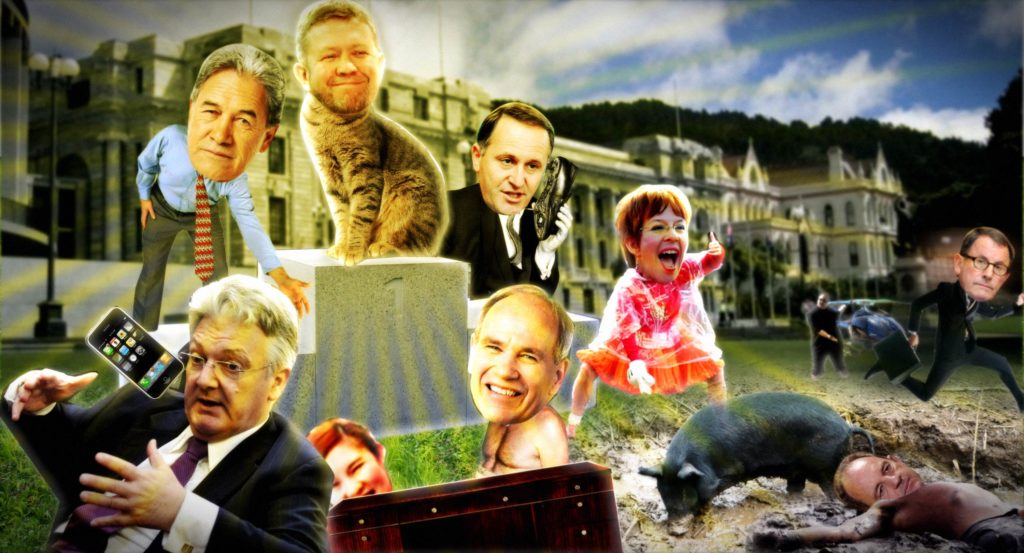 The polit­ic­al year of 2013 is com­ing to an end – it's time to look back. First, the good. My three win­ners are:
Dav­id Cunliffe
If patience is a vir­tue, then Cun­liffe picks up the prize. Ban­ished from the class two years ago for dis­loy­alty, he hid in the bushes and kept quiet. When the caucus lost con­fid­ence in Dav­id Shear­er, he jumped out yelling, "Pick me!" And they did… through grit­ted teeth. John Key is cer­tainly wor­ried. Cun­liffe is everything Shear­er wasn't – artic­u­late and arrog­ant. He must stay humble to get elected.
John Key
Still hanging in there five years on, Key is still remark­ably pop­u­lar des­pite his policy col­lapsing around him. Without him, Nation­al is toast. He's still the best weapon in the team. His most laugh­able moment of 2013? Claim­ing asset sales were a suc­cess when few New Zeal­anders are buy­ing them and pro­spect­uses are being dumped and used to light sum­mer fires.
Win­ston Peters
This guy ain't dead yet. He got Peter Dunne's scalp in Par­lia­ment and caused him huge embar­rass­ment – espe­cially Dunne hav­ing to explain to his wife why he'd been tex­ting one female journ­al­ist so frequently.
And he'll have the PM los­ing sleep, too. If Key sticks to his prin­ciples he'll have to rule Peters out again as a coali­tion part­ner when the New Year rolls around. Some­thing tells me, though, that when you're out of friends, rul­ing out a poten­tial king­maker will get harder for the PM. Watch for the nuances in this rela­tion­ship the next 12 months.
From good to bad. Who are my three losers of the year?
John Banks
ACT is con­stantly writ­ten off and it's only there now because the PM allows it to be on life sup­port. But Banks's cred­ib­il­ity and integ­rity are shot. The PM should close the door on him. How can a man not remem­ber fly­ing in a heli­copter to get $50,000 off a giant Ger­man who lives in a man­sion? He resigned as a min­is­ter but remains the MP for Epsom, prop­ping up the gov­ern­ment. Sorry Bank­sie, but the pub­lic thinks you're a joke. Need we say more?
Peter Dunne
Here is the man who always posi­tioned and presen­ted him­self as Mr Reli­able and Mr Com­mon Sense. A man in whom the gov­ern­ment of the day could trust, right? Yeah, right! Peter Dunne made 2013 his mid-life crisis year. He leaked top-sens­it­ive mater­i­al to a female journ­al­ist and was caught out. He con­stantly rang and emailed her, even while on hol­i­day with his wife. What was he think­ing? He wasn't. Will he stand again? Prob­ably. Will Key take his vote? Yes. Will he trust him? No.
Dav­id Shearer
A good and decent man… who just wasn't up to lead­ing the Labour Party. He didn't really want the job, but he got put there by the anti-Cun­liffe fac­tion and struggled from day one. He went with dig­nity in the end, but all those who say he chose to go are kid­ding them­selves. He got shoulder-tapped – the caucus had lost con­fid­ence. Par­lia­ment requires a smart semi-auto­mat­ic weapon to lead the oppos­i­tion: he was car­ry­ing a feather.
And the loc­al-body win­ners and losers?
Celia Wade-Brown
She's back and she can thank John Mor­ris­on for a sex­ist baby-boomer brain fade. What was he think­ing? Like Peter Dunne, he wasn't.
Len Brown
Len spent two years get­ting his rocks off on coun­cil prop­erty and in hotels around the city with a much young­er coun­cil employ­ee whom he helped get a job at Auck­land Art Gal­lery. At the time of writ­ing he was still the may­or, but who knows what will happen.
Brown presen­ted him­self as the slightly reli­gious, church going, fun-lov­ing fam­ily man of South Auck­land, but it all turned out to be a huge white lie. His cred­ib­il­ity is in tat­ters, and he only remains in office because the beha­viour of his oppon­ents was just as bad. Auck­land loc­al-body polit­ics is in disarray.