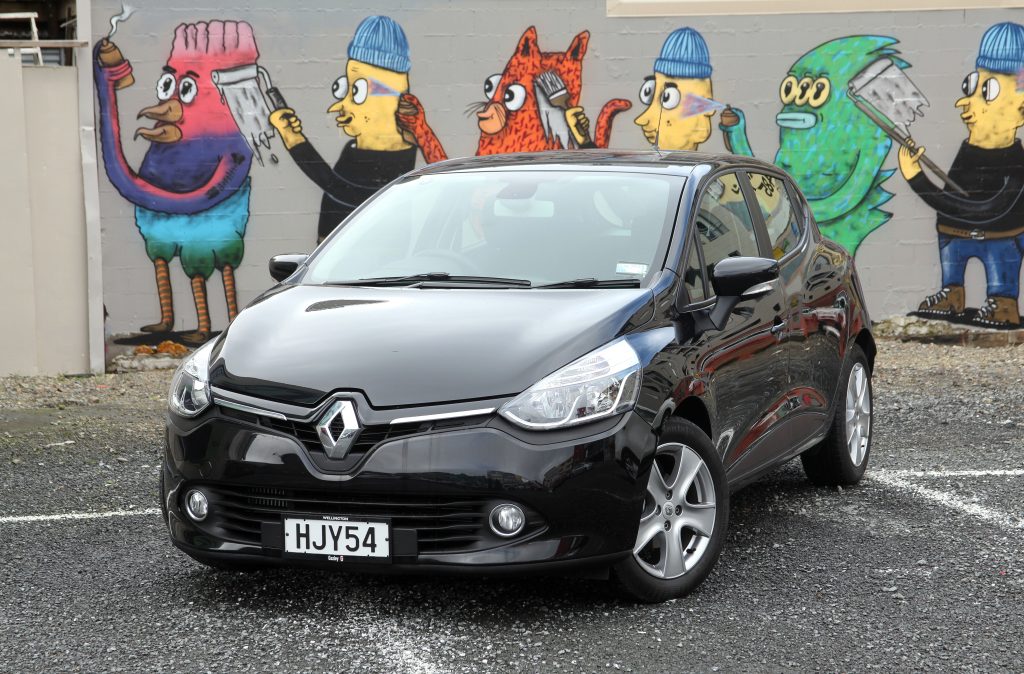 Okay, okay, I admit it, I am guilty as charged. When it comes to the four-wheeled machine, I have always pre­ferred big over small. Sure, it's a pre­ju­dice but one I have always been able to jus­ti­fy — com­fort, per­form­ance and prac­tic­al­ity… need I go on? Which is why I was strug­gling to get excited by the pro­spect of a week­end in the com­pany of Renault's new­est small car offer­ing, the updated Clio.
To top it all off, it was rain­ing cats and dogs and I was run­ning late to col­lect the car. Streak­ing through the down­pour, I couldn't help but reflect on Renault's patchy his­tory in New Zea­l­and. They've had a good few starts here, but come and go more often than the tour­ing French rugby team. It wasn't an overly aus­pi­cious reac­quaint­ance with the brand, in oth­er words.
Climb­ing behind the wheel, my first sur­prise was the dis­cov­ery of auto­mat­ic-sens­ing wind­screen wipers. Not quite the big trade down I was expect­ing then. And as I reversed out of the deal­er­ship, I heard the famil­i­ar chime of rear park­ing sensors. Nice. In fact, the equip­ment levels leave very little to be desired. Even the basic car, priced very com­pet­it­ively for a Euro at just $23k, has plenty of kit, includ­ing satel­lite nav­ig­a­tion, air con and Bluetooth. The Expres­sion Plus mod­el I got to drive added par­tial leath­er trim, auto head­lights and wipers, and alloy wheels.
I also appre­ci­ated the styl­ing — always a strength of French cars — and the Clio's coupé-like stance, accen­tu­ated by clev­erly dis­guised rear-door handles. Attract­ive curves and a rising centre line are a fur­ther point of dif­fer­ence. It's fresh and con­tem­por­ary, although not the state­ment that the Mégane RS makes — room then for the tweaked Clio RS perhaps?
There are oth­er aspects you might usu­ally asso­ci­ate with a lar­ger class of car, includ­ing the six-speed EDC or, more accur­ately, 'dual clutch' trans­mis­sion for starters. It's a good one. All the bet­ter to get the best per­form­ance from the genu­inely fizzy 1.2‑litre engine. That's right, it has only 1,200cc of capa­city under the bon­net but it's what you do with it, right? Add a tur­bochar­ger, and hey presto, the feisty Clio pro­duces 88kW and a frac­tion under 200Nm of torque — on a car that weighs not much more than 1,100kg. It won't win any awards in a straight line, not quite man­aging to beat the 0–100km/h sprint in under nine seconds, but it feels quick, the torque giv­ing it plenty of oomph when required. And its quoted fuel eco­nomy is a cred­ible 5.2 litres/100km.
The ride though, is a mixed bag. Genu­inely supple at low speeds, the Clio can be 'jig­gly' at motor­way cruis­ing. From a driv­ing per­spect­ive, the on-road per­son­al­ity matches the per­form­ance of its rap­id-fire twin-clutch box, and while I would prefer a firmer set-up for cor­ner­ing, it will be more than adequate for any Alain Prost-like aspir­a­tions of future buyers.
Buy­ing French has always been a little bit risky. Once, you had to make plenty of trade-offs, jus­ti­fy­ing the pur­chase on the basis of joie de vivre alone. Not so with this Clio. I might not be quite the con­vert just yet, but I would def­in­itely take more than a second look.
Con­clu­sion: A well-priced and fresh offer­ing in the small to medi­um hatch space. It also makes for a prac­tic­al altern­at­ive to the usu­al fare from Ger­man and Japan­ese manufacturers.
[warn­ing]
Tech specs
Mod­el reviewed: Renault Clio Expres­sion Plus
Price: From $22,990 (as tested, $27,990 approximately)[/warning]