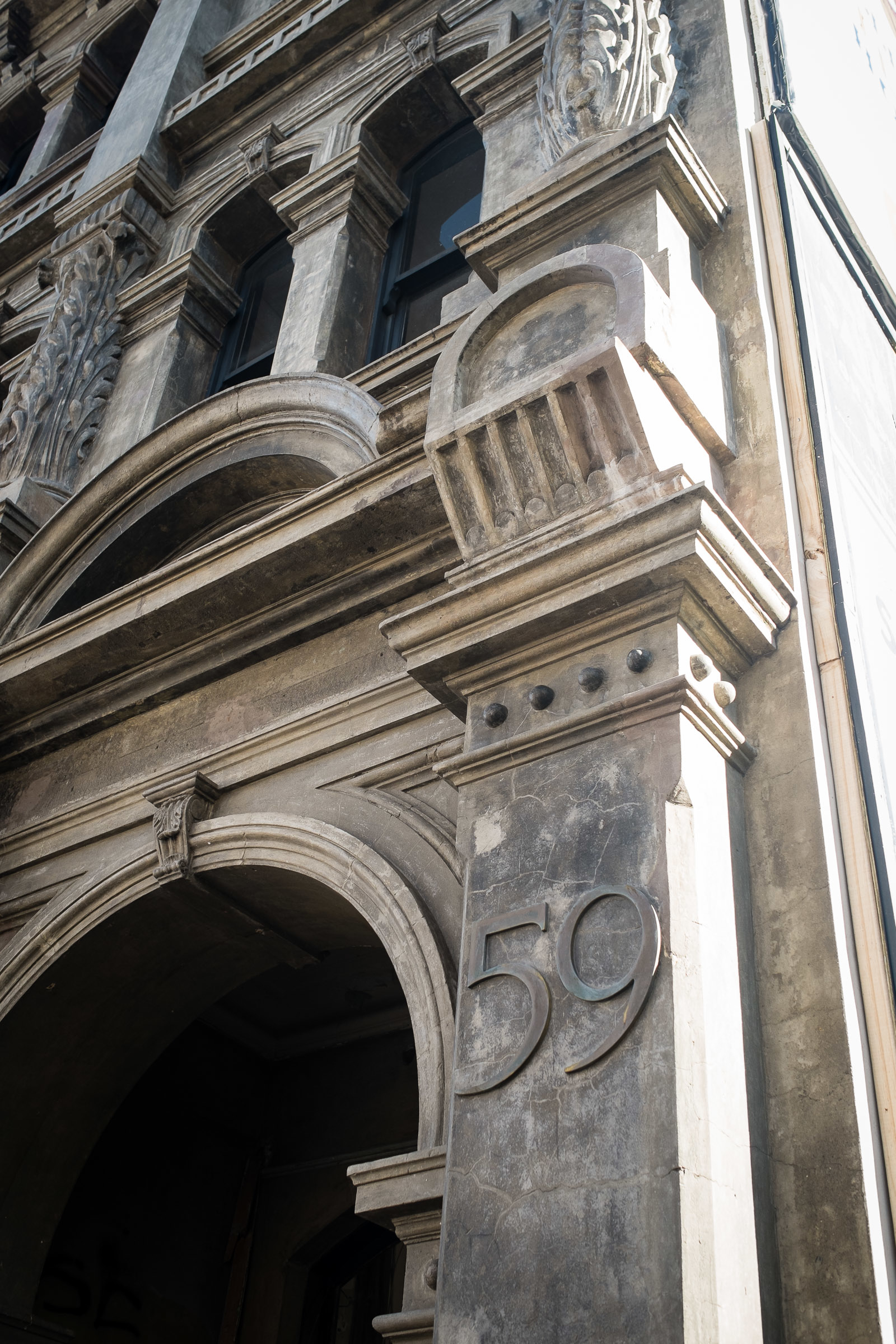 Wel­ling­to­ni­ans carry a sense of place every­where we go. Our streets are dot­ted with loc­a­tions of sig­ni­fic­ance: hal­lowed Basin, gleam­ing Golden Mile. And then there are spots we leave off the maps: places where private pas­sion runs as deep as any pub­lic sentiment.
Pur­chased sex is an irre­du­cible com­pon­ent of cap­it­al life. It was here that the New Zea­l­and Pros­ti­tutes' Col­lect­ive was foun­ded, today an inter­na­tion­ally recog­nised voice for the rights and dig­nity of sex work­ers. Wellington's sex industry has shaped its cul­ture, often from loc­a­tions ban­ished from polite con­ver­sa­tion; these, in turn, become rehab­il­it­ated into places every­one knows.
Where did sex work come from? Where did it find a home? What places might we know by heart, which earli­er Wel­ling­to­ni­ans knew by oth­er parts? The story — like all stor­ies, ulti­mately — begins at sea.
Sea­farers and Ship-moles
Stevan Eldred-Grigg, pre-emin­ent author­ity on long-dead New Zeal­anders' private lives, con­tends that neither the eco­nom­ies nor mar­it­al codes of pre-colo­ni­al Poneke would accom­mod­ate pros­ti­tu­tion, as we under­stand it. It was in barter with vis­it­ing sail­ors that loc­al Māori first placed a mater­i­al value on sexu­al companionship.
Though lonely months at sea would make sail­ors no less stingy. Jamaic­an his­tor­i­an Fernando Hen­riques cites a Cap­tain Wal­lis, tra­vers­ing the colon­ies aboard a ship "slowly dis­in­teg­rat­ing around him as its nails were sys­tem­at­ic­ally removed" — each one the price of an indi­gen­ous encounter. As Port Nich­olson became Wel­ling­ton, sail­ors' desire to make port and get nailed showed no abate­ment. The 20th cen­tury was the age of the ship-moles: female guests aboard ship for the dur­a­tion of crews' time in port.
Dana* worked Wellington's streets from the 1960s. "Ship-girls nev­er asked for money," she explains. "When you went on a ship and hooked up with a guy, he'd look after you while he was in port. He'd buy you food, he'd pay your rent — he'd spoil you."
Sail­ors also brought intim­a­tions of a world bey­ond Wellington's hills. 'Ring­bolt­ing' was the prac­tice of ship-moles stow­ing away for pas­sage to bright­er climes. Former sex work­er Dr Lauren Roche writes of weeks of isol­a­tion in an icebreaker's pitch-black fan-space while ring­bolt­ing from Wel­ling­ton to Seattle.
"Ship-moles don't exist now," says Dana, "because you have con­tain­er ships with a skel­et­on staff." But mean­time, the sex industry had made its way inland.
R&R with Ma
Glover Park on Ghuznee Street is a pop­u­lar loc­a­tion for a mid­day break or after-work brew. In the war years, this area sat bestrode by prop­er­ties belong­ing to a for­mid­able loc­al figure.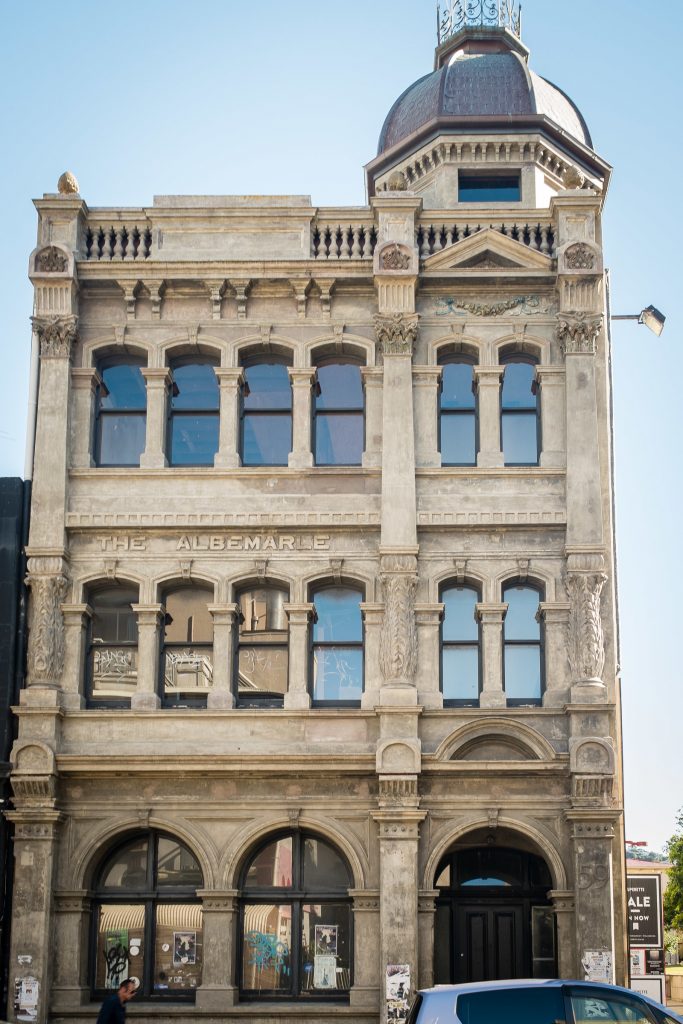 Clara Hal­lam, known around town as 'Ma', bought her first Wel­ling­ton prop­erty in 1928. Her later hold­ings included the Albemarle, whose grand grey front­age on Glover's east­ern edge houses a gut­ted, quake-prone interi­or. In Hallam's day, the Albemarle was the White Lodge, and word was that Ma was run­ning girls out of there. Later it became the May­fair, a brothel cater­ing to the high-end of the down­town market.
Hal­lam also owned the Man­sions, on the oth­er side of Glover Park, where now sit apart­ments with a car rent­al out front. "In the war years it was a dance hall," says Dana, who learned loc­al his­tory from Ma her­self. "The girls would take the R&R guys upstairs."
The threat of sexu­ally trans­mit­ted dis­eases (STDs) had long been used to lever­age social con­trols over sex work­ers. While women's groups had lob­bied suc­cess­fully against the most dra­coni­an of these laws, R&R was still a battle against the Amer­ic­an military's longest-stand­ing foe: the dreaded VD.
Mar­garet Macnab, a Second World War-era nurse who admin­istered STD checks for sex work­ers, told a 1986 inter­view­er that Ma Hal­lam "could have been anyone's grand­moth­er". She remem­bers vis­it­ing work­ers at Hallam's dark red two-storey where Wil­lis Street meets Abel Smith. Anoth­er Hal­lam house fur­ther down the lat­ter now hosts one of Wellington's best cof­fee-roast­ers but was once "one of the worst" loc­al houses of ill-fame, accord­ing to police testi­mony in 1943.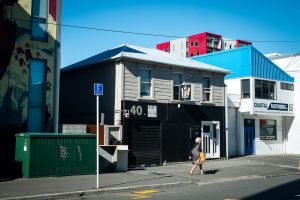 "The room was filthy and there were partly-con­sumed bottles of wine there," huffed an inspect­or. The occu­pants "were in bed with a drunk­en ser­vice­man". Ma Hal­lam, then 58, was fined £100 and sen­tenced to three months' deten­tion for per­mit­ting her premises to be used as a brothel. Her arrest was one in a long line of pro­sec­u­tions lev­elled against women in the sex industry. Ebor Street, mere blocks from the Man­sions, had been the site of a 1919 raid that saw three women pro­sec­uted as "incor­ri­gible rogues".
Sim­il­ar raids dis­turbed Island Bay's Freel­ing Street, and a still-stand­ing house at the fork of Kelburn's Upland and Glen roads. From here once issued sounds resem­bling "a drunk­en orgie [sic]. Sev­er­al even­ings a week," noted the Nel­son Even­ing Mail, "were devoted to singing, dan­cing and music, and usu­ally a large num­ber were present." The Upland Road bust made nation­al front pages in 1918. The New Zea­l­and Free Lance offered little sym­pathy to the men "shiel­ded from that pub­lic and private oblo­quy of which [their] fem­in­ine asso­ci­ates" bore the brunt.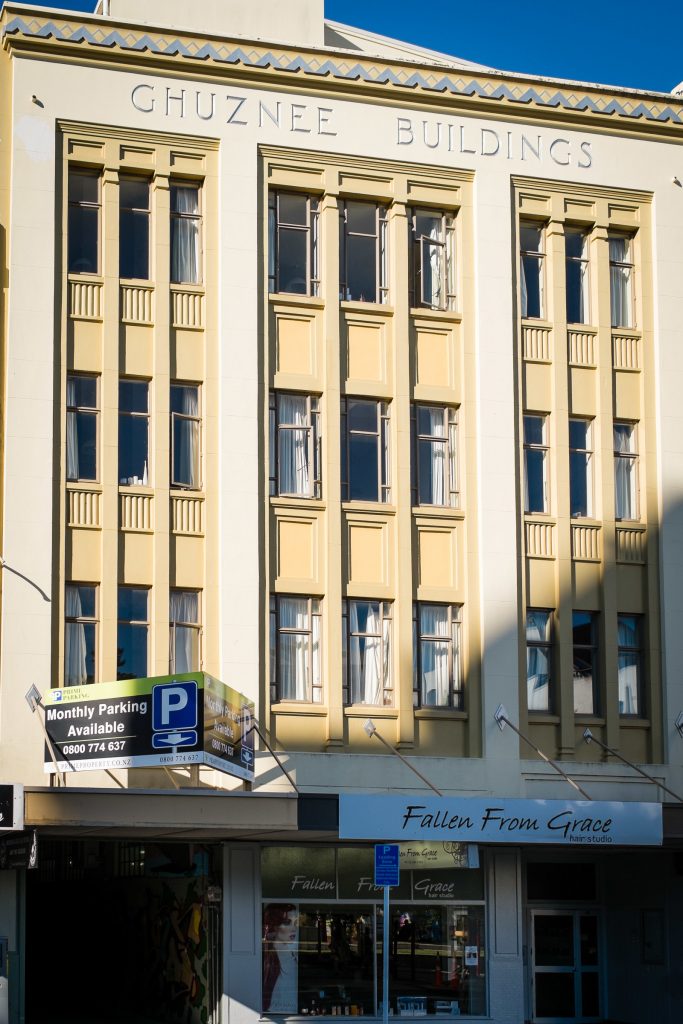 And back up Ghuznee Street, 1932 saw Hilda Pierce charged with "not only offer­ing the oppor­tun­ity for girls to act immor­ally but incit­ing and assist­ing them to do so". The site of her oper­a­tion still stands, today fron­ted by Fallen from Grace Hair Salon.
Venus and Solomon
As the 20th cen­tury surged on, today's sex industry took shape. Barry Moore opened Cuba Street's Venus Sex Shop in 1974, in what's now Fidel's (the Super Cuts room). Moore did his Auck­land and Christ­ch­urch con­tem­por­ar­ies one bet­ter, repor­ted the Even­ing Post, by selling "see-through night­wear, bot­tom­less panties, and over­seas linger­ie" — not to men­tion "arti­fi­cial pros­thet­ics, nov­elty pro­phy­lactics, [and] goats' eye­lashes" — from cab­in­ets, not catalogues.
When vis­it­ing Venus, "It was nice to be around someone as curi­ous as you," remem­bers Eliza­beth, who worked around town in the 1970s and 1980s: "Maybe not the place to go by yourself."
Oth­er firsts included the Purple Onion, the capital's premi­er strip club, now the site of a Vivi­an Street apart­ment block (Purple Onion); and Solomon's, the first expressly des­ig­nated mas­sage par­lour. This sat on what's now Vic­tor­ia Street, between Man­ners and Dix­on. Solomon's "had swing-doors like in the west­erns," remem­bers Dana. "Police used to walk through, and if they couldn't see your feet or your head, then they'd push the doors open."
"Now you can step out of any­where and not be noticed," says Eliza­beth, who also worked at Solomon's, but "back then you were really con­scious of being seen. The only exit was the front door. It was so raw."
Work­ers and inter­na­tion­al pat­rons found secrecy at the Crowe's Nest: the inform­al title giv­en to a private res­id­ence over­look­ing Ori­ent­al Parade (Crow's Nest). "Their cli­ents came to them," says Dana. "They were much more hid­den, much more secret­ive prostitutes."
Before leg­al reform, female sex work­ers oper­ated in the shad­ows; but their male coun­ter­parts, in defi­ance of fur­ther laws, had to be nigh invis­ible. In what's now a back­pack­ers' on Wake­field Street dawned the Sun Sauna, later the Wake­field. Mal­colm, a long-time pil­lar of the city's LGBT scene, says this was the first aimed at Wellington's gay male cli­en­tele. A Chris­ti­an book­shop on the same floor provided camouflage.
And then, into this furt­ive night-time world strode Carmen.
Reign of the Voo­doo Queen
They say she prac­tised black magic. Dana reck­ons Car­men some­times slept in a coffin; her auto­bi­o­graphy recounts ama­teur vodoun rituals.
Car­men Rupe — queer icon, busi­ness­wo­man, whore and Wellington's queen — burst onto the scene as oper­at­or of Le Bal­cony. Wellington's well-knowns crowded this striptease ven­ue, nowadays the site of the CBD's main police station.
Le Bal­cony was but the first jew­el in the queen's crown. Soon her Inter­na­tion­al Cof­fee House opened next to the Sal­lies' store on Vivi­an Street. Should her cof­fee — reputedly the city's worst — fail to invig­or­ate, reg­u­lars were taught a cup-and-sau­cer sem­a­phore to indic­ate who they'd rather take upstairs.
The oper­a­tion soon expan­ded over the street into the Pea­cock. The latter's employ­ees bought Car­men out, turn­ing it into the city's first les­bi­an-run brothel; today the site houses The Baby Fact­ory. Carmen's oth­er premises — brothels, cafés and even an antique shop — dot­ted the Cuba quarter. Many young work­ers found a home at her Han­son Street "Hatch­ery".
"Car­men was crack­ing it with busi­ness­men, men from Par­lia­ment," says Dana. At the height of the queen's reign, Wally Mar­tin — former pro­pri­et­or of Man­ners Street's secret­ive Club Exot­ic and Mt Vic's Psy­che­del­ic Id — set his sights on her.
"He was say­ing her cli­ents didn't know that she was a man," remem­bers Dana. "That was when everything changed for Car­men. She was always exot­ic but she became this very over-the-top per­son." Mar­tin tried to expose "female imper­son­at­ors" dan­cing at Le Balcony.
"Of course," grins Dana, "it filled the place up."
Drink­ing Deep
Carmen's cups and sau­cers are long gone, but mod­ern Wel­ling­to­ni­ans wish­ing to drink at his­tor­ic sex-industry spots are spoiled for choice. Wil­lis Street's Gen­er­al Prac­ti­tion­er used to sit fur­ther up Boul­cott Street as the House of Ladies (Boul­cott). Across the inter­sec­tion from its present-day loc­a­tion once sat the San Fran­cisco Bathhouse.
This ori­gin­al SFBH shouldn't be con­fused with Cuba Street's later ven­ue, whose premises nev­er­the­less served a stint as a brothel some years back. But Wil­lis Street's ori­gin­al San Fran was a multi-storey com­plex cater­ing to all per­sua­sions (SFBH).
"If you wanted straight trade," recalls Mal­colm, "Wel­ling­ton was small and closeted, it wasn't leg­al: you had to be dis­creet. A lot of gay boys would go to the San Fran and meet busi­ness­men from out of town there."
When homo­sexu­al pro­hib­i­tion was struck down in 1986, Alfie's on Cuba and Dix­on became the first pub­lic gay club, adja­cent to the new Wake­field — whose brand had remained even after mov­ing from its ori­gin­al premises. Those, in turn, had become the Pink Pussy­cat, whose mas­cot flashed a dar­ing pubic chalice across Wake­field Street from her mar­tini-glass perch.
The girl-in-a-glass motif was potent enough to echo up Vivi­an Street onto the mur­al adorn­ing the side of Tiffany's, later Liks. The main attrac­tion here was proudly touted from the much-mourned "Striptease" sign that flashed for dec­ades from the Cuba/Vivian corner, before dim­ming into shad­ow in 2013. Second-hand shop­pers can now pur­chase cast-off clothes there (Liks).
Sex work has fought to claim a place in the day­light Wel­ling­ton world. Nowadays, "former brothel" is a badge of pride for numer­ous bars, brew­er­ies and inner-city spots. But many vet­er­ans feel a little old-fash­ioned sleaze still has its place.
"The world has become more ser­i­ous," says Eliza­beth. "A lot of stuff seems to be com­ing to the sur­face. There's a dis­ad­vant­age to cit­ies becom­ing too squeaky-clean."
*All sources in this story have chosen the names by which they're quoted.
Tom is Fish­Head's book colum­nist. A Mas­ter­'s degree in Cre­at­ive Writ­ing from Vic­tori­a's Inter­na­tion­al Insti­tute of Mod­ern Let­ters launched Goulter on the life of an itin­er­ant man of let­ters, wan­der­ing the frac­tious United states in search of.. whatever it was Peter Fonda and Den­nis Hop­per were after, prob­ably. Instead of get­ting shot by red­necks (yet), he returned to Wel­ling­ton, where he essays semi-reg­u­larly into pop­u­lar cul­ture, psy­cho-geo­graphy, under­ground film-mak­ing, and the uncanny in all its myri­ad forms. Not a day goes by that he does not wish Man­ners Street still had Crys­tal city on it.