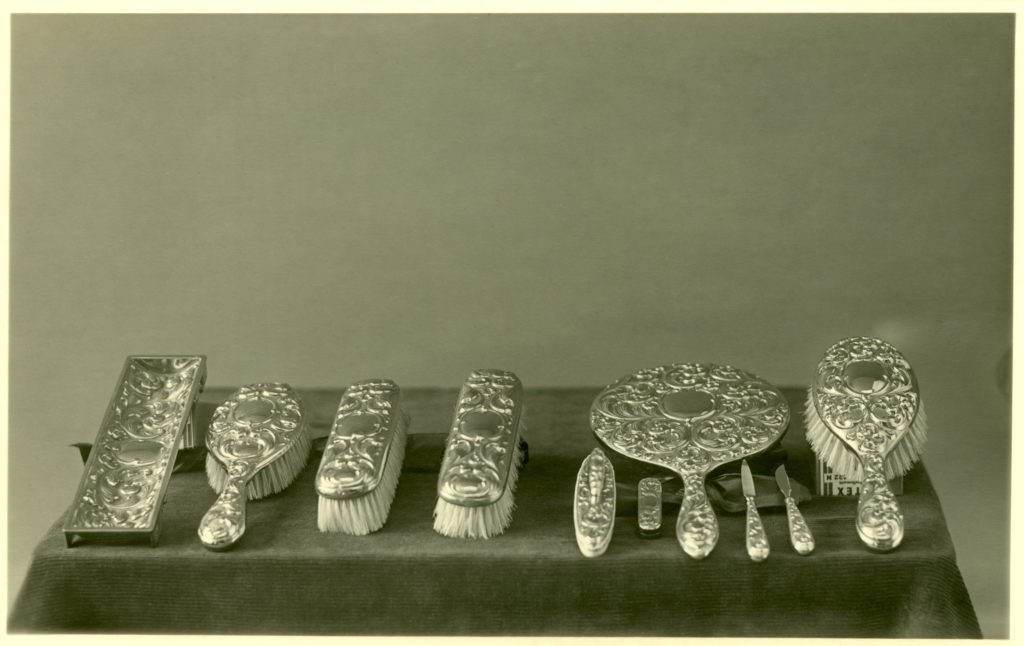 "No ideas but in things," wrote Amer­ic­an poet Wil­li­am Car­los Wil­li­ams in 1946. As I talked to Vivi­en Atkin­son, Petra Stueben and Kelly McDon­ald about their ornament/artefact exhib­i­tion at Toi Pōneke, the quote swam in my head. Wil­li­ams was refer­ring to poetry, but these artists con­sider our rela­tion­ship with things — what we emo­tion­ally invest in objects and why, what our desire for objects means, and where it leads us. These ques­tions are the sub­text to the exhib­i­tion, not obvi­ous to the viewer.
At one end of the room are Stueben's pho­to­graphs — reprints of images her grand­moth­er made in Ger­many in the late 1930s. Dur­ing the Second World War Hitler guar­an­teed Ger­mans that any pos­ses­sions des­troyed or broken dur­ing the con­flict would be replaced. Stueben's grand­moth­er pho­to­graphed the family's valu­ables in their stu­dio with this 'insur­ance' in mind. Stueben re-presents the images in a pile free for any­one to take away. She flips her grandmother's obses­sion with pos­ses­sions or, as she says, resets the objects to unload them of any mystery.
Atkin­son occu­pies the centre of the gal­lery in a daily per­form­ance clean­ing a col­lec­tion of sil­ver-plated objects she has amassed. She engages vis­it­ors in con­ver­sa­tion about sil­ver-plated objects and invites them to bring in any that need con­ser­va­tion or polishing.
Her interest in sil­ver-plat­ing dates back to her own col­lec­tion inher­ited from her moth­er, and a 40-gal­lon drum of sil­ver-plated objects she saw at the Pori­rua met­al recyc­ling depot. For her, sil­ver-plat­ing is a meta­phor for middle-class aspir­a­tions — the sil­ver-plate cov­ers a base met­al of nick­el, brass or steel. The tea rituals of the upper classes could be rep­lic­ated with these lookalike teapots and milk jugs. They were an aspir­a­tion­al pur­chase. Atkin­son wants to know about con­tem­por­ary rela­tion­ships to sil­ver-plat­ing now that status and rituals have been trans­ferred to oth­er objects.
McDon­ald brings grey­wacke and found wood into the digit­al con­text. Using an app that con­verts text to bin­ary code, her work presents a quote from St Augustine, "desire hath no rest" in zer­oes and ones. The zer­oes are rep­res­en­ted by stones and the ones are pieces of wood laid out on the gal­lery wall. The weight­less digit­al world is giv­en heft by the mater­i­al­ity of nat­ur­al things.
"No ideas but in things". These things in the gal­lery are mys­ter­i­ous in terms of ideas, but what seems to under­pin them is an invest­ig­a­tion of value. Stueben has to give away pho­to­graphs to dis­em­power their story, but in a twist she hopes vis­it­ors will repho­to­graph them in new situ­ations and email these images to her. Atkin­son finds a potent meta­phor in the sil­ver-plated objects of her back­ground and hon­ours their sym­bol­ic value by offer­ing con­ser­va­tion treat­ments and con­ver­sa­tion. And McDon­ald presents the bin­ary code as the boiled-down yes/no choice of acquisition.
[info]
April Art
It's a boy's month around the deal­er gal­ler­ies. Col­lages by Peter Mad­den (until 18 April) and paint­ings by Andrew McLeod (open­ing 23 April) show at Robert Heald Gal­lery. Wal­lace final­ist André Hemer is on at Bartley and Com­pany. At The Young in Mt Vic­tor­ia is spray-can man Ed Bats with work by Don Driver (until 11 April), then paint­er Jake Walk­er opens on 13 April. Euan Macleod paint­ings and Peter Hannken pho­to­graphs also open at Bowen Gal­ler­ies on 13 April.
Enjoy.[/info]
Mary-jane is a Paekakariki-based poet and essay­ist, and Fish­Head's art colum­nist. She teaches poetry and aca­dem­ic writ­ing on the Whiyireia Cre­at­ive Writ­ing pro­gramme, tor­tur­ing stu­dents with half-rythmes and pan­toums, zom­bie haiku, and line breaks, ref­er­en­cing and struc­ture. Duffy has a back­ground in museum and gal­lery work, mak­ing a lucky escape from the base­ment of the City Gal­lery Wel­ling­ton in 2002 and open­ing the Mary New­town Gal­lery with Paula New­town in 2004. Art (across all the dis­cip­lines) feels like the closest thing she has to reli­gious exper­i­ences — see­ing, read­ing or hear­ing things that make her brain fizz.