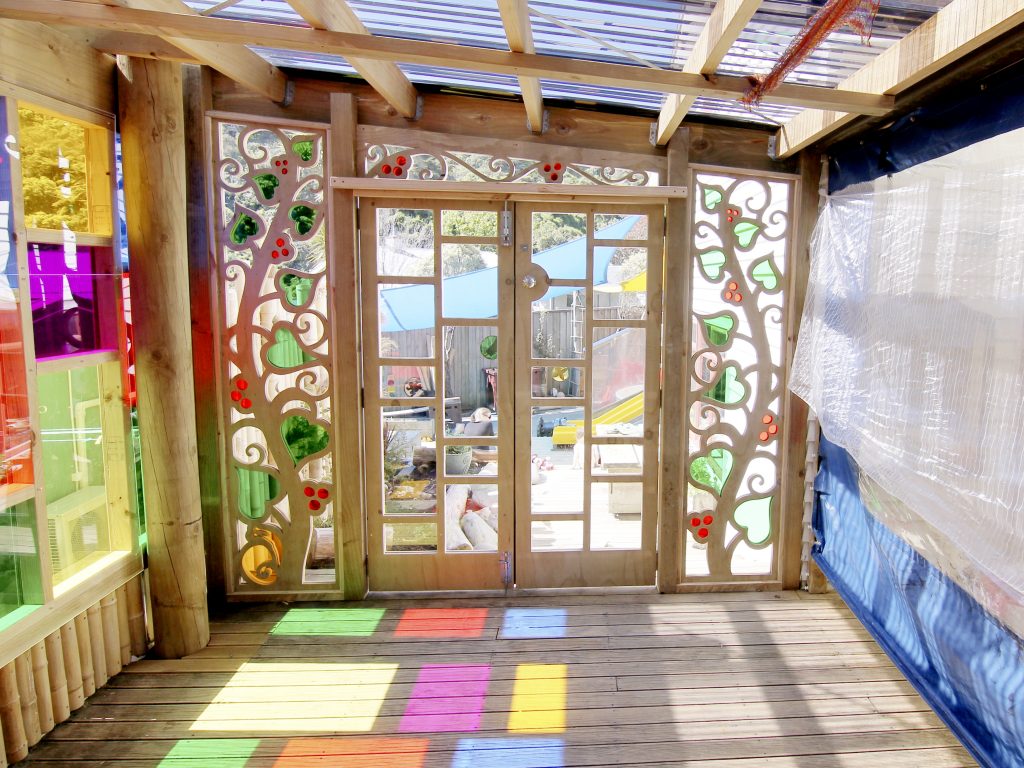 In 1994, Child­space founders Toni and Robin Christie were work­ing in early child­hood edu­ca­tion in Christ­ch­urch, but they weren't as happy as they thought they should be. "We were young, fresh and ideal­ist­ic," Toni admits. "The stand­ard of early child­hood edu­ca­tion was really appalling at the time. I used to come home so upset."
Hav­ing saved up some money, the young couple decided to put a mort­gage depos­it down and open their own centre in their first home. "We were the only teach­ers there," she con­tin­ues, think­ing back 21 years. "We would work from 7am till 6pm, fold all the nap­pies, pre­pare the morn­ing tea for the next day, then go to bed." Three years later, while start­ing a young fam­ily, they decided to move to Wel­ling­ton to be closer to their par­ents. "The demand was huge in Wel­ling­ton, so we opened sub­sequent centres really quickly," Toni enthuses.
Over the last two dec­ades, Child­space has expan­ded to include four child-care centres in Karori, Wilton, North­land, and Ngaio. They've also estab­lished the Child­space Early Child­hood Insti­tute, which works in syn­ergy with the centres to refresh, nur­ture and edu­cate their teach­ers on an ongo­ing basis. From there they pub­lish books, resources and a quarterly magazine, The Space, for teach­ers and par­ents of young chil­dren. Along­side the insti­tute, they also run the Child­space Work­shop, which spe­cial­ises in design­ing and build­ing play­grounds, equip­ment and fur­nish­ings geared towards early childhood.
Prid­ing them­selves on small classes, reg­u­lar out­door nature exper­i­ences, an emphas­is on art and music, qual­ity prac­tice and sup­port­ive teacher–child ratios, Childspace's core val­ues are born from an ongo­ing com­mit­ment to research, innov­a­tion and devel­op­ment. "We take a little bit from a lot of dif­fer­ent philo­sophies in our approach," Toni says. "When you study in early child­hood, you learn about people like Maria Montessori and Rudolph Stein­er. We take the parts of their philo­sophies we can adapt into our own social cul­ture and con­text. If some of these the­or­ists from a long time ago were still alive, they would have changed their the­or­ies to fall in line with cur­rent research."
The res­ults of this approach have been a focused and nur­tur­ing centre envir­on­ment and loc­al and inter­na­tion­al recog­ni­tion for Child­space as early child­hood innov­at­ors. In the pro­cess, they've helped to foster an exper­i­ence fondly remembered by many. "The first chil­dren we looked after have got­ten hold of us via Face­book. They've said, 'I remem­ber that place really well, and I remem­ber how fun it was,'" Toni recalls. "These chil­dren remem­ber us really well. We star­ted Child­space so that we could have a good job each, but it's become so much more. It's truly humbling."