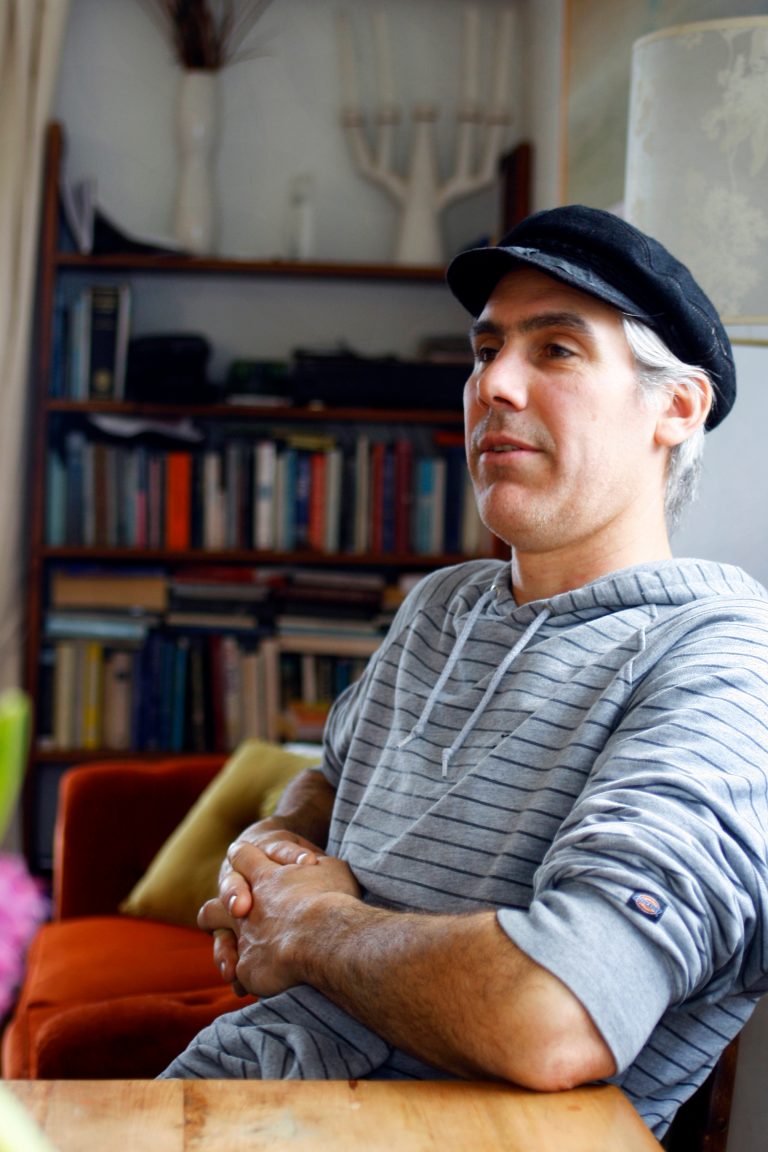 Your land­scapes are quite sub­lime – cas­cad­ing water­falls and mountains.
I grew up in Dan­nevirke on a farm, so that's what's inspired a lot of my paint­ings. They do have a romantic feel. That's how I respond to nature: it is sub­lime, serene, bal­anced and peace­ful. Zen. The whole sym­bi­os­is of these paint­ings is nature, right down to the wood-grain pat­tern. People get quite emo­tion­al about some of them.
Do you pho­to­graph the birds?
I have hun­dreds of stock pho­to­graphs! Birds flit around pretty quickly. You can go to Te Papa and make an appoint­ment to get any bird spe­cies you want to look at, which is quite handy. The bird stud­ies are quite large – 1.2 metres. They have an impact, and they're quite detailed.
Where do you work on such large panels?
I've lived in Paekakariki for 18 months. We used to live in Rau­mati South, and went on a bit of a safari around New Zea­l­and for a couple of years, up to Kerikeri, Hawke's Bay, back. I've got a stu­dio at home with my part­ner, Kate, and two chil­dren, Finn and Hazel. They're at the Stein­er kindy. It's one reas­on why we went back to Kapiti, because we're inter­ested in Stein­er. I like work­ing at home. These paint­ings take ages. A large one like Entrance was about 80 hours. Some are up to 120 hours.
And you're doing a res­id­ency at Welles­ley Col­lege at the moment.
For five weeks. In the fifth week the whole school does 'art week', and then at the end of that they've got this school exhib­i­tion, which includes all the things stu­dents have been doing, from music, sculp­ture, paint­ing, kites, tree huts. My exhib­i­tion dove­tails in for about three days. That'll have work I've been work­ing on through the res­id­ency, and some oth­er bits and pieces.
Do you work with the kids while you're at Wellesley?
Not really; I'm in the stu­dio doing my own work. But the door's always open and the kids come in to see what I'm doing. I ask them about their own work as well. Mostly I'm get­ting on with being an artist and they get the exper­i­ence of hav­ing a full-time artist there. They're always ask­ing me, "How much is this going to sell for?" "How much do you earn a year?" So I guess they're won­der­ing if it's worth being an artist!
You've had quite a bit of recog­ni­tion for your work now.
The last two years I've been work­ing more full time. I had a break for a couple of years and did lots of med­it­a­tion, volun­teered in a med­it­a­tion centre for half a year, went to India, cooked myself a little bit too far, but it cleaned the slate. In the [New Zea­l­and] Art Show in 2011 I won the People's Choice Award. Two oth­er times after that I won the same award, so it's time to step down now and let someone else have a turn! It's been a good springboard.
Do you have plans post-Wellesley?
The next exhib­i­tion is in a gal­lery in Napi­er. I'm also inter­ested in a long-term rela­tion­ship with a gal­lery in Auck­land. I've just arrived at a point where I feel the art­work has matured. After 25 years of paint­ing I feel like now I'm ready to start paint­ing. It sounds crazy, but my old art teach­er said, "It takes 40 years to know how to paint". And I thought, "Nah, I can get this done in two". But he's right. There's so much to explore and under­stand. Just matur­ing as a human being as well. There's so much scope; it's an ongo­ing journey.