Silere merino lamb ribs with Jerusalem artichoke purée, broad beans, and roast baby beetroot and shallots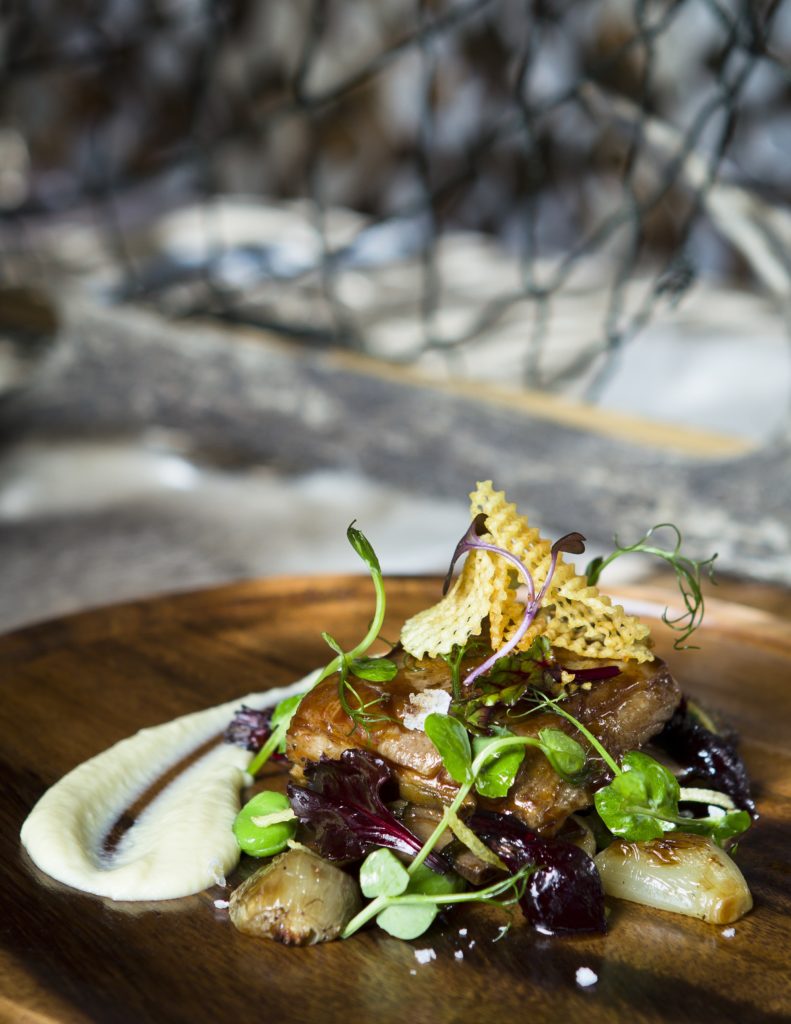 Ingredients
4 Silere lamb ribs
2 tsp extra-vir­gin olive oil
100g onion, diced
100g car­rot, diced
1 cel­ery stick, diced
50g leek, diced
2 sprigs thyme
6 pep­per­corns
2 bay leaves
2 gar­lic cloves
1 tsp tomato paste
300ml Pinot Noir
3 cups lamb or chick­en stock
2 tsp quince jelly
1 tsp kawakawa leaves, chopped
Salt to taste
Knob of butter
Roast beet­root and shallots
6 baby beetroot
12 shal­lots, peeled
1 tsp extra-vir­gin olive oil
½ tsp brown sugar
Sea salt and cracked pep­per to taste
Jer­u­s­alem artichoke purée
2 tbsp butter
2 gar­lic cloves, peeled
200g Jer­u­s­alem artichokes, washed, peeled and diced
100ml fresh cream
Salt and pep­per to taste
Broad beans
50g broad beans, peeled
1 tbsp butter
1 tsp mint, chopped
1 tsp pars­ley, chopped
Gar­nish
1 potato
Avo­cado oil
Sea salt
Snow pea tendrils
Method
Lamb ribs
Pre­heat oven to 160˚C.
Score the lamb ribs with a sharp knife and sear in a hot oven­proof pan with a small amount of oil until golden brown. Set aside.
In the same pan, add the diced onions, car­rots, cel­ery, leeks, thyme, bay leaves, pep­per­corns and gar­lic cloves, and sweat for 3–4 minutes.
Add the tomato paste and deglaze with the red wine. Reduce for 3–4 minutes.
Add the stock, quince jelly and kawakawa, and sea­son with salt. Cov­er with a foil or a lid and cook in the oven for 1½ hours.
Care­fully remove the lamb and place aside. Strain the liquid and reduce in a pan until fairly thick. Take off the heat and add a knob of but­ter for gloss and finish.
Roast beet­root and shallots
Pre­heat oven to 180˚C.
Blanch the beet­root in water for 3 minutes, then drain and place it in iced water. Gently peel and place in a roast­ing tray.
Add the peeled shal­lots to the tray, then toss with the oil, sug­ar and salt and pep­per, Roast in the oven for 20 minutes.
Artichoke purée
Place the but­ter in a pan, add the gar­lic and artichokes, and sweat on a low heat for 3–4 minutes.
Add the cream, then sea­son and cook for a fur­ther 20–25 minutes until tender. Blend in a food pro­cessor until the con­sist­ency is creamy.
Broad beans and garnish
Blanch the beans in hot salted water for 2 minutes. Drain and top with the but­ter, mint and parsley.
Using a man­do­line, slice the potato to form gaufrettes and deep fry in the oil. Sea­son with salt.
To serve, place a rib on each plate, drizzle with the reduc­tion, add a serving of artichoke purée, broad beans and roast beet­root, then gar­nish with a potato gaufrette and snow pea tendrils.
Serves 4
Elderflower jelly cheesecake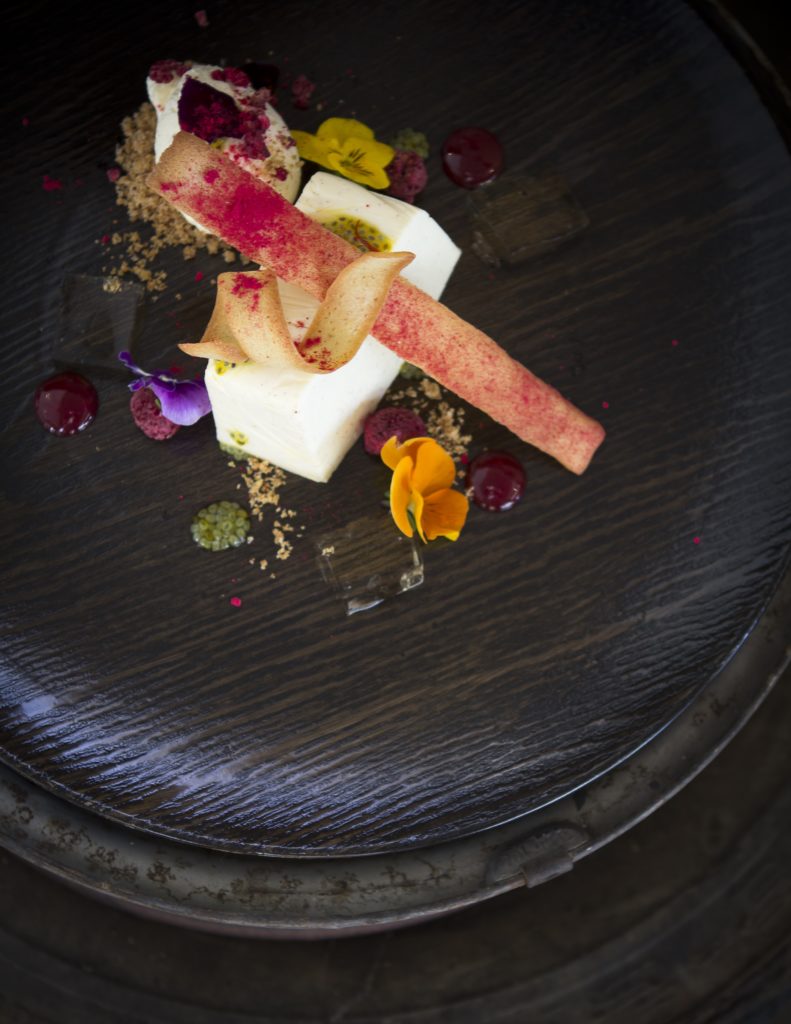 Ingredients
190g Zany Zeus ricotta cheese
80g cream cheese
75g crème fraîche
65g caster sugar
Zest of ½ a lemon
½ tsp pas­sion­fruit powder
½ tsp vanilla-bean paste
3 gelat­in leaves
50ml fresh cream
25ml Kapiti Kit­chen eld­er­flower cor­di­al
Eld­er­flower jelly
1 gelat­in leaf
50ml Kapiti Kit­chen eld­er­flower cordial
50ml water
Ginger crumble
120g all-pur­pose flour
5g bak­ing soda
½ tsp ground ginger
1g ground cinnamon
Pinch of salt
100g unsalted butter
100g sug­ar
1 tsp golden syrup
1 free-range egg, whisked
Tuile bis­cuit
35g flour
6g egg whites
75g icing sugar
35g but­ter
¼ tsp vanilla-bean paste
½ tsp rasp­berry powder
Method
Cheese­cake
Place the ricotta cheese, cream cheese, crème fraîche, sug­ar, lem­on zest, pas­sion­fruit powder and vanilla-bean paste in a food pro­cessor and blend until lump-free.
Soak the gelat­in in cold water for 5 minutes, squeeze out the excess liquid and place in a sauce­pan to dis­solve over a gentle heat. Add to the food pro­cessor and blend.
Remove the mix­ture to a chilled bowl and whisk in the fresh cream and eld­er­flower cor­di­al until light and fluffy.
Pour into indi­vidu­al moulds or a tray and set for at least 6–8 hours.
Jelly
Soak the gelat­in in cold water for 5 minutes, then squeeze out the excess liquid.
Place in a sauce­pan with the eld­er­flower cor­di­al and water, warm and pour into a tray to set in the fridge.
Crumble
Pre­heat oven to 160˚C.
Sift all the dry ingredi­ents togeth­er in a bowl.
Cream the but­ter and golden syr­up togeth­er with the sug­ar until pale. Add the whisked egg and mix in.
Fold all the dry ingredi­ents through the but­ter mix­ture, roll out on a bak­ing tray and bake for 30 minutes.
Cool and crumble.
Tuile
Pre­heat oven to 180˚C.
Mix all the ingredi­ents except the rasp­berry powder until lump-free.
Chill the mix­ture for 10 minutes, and then spread on a bak­ing sheet with a palette knife using a stencil.
Sprinkle the rasp­berry powder over the top of each bis­cuit, then bake for 2–3 minutes.
Remove from the oven and shape imme­di­ately around a rolling pin or cup.
To serve, plate the ingredi­ents as above, adding a scoop of qual­ity vanilla icecream to fin­ish the dish.
Serves 4
Paul star­ted cook­ing in Nel­son at 15, before head­ing over­seas to the UK and Aus­tralia. Return­ing in the 1980s, he became head chef of res­taur­ants includ­ing Cham­per­elle and La Spa­ghettata, before open­ing the icon­ic White House in 1992. his food can be described as mod­er Kiwi influ­ences from around the world. With a philo­sophy of fresh­ness, he even grows herbs and lettuces on the res­taur­ant roof. Hoath­er, his wife Louise, and their two dogs and avid hunters. Wheth­er it is a week away trout fish­ing in Nel­son or pheas­ant shoot­ing up north, they both like noth­ing bet­ter than pack­ing the tent and escap­ing to some secret spots.