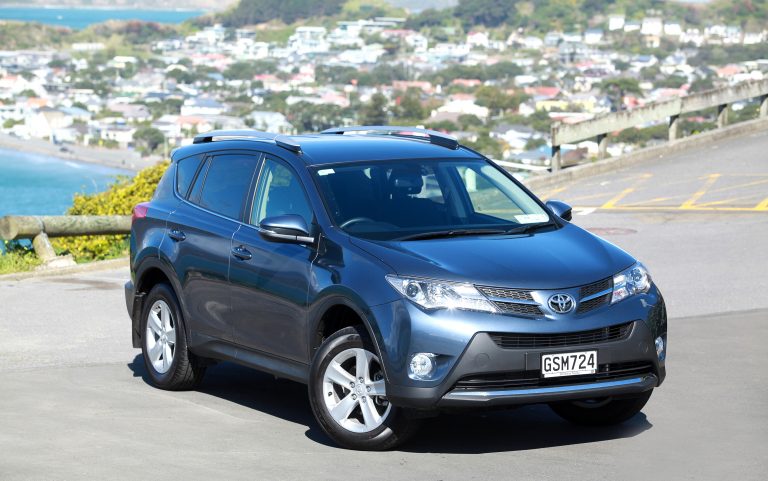 You can prob­ably ima­gine how the con­ver­sa­tion went. A few months ahead of the arrival of her first child, my sis­ter rang to dis­cuss cars. Her age­ing Honda Civic wasn't going to cut it as baby trans­port­a­tion, and "Would you recom­mend a RAV4?" She had found a good used example on Trade Me. My response: "What's not to like?"
Drive around any sub­urb­an neigh­bour­hood these days, and it's SUVs by and large – rather than sedans – that you'll see occupy­ing drive­ways. In the last six months alone I have reviewed three of them: a pretty good indic­a­tion of their pop­ular­ity and the import­ant role they now play in the new car mar­ket. The ori­gin­al RAV4 pion­eered the concept of the com­pact or cross-over SUV. It has plenty of attrib­utes people like – espe­cially new mums – includ­ing a high driv­ing pos­i­tion, lots of prac­tic­al space and car-like driv­ing experience.
Toyota has largely stuck with the same for­mula for the latest incarn­a­tion. Which isn't to say it's bor­ing, far from it. For a start, it's graced with the new Toyota design liv­ery. The front nose and light treat­ment is remin­is­cent of the new Corolla, although it prob­ably works bet­ter on the RAV4. It's unques­tion­ably mod­ern: the rear roofline tapers in a rak­ish way that sets it apart from its con­tem­por­ar­ies. The res­ult is a smart-look­ing vehicle that is more com­mo­di­ous than its com­pact design would suggest.
From the driver's seat, I was imme­di­ately taken with its small and meaty steer­ing wheel, imply­ing this car likes to be driv­en rather than just piloted. And the driv­ing exper­i­ence doesn't dis­ap­point. It will tackle corners with plenty of enthu­si­asm and bags of grip – far more than you might expect giv­en its high­er centre of grav­ity. The front pews are great, too, offer­ing plenty of lat­er­al sup­port – very handy when you are punt­ing through those tight­er bends at a reas­on­able clip. Some might not be over­joyed by the ride though. The firm set-up helps with assured hand­ling, but at low speeds in par­tic­u­lar, the RAV4 can feel a bit jiggly.
There are three trim levels on offer, and both pet­rol and dies­el engines to choose from. My test car was the all-wheel-drive 2.2‑litre dies­el GXL – the middle level of trim – which starts at $53,490. I've not driv­en a dies­el RAV4 before, and it would be fair to say I was impressed. Mated with a six-speed auto­mat­ic gear­box, it's an engine that deliv­ers the goods. Max­im­um power is a reas­on­able 110kW, but like many dies­el power plants, it's the torque fig­ure (340Nm) that impresses. This RAV4 will pick up its skirts when required without major strain, although best per­form­ance is achieved when flicked to sport mode.
For best eco­nomy, 'Eco' is the logic­al set­ting (nat­ur­ally, it's also the default). Toyota quote 6.5 litres/100km, and my run was not far off, achiev­ing a con­sist­ent 7 litres, des­pite some enthu­si­ast­ic driving.
The GXL offers plenty of stand­ard kit, includ­ing creature com­forts like cli­mate air and styl­ish alloy wheels, while the interi­or is of a high stand­ard. The new dash design looks great, and the soft cov­er­ings add a degree of soph­ist­ic­a­tion lack­ing from some less­er mod­els. On the down­side, the head unit has a rel­at­ively small and fiddly touch screen.
There may be com­pet­i­tion aplenty, but nearly 20 years on, the RAV4 still has an edge. In addi­tion to its endur­ing pop­ular­ity, it has the bene­fit of Toyota's envi­able reli­ab­il­ity. It's not hard to see why my sis­ter chose one.
[wp-review] [warn­ing]
Tech specs
Mod­el reviewed: Toyota RAV4 GXL dies­el all-wheel drive
Price: $53,490 (two-wheel-drive range from $39,990)
Fuel eco­nomy: 6.5 litres/100km (manufacturer's figures)
0–100km/h: 9.6 seconds (manufacturer's figures)
Over­all: Toyota's repu­ta­tion for qual­ity and longev­ity will help ensure the latest iter­a­tion of the RAV4 is as pop­u­lar as ever[/warning]