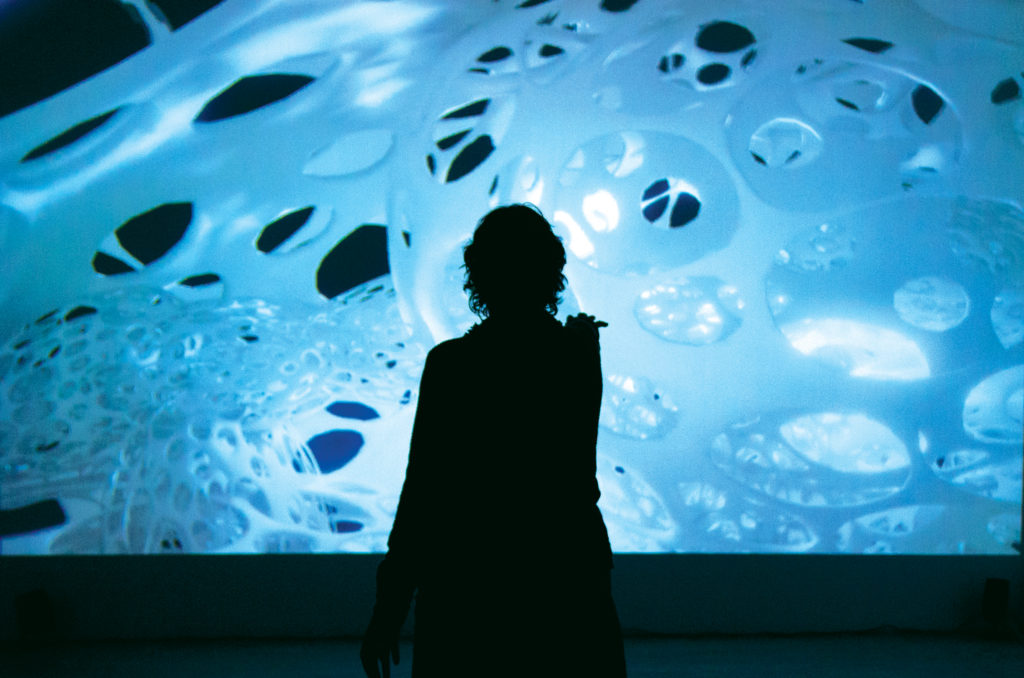 What does art sound like? How is listen­ing dif­fer­ent from look­ing? These are some of the ques­tions posed by the Duned­in Pub­lic Art Gallery's Sound Full, cur­rently on at City Gal­lery Wel­ling­ton. The exhib­i­tion brings togeth­er 16 artists from Aus­tralasia; for me, there were many new names on the list. A num­ber of ideas run through the exhib­i­tion –sound and silence as media, what art sounds like, and the visu­al­isa­tion of sound. These ideas are thought through in paint­ings, digit­al images, record­ings, com­pos­i­tions, asso­ci­ations and sculpture.
View­ing the work, I was reminded how good con­tem­por­ary art makes us con­sider things with fresh eyes. This exhib­i­tion high­lights the aes­thet­ics of sound, which is to say the aes­thet­ics of the equip­ment used to play, record and amp­li­fy sound. Dials, CD discs, micro­phones, speak­ers, switches and the like fea­ture in many of the works. Some artists rein­vent this aes­thet­ic. Aus­trali­an artist Vicky Browne, for example, re-cre­ates a micro­phone and speak­er that allow the view­er to speak to the plants in her install­a­tion. The equip­ment is 'woven' from twigs, as if in some magic­al syn­ergy with the plant life.
Wel­ling­to­ni­ans Eugene Hansen and Jenny Gil­li­am, and their New York col­lab­or­at­or Dr Kron, present a work about the hys­teria of bird flu. A series of bird alarm clocks cov­ers the walls, timed to go off at 12pm for an hour each day. Vinyl sig­nage floats behind the clocks like rows of Pac-Men spoof­ing the imagery of health warn­ings, and about to 'eat' each oth­er up.
No sound exhib­i­tion is com­plete without Auck­lander and vet­er­an sound exper­i­ment­al­ist Phil Dad­son. His Rock Records (12rpm, White Island) visu­al­ises and ima­gines a his­tor­ic and cata­stroph­ic son­ic event with stone impres­sions, spec­tro­pho­to­met­er charts and sound.
Sound Full also tries to ima­gine an aes­thet­ic for sound, and unsur­pris­ingly this, is in the most part, abstrac­tion. Volta and images from the Proof of Concept series by Aus­trali­an Robin Fox map sound with a music cre­ation applic­a­tion called MAX/MSP. The res­ult­ing pho­to­graph­ic and video images are like wild flor­al fire­works. Aus­trali­ans Joyce Hin­terd­ing and Dav­id Haines bring gam­ing engines into the gal­lery. In a Wii games-style exper­i­ence, the view­er drives through lat­tices and weird land­scapes but without the com­bat­ive or com­pet­it­ive aspects of a game. The only 'levels' are the portals and sound fields you can pop in and out of.
And for some­thing com­pletely dif­fer­ent, there are the two per­form­ance-based works – Voli­tion Bus by Sydney-based Kusum Nor­moyle, and Win­dow by Them­bi Sod­dell from Mel­bourne. Nor­moyle lit­er­ally screams at the gal­lery in her invest­ig­a­tion of noise activ­it­ies in nature and in pub­lic spaces. And boy, I know the feel­ing. Sod­dell, in con­trast, asks the view­er to climb into a 'sound box' in com­plete black­ness but sur­roun­ded by audio. Without light, I found myself listen­ing more intently. The creak­ing of my joints and the sound of my breath­ing joined the audio as part of a bod­ily exper­i­ence of sound.
Sound Full opens at City Gal­lery Wel­ling­ton on 19 Octo­ber and runs until 9 Feb­ru­ary 2014.
[info]
Novem­ber Art Recommendations
Put Pataka Art + Museum on your vis­it­ing list this month. There's an inter­est­ing mix of exhib­i­tions on offer. Whakawhiti Aria: Trans­mis­sion includes Israel Birch, Shane Cot­ton and Bob Jahnke in a pro­ject of exchange with one anoth­er. Mir­anda Parkes' She­bang fea­tures work developed while she was artist in res­id­ence at the Tylee Cot­tage in Whan­ganui. Eliza­beth Thom­son presents her Ker­ma­decs work in Trans­it­ive States. And Terry Stringer's Face/Space includes fur­niture and sculpture.
[/info]
Mary-jane is a Paekakariki-based poet and essay­ist, and Fish­Head's art colum­nist. She teaches poetry and aca­dem­ic writ­ing on the Whiyireia Cre­at­ive Writ­ing pro­gramme, tor­tur­ing stu­dents with half-rythmes and pan­toums, zom­bie haiku, and line breaks, ref­er­en­cing and struc­ture. Duffy has a back­ground in museum and gal­lery work, mak­ing a lucky escape from the base­ment of the City Gal­lery Wel­ling­ton in 2002 and open­ing the Mary New­town Gal­lery with Paula New­town in 2004. Art (across all the dis­cip­lines) feels like the closest thing she has to reli­gious exper­i­ences — see­ing, read­ing or hear­ing things that make her brain fizz.