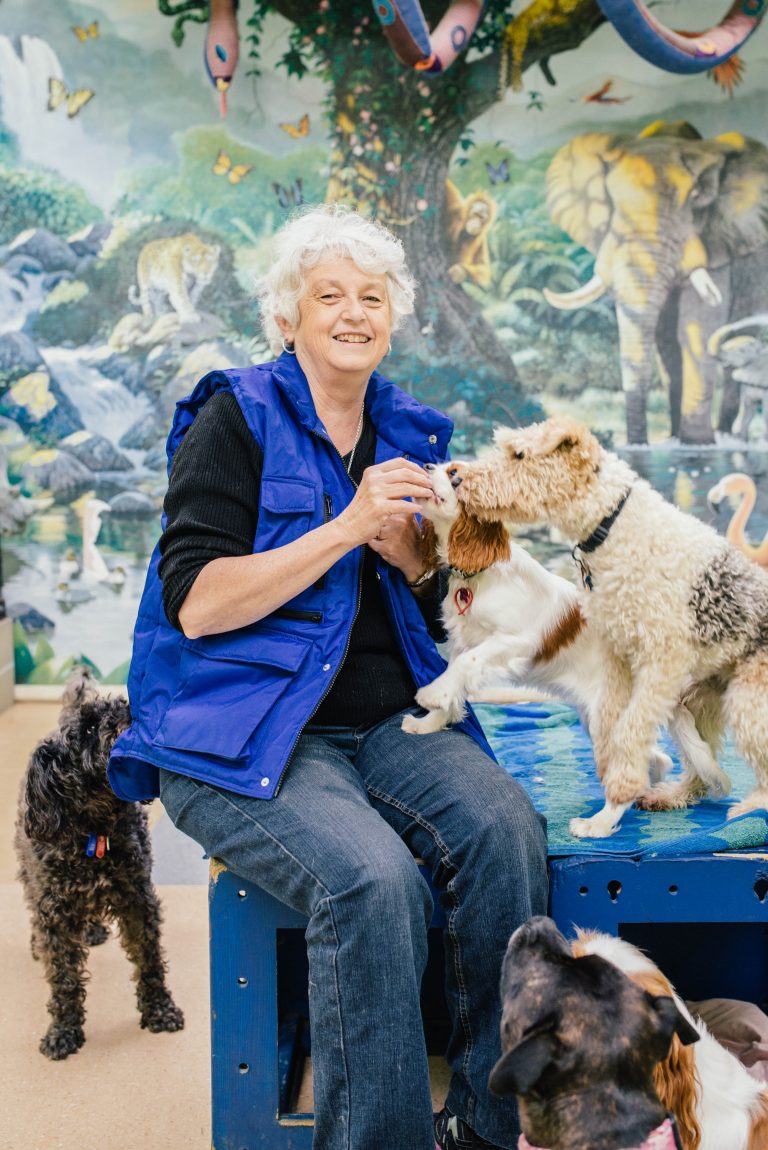 A few weeks ago, on a day I was away from the office, my team decided to have a very ran­dom doggy day, where every­one brought their dogs to work in the after­noon for a bit of a play date. I'm sad I missed out, because I have a lovely dog called Ken, who would have rel­ished the oppor­tun­ity to play with some new friends.
The fol­low­ing week we were dis­cuss­ing our doggy day, and our prac­tice man­ager men­tioned that it was for­tu­nate her dogs were at their day­care across the road, oth­er­wise she would have had to go all the way home to pick them up and bring them back, like one of our account­ants did.
Doggy day­care: a phe­nomen­on that has exploded in the Wel­ling­ton region recently. There have always been dog ken­nels where you can leave your pre­cious pup while you go on hol­i­day, but leav­ing your dog with a carer for the day seems to be a new thing.
And why wouldn't you? Some prob­ably think it's going over­board, but with hours spent away from your dog while you are at work, com­bined with traffic delays or oth­er com­mit­ments, it doesn't seem hugely fair for a social anim­al to have to stay home alone all day.
In addi­tion to what's becom­ing a very nor­mal prac­tice of dog care and edu­ca­tion are the social­isa­tion and train­ing aspects. Just as many chil­dren thrive in early child­care centres, the same goes for your pooch, with oppor­tun­it­ies to learn new tricks, play with oth­er dogs and have the exer­cise they need.
Paws in the City has two branches of their very suc­cess­ful doggy day­care centres, one in New­town and the oth­er in Kaiwhar­awhara. They first opened their doors sev­en years ago after the mer­ger of their dog train­ing and groom­ing busi­nesses, and a move to their premises in New­town offered them expan­sion into a doggy day­care facil­ity shortly after.
One of the three own­ers of Paws in the City, Julia Maid­en, is not sur­prised by this grow­ing industry: "There's obvi­ously a great need for dog day­care facil­it­ies in Wel­ling­ton. It's not for all dogs, though. Some prefer to stay at home, but for the ones that do come along and enjoy it, they have a won­der­ful time."
"Dogs have best friends, too, so we have developed play­groups for the ones that get on best in cer­tain social circles. But like any rela­tion­ship, dogs can have dis­agree­ments with their friends, so we make sure there is a train­er in each group to be on hand for disputes!"
"We are for­tu­nate enough to work closely with Wel­ling­ton SPCA, so their pup­pies come down to vis­it us for some social les­sons and a good run around with the oth­er dogs – it's so lovely to see a pre­vi­ously sheltered puppy come to a class or day­care with a new own­er who has adop­ted them".
Peta is Fish­Head's enter­prise writer. A born and bred Wel­ling­to­ni­an, Walk­er is own­er of BW Chartered Account­ants and a long-term busi­ness adviser — she is cur­rently fight­ing all the usu­al account­ing ste­reo­types.. and win­ning. Lov­ing long walks in the hills, her long-term ambi­tion is to walk the entire Te Araroa walk­way: at about 100 kilo­metres per year this is a 30-year pro­ject. She lives on a Makara life­style prop­erty that is also home to Pester and Lester the chick­ens, and cows French, Door, Blue and Vein.