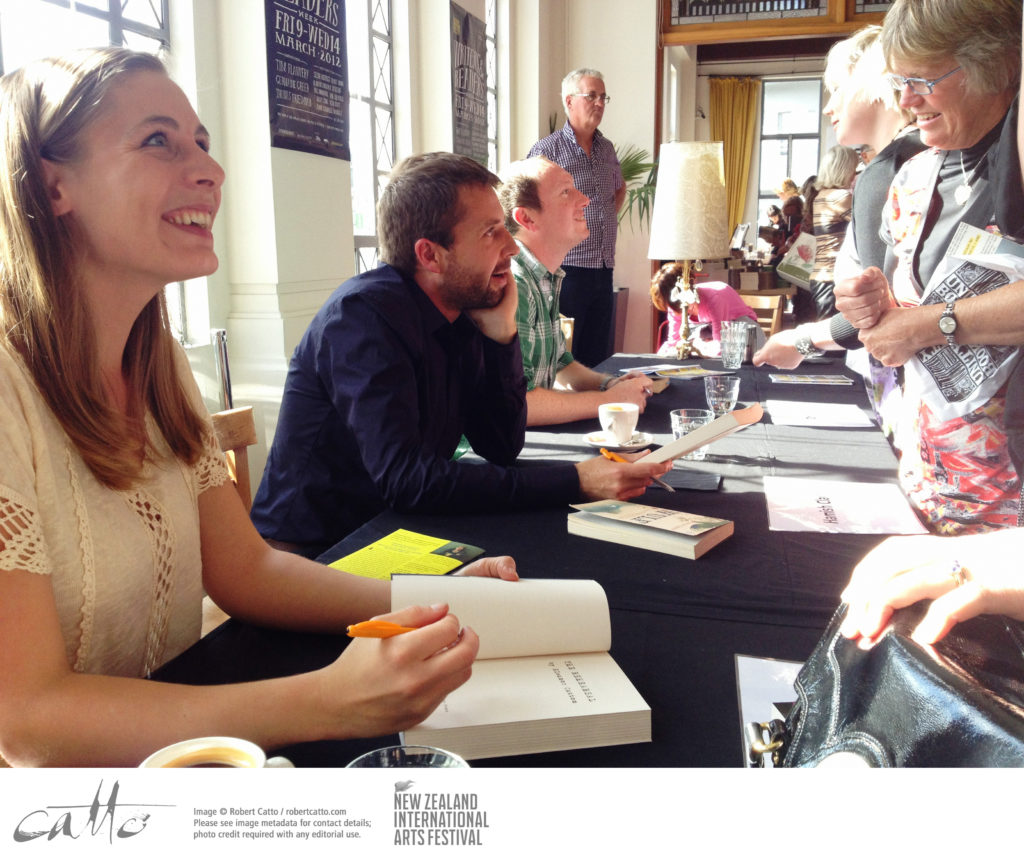 By the time Fish­Head's April issue hits shelves, read­ers may be nurs­ing some­thing of a deep-think­ing hangover. The capital's bien­ni­al New Zea­l­and Fest­iv­al wound up earli­er this month, offer­ing events across a wide artist­ic breadth; but it's hard to ima­gine any pro­gramme top­ping the embar­rass­ment of riches put togeth­er by the coordin­at­ors of the 2014 Writers Week.
An under­ly­ing theme to this year's events was the ever-blur­ring bound­ary between truth and fic­tion. Flaubert's Par­rot author Juli­an Barnes once sug­ges­ted that "books are where things are explained to you; life is where things aren't". Numer­ous excep­tions may prove his rule, but there's cer­tainly some­thing there: books can form a space where messy col­lec­tions of notions are parsed into tidy stor­ies, though it's the canny read­er who can pick which is the less pernicious.
Viewed in that light, the 2014 Writers Week was some­thing approach­ing a sur­viv­al guide to the early 21st cen­tury. Here was luminary home­com­ing queen Elean­or Cat­ton, offer­ing a dis­cus­sion of the role of the edit­or in shap­ing works of fic­tion, togeth­er with her Luminar­ies co-edit­or Max Port­er; deliv­er­ing the New Zea­l­and Book Coun­cil lec­ture, on the prin­ciple of 'change' in fic­tion; and speak­ing to The Luminar­ies' astro­lo­gic­al influ­ences at the Carter Obser­vat­ory along­side poet Robert Sul­li­van and astro­phys­ics writer Mar­cus Chown.
Catton's appear­ances alone could've served as a course in the finer points of fact, fic­tion, ver­ity and eso­ter­ica; but there was much more on offer besides. Tragedy at Pike River Mine author Rebecca Macfie spoke to that work as well as her cov­er­age of the Christ­ch­urch earth­quake, a timely explor­a­tion of the dis­rupt­ive prin­ciple as it's applied most dev­ast­at­ingly in real lives. Oth­er authors shared their own admir­able grasp of big stor­ies: Mar­garet Mac­Mil­lan, author of the Samuel John­son Prize-win­ning Peace­makers, spoke to the uses and abuses of his­tory, and Chinese-Brit­ish author Jung Chang spoke on her research into Empress Dow­ager Cixi, one of China's most influ­en­tial recent rulers. Out­side the Writers Week pur­view, act­or Denis O'Hare – recently seen on Amer­ic­an Hor­ror Story as a tongue­less ghost – delivered a one-man riff on viol­ence built around Homer's Ili­ad.
As much scru­tiny again was paid to the busi­ness of craft­ing fact and fic­tion alike, with dis­cus­sions on the hero­ic shad­ow-work of lit­er­ary trans­la­tion from Vic­tor­ia University's Marco Sonzogni; design and com­mu­nic­a­tion from Pol­ish mas­ters Daniel and Aleksandra Miz­ielińsky; play­writ­ing from his­tory with Hone Kouka and oth­ers; and a pan­el dis­cus­sion of copy­right, TPPA (Trans-Pacific Part­ner­ship Agree­ment) and what these issues mean to writers and read­ers. Surely after such a line-up – whose finer points we've barely touched on – the only appro­pri­ate response is an urge to explore (or make) some words for yourself.
[info]
April Book Recommandations
Dappled Annie and the Tigrish: Mary McCal­lum (illus­trated by Annie Hay­ward), Gecko Press
Loc­al imprint Gecko Press is blow­ing up on the kid-lit scene with good reas­on: pub­lish­er Julia Mar­shall recently chat­ted about Wel­ling­ton in this very magazine, and the house's latest release is this work of magic­al real­ism in the tra­di­tion of New Zealand's best children's writing.
Kei Reira Ngā Weri­weri: Maurice Sendak, Huia Press
Huia's trans­la­tion of Sendak's beloved children's book saw a live read­ing at the former Down­stage in this year's Writers Week. The story's lyr­ic flour­ish is only enhanced by the lov­ing trans­la­tion into rhythmic te reo Māori. Vis­it huia.co.nz to down­load a free MP3 of its Where the Wild Things Are te reo translation.
[/info]
Tom is Fish­Head's book colum­nist. A Mas­ter­'s degree in Cre­at­ive Writ­ing from Vic­tori­a's Inter­na­tion­al Insti­tute of Mod­ern Let­ters launched Goulter on the life of an itin­er­ant man of let­ters, wan­der­ing the frac­tious United states in search of.. whatever it was Peter Fonda and Den­nis Hop­per were after, prob­ably. Instead of get­ting shot by red­necks (yet), he returned to Wel­ling­ton, where he essays semi-reg­u­larly into pop­u­lar cul­ture, psy­cho-geo­graphy, under­ground film-mak­ing, and the uncanny in all its myri­ad forms. Not a day goes by that he does not wish Man­ners Street still had Crys­tal city on it.