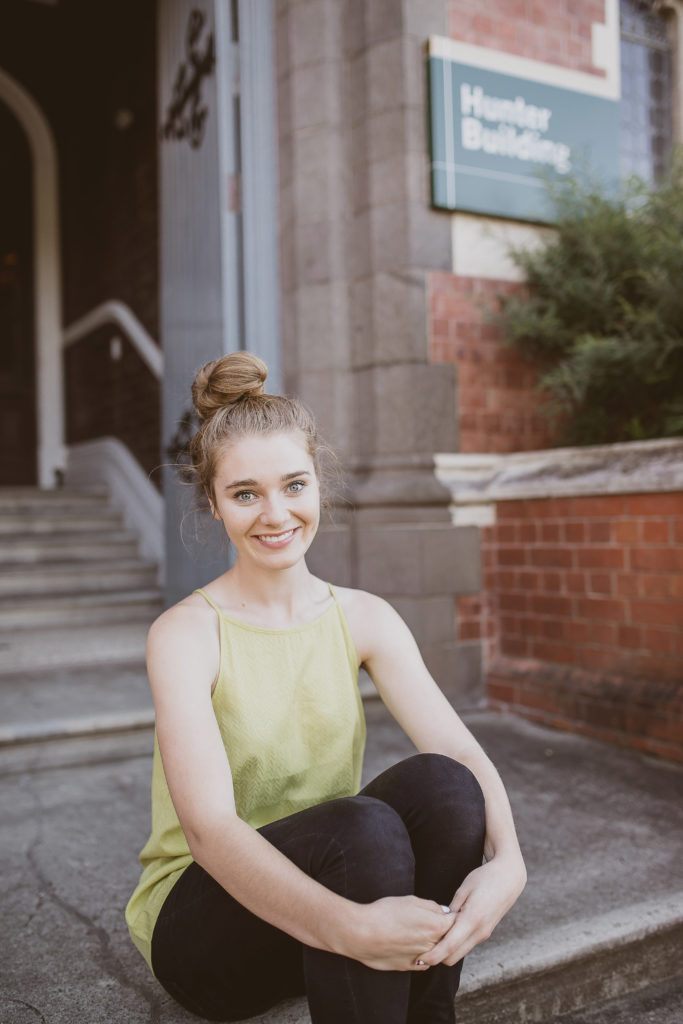 If it's been a hard day at work and I'm in need of a drink I'll be… sit­ting out­side Hotel Bris­tol on Cuba Street if it's a sunny day, oth­er­wise you'll find me tucked up at the Lib­rary Bar. At Christ­mas they were mak­ing Christ­mas cock­tails — they were amaz­ing!
The next day if I'm in need a hearty feed and a cup of great cof­fee I'll be at… prob­ably one of the many cafés on the Vic­tor­ia cam­pus. There are so many to choose from! Vic Books Café is gen­er­ally pretty good (but it's a little expens­ive, being a poor stu­dent).
If I need a slice of cul­ture you can't go past… the theatre! I'm a big drama geek, I love BATS and Circa. I saw a really inter­est­ing per­form­ance at BATS once called Coaltown Blues. It was a one-man show and we had to see it as a require­ment for NCEA, but I sur­pris­ingly really enjoyed it! I've nev­er really seen any­thing quite like it.
My favour­ite Wel­ling­ton land­mark has to be… the Museum Hotel. It's really quite amaz­ing when you go inside; it's one of the top ten art hotels in the world! I stayed there dur­ing Wel­ling­ton Fash­ion Week last year.
I am most ashamed to have nev­er vis­ited… Par­lia­ment! I don't par­tic­u­larly want to vis­it it, but doing a Par­lia­ment tour is prob­ably one of those things you're sup­posed to have done at school, but I just nev­er did.
Wel­ling­ton is great for boutique shop­ping; when I need a dash of retail ther­apy you'll find me at… the Old Bank Arcade. I just love the shops in there! My favour­ite would have to be Ruby boutique. As a stu­dent I can't afford the clothes, but I just go in and try them all on. It's great!
I've done some awe­some mod­el­ling jobs in this city, but one par­tic­u­larly mem­or­able exper­i­ence would have to be… a photo-shoot that took place right beside the air­port run­way! We had to stand on some con­crete slabs and the planes were fly­ing right over us. We couldn't even hear what the pho­to­graph­er was say­ing at some points because there was so much noise! The pho­tos turned out pretty cool though.
For me, the high­light of Wel­ling­ton Fash­ion Week was… being asked at the last minute to mod­el in the bridal show! Mod­els were spe­cific­ally chosen for that show and all the spots had been filled. I was sit­ting in the lobby of the Museum Hotel and one of the organ­isers was down there stress­ing about los­ing some of the mod­els, and then she said, "Hey, can you guys do it?" So that was really exciting!