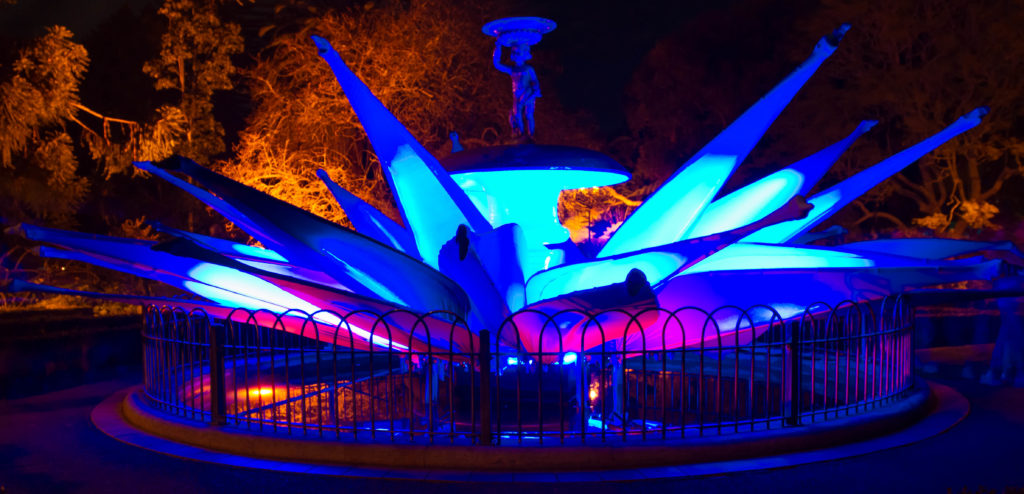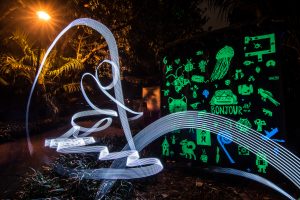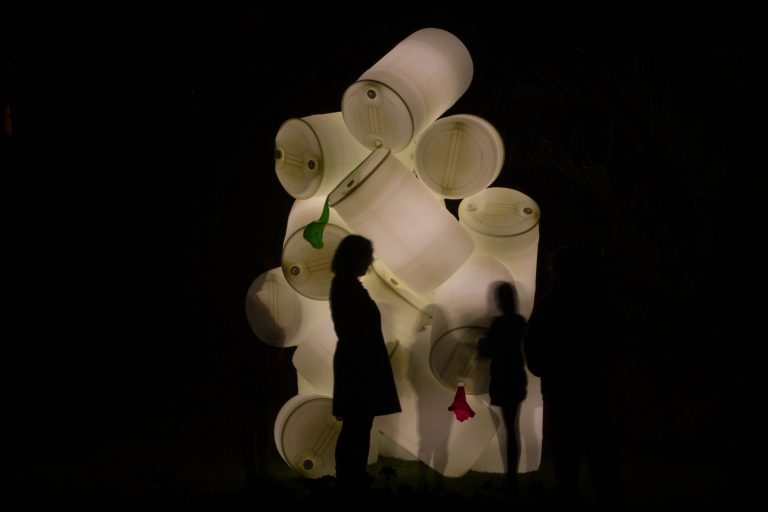 Reg­u­lar read­ers will know I am a great fan of light works — that is, art that makes light one of its sub­jects. My favour­ite example in Wel­ling­ton is Bill Culbert's SkyBlues on Jer­vois Quay. It's a series of neon squiggles set on top of shiny alu­mini­um poles, and is best viewed from the water­front, but stand­ing under­neath it look­ing up is worth the trouble too…
What is it about a disco ball in a tree that is so lovely? More and more coun­cils around the coun­try have been dec­or­at­ing their botan­ic gar­dens over sum­mer with lights. Our own coun­cil in Wel­ling­ton lights up the botan­ic gar­dens over sum­mer, and that's always a good oppor­tun­ity to vis­it the glow-worms. I've been to Blen­heim at Christmas/New Year and walked around their gar­dens in the illu­min­ated dark­ness. But my favour­ite park in sum­mer is Pukekura Park in New Ply­mouth (in fact, the New Ply­mouth Dis­trict Coun­cil may have even star­ted this trend).
And such a trend. Light­ing install­a­tions (like this year's New Zea­l­and Fest­iv­al show Power Plant) give loc­als and vis­it­ors a reas­on to go to the gar­dens on a warm even­ing, but in winter this can be quite a dif­fer­ent pro­pos­i­tion. How­ever, one of my high­lights of 2013 was the Lux Fest­iv­al organ­ised by Mas­sey Uni­ver­sity and the Wel­ling­ton City Coun­cil. On a clear, icy Monday even­ing close to the shortest day, a bunch of oth­er enthu­si­asts and I walked the city, maps in hand, hunt­ing down the art that shone.
Mean­while, across Cook Strait, the people of Nel­son were doing the same thing in their civic gar­dens. This year, the Light Nel­son fest­iv­al will again light up three mid­winter nights in Queens Gar­dens on 11–13 July. The selec­tion of 30 works, mostly by loc­al artists and col­lab­or­at­ors, includes light shows, install­a­tions, video pro­jec­tions and inter­act­ive work — with an emphas­is on low tech and simple.
Stu­dents and tutors from the loc­al poly­tech, Nel­son and Marl­bor­ough Insti­tute of Tech­no­logy (NMIT), are well rep­res­en­ted. Of par­tic­u­lar interest is a col­lab­or­at­ive work between poet Cliff Fell, artist Anne Rush and film-maker John Irwin called The Eel Pond Pro­ject. This install­a­tion pays homage to a site in the Chinese Garden where eels have always lived. Fell and Rush are also involved in anoth­er pro­ject using smart­phone tech­no­logy, poetry and light to tell the stor­ies of the area's her­it­age trees. The text is writ­ten by NMIT's cre­at­ive writ­ing students.
I also like the sound of I'm Going Bats by Lori Dav­is, a group of glow-in-the-dark bats and their pred­at­ors that hang in the trees, bat-style. Dav­is' install­a­tion high­lights the vul­ner­ab­il­ity of the nat­ive long-tailed bat. And in the spir­it of com­munity that dom­in­ates the fest­iv­al, the bats are made by the chil­dren at a loc­al art class. Oth­er high­lights include a col­lab­or­a­tion between Auck­land artist Philip Mat­thews and taonga puoro expert Richard Nunns, and a winter music fest­iv­al organ­ised by the Nel­son School of Music.
[info]
June Art
The Mata Aho Col­lect­ive are cur­rently on at Toi Pōneke in Abel Smith Street with their exhib­i­tion Kaokao. The col­lect­ive is made up of four artists — Erena Baker, Sarah Hud­son, Brid­get Reweti and Terri Te Tau — who became friends dur­ing wān­anga at Mas­sey Uni­ver­sity. The exhib­i­tion responds to the upcom­ing First World War com­mem­or­a­tions and explores the vis­ib­il­ity of women in Māori and non-Māori his­tor­ies using the meta­phor of tuku­tuku and the tra­di­tion­al pat­tern kaokao, syn­onym­ous with Tūmatauenga, the god of war.
[/info]
Mary-jane is a Paekakariki-based poet and essay­ist, and Fish­Head's art colum­nist. She teaches poetry and aca­dem­ic writ­ing on the Whiyireia Cre­at­ive Writ­ing pro­gramme, tor­tur­ing stu­dents with half-rythmes and pan­toums, zom­bie haiku, and line breaks, ref­er­en­cing and struc­ture. Duffy has a back­ground in museum and gal­lery work, mak­ing a lucky escape from the base­ment of the City Gal­lery Wel­ling­ton in 2002 and open­ing the Mary New­town Gal­lery with Paula New­town in 2004. Art (across all the dis­cip­lines) feels like the closest thing she has to reli­gious exper­i­ences — see­ing, read­ing or hear­ing things that make her brain fizz.