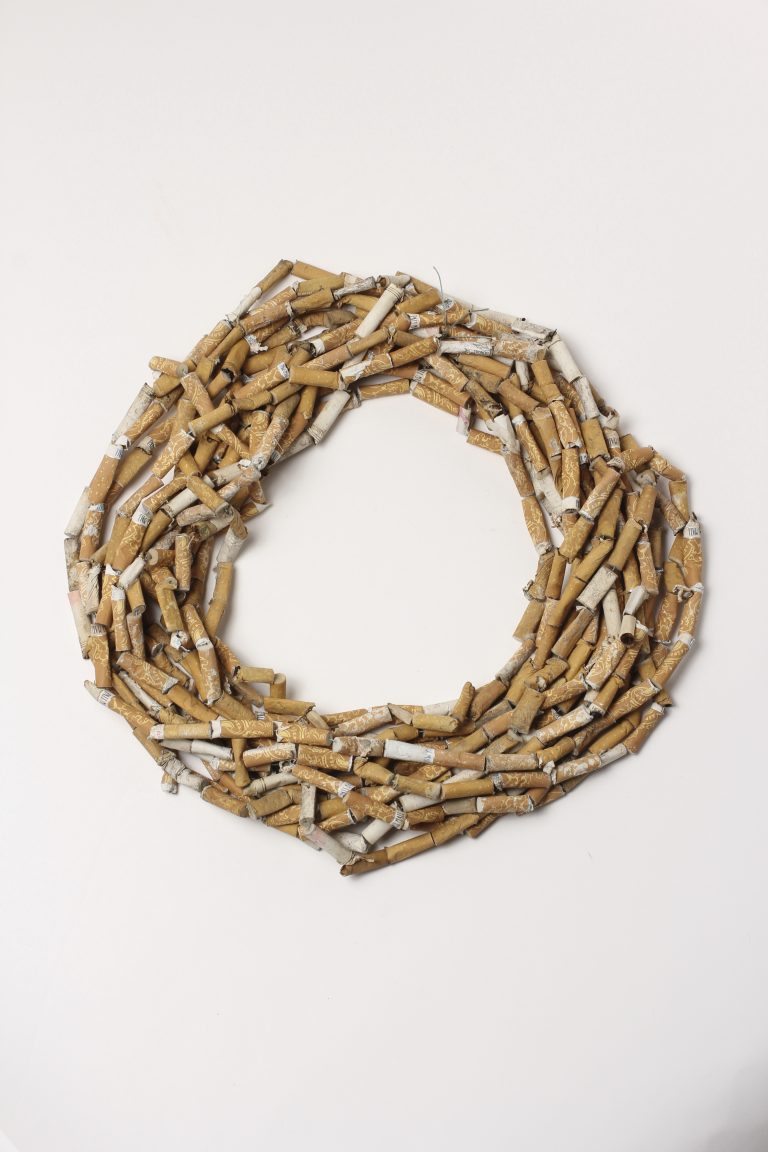 In case you haven't noticed, con­tem­por­ary New Zea­l­and jew­ellery is sen­sa­tion­al. I don't mean Michael Hill's dia­mond rings; I mean jew­ellery made by con­tem­por­ary jew­ellers. And right now, con­tem­por­ary jew­ellery is going off (to use a surf metaphor).
This is evid­ent in our own city, with two gal­ler­ies devoted to jew­ellery — Avid and Quoil — both of which show work by jew­ellers from around the coun­try. Bowen Gal­lery and Ham­ish McKay Gal­lery also rep­res­ent a couple of con­tem­por­ary jew­ellers. Then there's The Nation­al in Christ­ch­urch and Fin­gers in Auckland.
The Whitireia jew­ellery course, along with a hand­ful of sim­il­ar courses in oth­er centres, is pro­du­cing some inter­est­ing jew­ellers. Peter Deck­ers, who leads the course, has recently ini­ti­ated the second round of Hand­shake — a ment­or­ing pro­gramme in which 12 emer­ging jew­ellers get to work with a ment­or of their choice. The excit­ing news for them is that a good num­ber of the rock stars of the con­tem­por­ary jew­ellery world have agreed to be involved.
Last year, the 12 jew­ellers of the first Hand­shake pro­ject were invited to exhib­it at the world's most prom­in­ent jew­ellery sym­posi­um, Schmuck, in Munich. This year, New Zea­l­and was again rep­res­en­ted at Schmuck, this time with the exhib­i­tion Wun­der­ruma. Wolfgang Lösche, the dir­ect­or of Galer­ie Handwerk in Munich, invited War­wick Free­man and Karl Fritsch, an expat Ger­man now res­id­ent in New Zea­l­and, to cur­ate the exhib­i­tion, which fea­tures the work of 75 New Zea­l­and jewellers.
Karl and War­wick vis­ited stu­di­os, gal­ler­ies and museums across New Zea­l­and and along the way talked to jew­ellers. The res­ult­ing exhib­i­tion, sup­por­ted and toured to Munich by the Dowse Art Museum, offers a snap­shot of New Zea­l­and jew­ellery now — and the two jew­ellers' sense of where it has come from.
Karl and War­wick chose works based on their own views about New Zea­l­and jew­ellery and avoided includ­ing rep­res­ent­at­ive or sig­na­ture works. But they did include pieces by a couple of well-known New Zea­l­and artists not usu­ally thought of as jew­ellers, along with a selec­tion of taonga and his­tor­ic­al works. As Dowse dir­ect­or Court­ney John­ston says in the fore­word to the exhib­i­tion cata­logue, "we have been greeted by both old friends and sur­pris­ing inclu­sions". The cur­at­ors' approach has been con­tro­ver­sial with­in the jew­ellery com­munity but it makes for an inter­est­ing show nonetheless.
You can make your own assess­ment of their choices when you vis­it the exhib­i­tion at the Dowse, where it's cur­rently on show (21 June to 28 Septem­ber). Since the dir­ect­or­ship of James Mack in the early 1990s, the Dowse has been one of the few nation­al insti­tu­tions to col­lect con­tem­por­ary jew­ellery with any ser­i­ous­ness, and as Court­ney also says in the cata­logue fore­word, it "feels like the nat­ur­al home for a pro­ject of this scope and significance".
[info]
July Art
Cur­rently at the Adam Art Gal­lery (27 May to 21 Septem­ber) is an exhib­i­tion called What is a life?, which sur­veys the works of Duned­in artist Kim Pieters. Kim is reg­u­larly seen in Wel­ling­ton with exhib­i­tions at the Bowen Gal­lery and is best known for her del­ic­ate abstract paint­ings. She is also a musi­cian and vocal­ist, and has been involved in the exper­i­ment­al music scene in Duned­in since mov­ing there in 1993. She has played in vari­ous ensembles whose per­form­ances have often included her mov­ing-image pro­jec­tions. This exhib­i­tion brings togeth­er all the facets of Kim's prac­tice, includes draw­ings, pho­to­graphs, sculp­tures and mov­ing-image soundscapes.[/info]
Mary-jane is a Paekakariki-based poet and essay­ist, and Fish­Head's art colum­nist. She teaches poetry and aca­dem­ic writ­ing on the Whiyireia Cre­at­ive Writ­ing pro­gramme, tor­tur­ing stu­dents with half-rythmes and pan­toums, zom­bie haiku, and line breaks, ref­er­en­cing and struc­ture. Duffy has a back­ground in museum and gal­lery work, mak­ing a lucky escape from the base­ment of the City Gal­lery Wel­ling­ton in 2002 and open­ing the Mary New­town Gal­lery with Paula New­town in 2004. Art (across all the dis­cip­lines) feels like the closest thing she has to reli­gious exper­i­ences — see­ing, read­ing or hear­ing things that make her brain fizz.