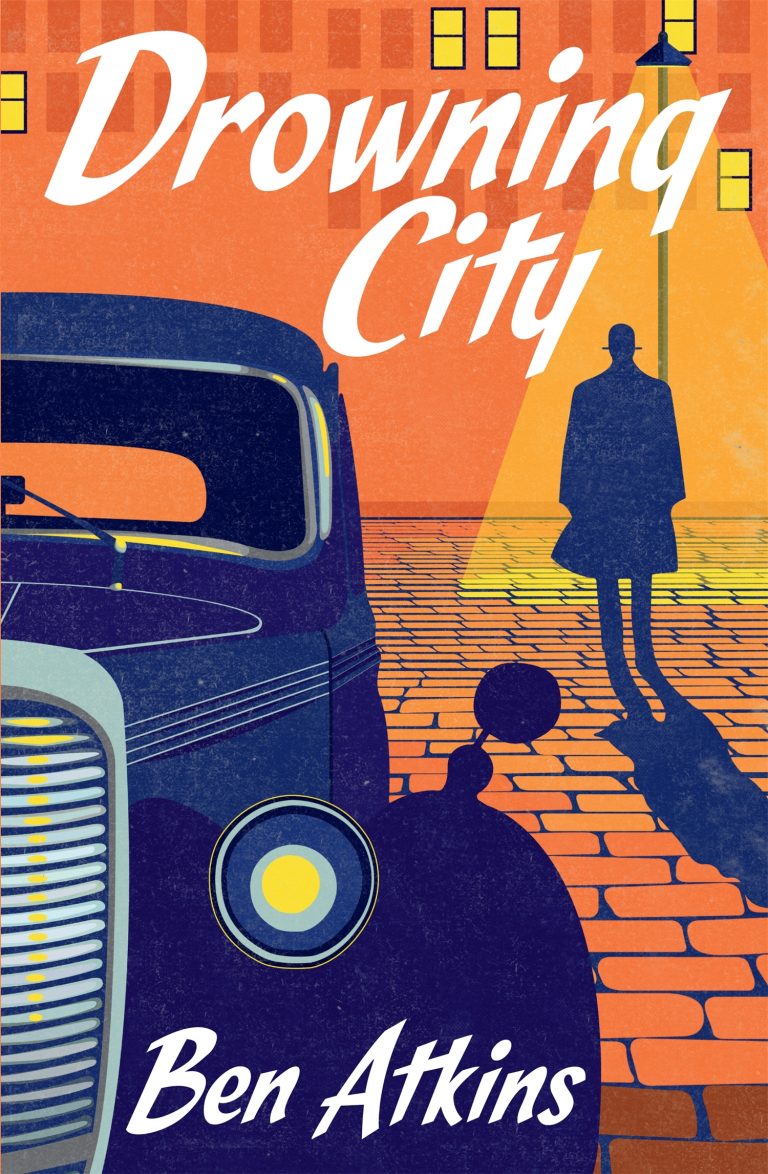 It's funny how ima­gin­a­tion works. A fac­ulty as broad as the human capa­city for 'fantasy' dis­tils to wiz­ards, dragons and cas­u­al fas­cism. The entire com­pass-dir­ec­tion of 'west­ern' boils down to the prom­ise of horses and Stet­sons. And 'noir' — from film noir, or black film, the mor­al miasma seen by crit­ic Nino Frank to per­vade Hol­ly­wood polici­ers of the 1930s and 1940s — sug­gests a vast paint­box of nar­rat­ive and psy­cho­lo­gic­al hues; but wheth­er it's The Big Sleep or a loc­al release like Ben Atkins' Drown­ing City, you know you're get­ting cigars and fedoras.
But before Atkins, back to Frank. As he observed, noir applied Hollywood's nar­rat­ive assembly line to an unflinch­ing cri­tique of the Amer­ic­an mind, shot through with the Goth­ic exist­en­tial­ism of an immig­rant European cre­at­ive class. The res­ult was an artist­ic creole of no fixed abode, a drift­er pressed into ser­vice as needed — much like oth­er 20th-cen­tury innov­a­tions such as jazz or pavlova.
And yet there's an irre­du­cible con­crete­ness to the black­est of noir — and equally to its black broth­ers, sit­ting along­side Atkins' effort in the 'crime/mystery' sec­tion of your pre­ferred writ­ten-word pur­vey­or. Like hip hop, whose grav­ity-defy­ing flights of word­play belie a per­sist­ent emphas­is on real­ness, noir or hard-boiled fic­tion can't just throw togeth­er a few leggy dames and hard-bit­ten gum­shoes and call it a day. Trail­blazer Dashi­ell Ham­mett did a stint clean­ing the toi­lets while incar­cer­ated at a Fed­er­al pen­it­en­tiary. L.A. Con­fid­en­tial author James Ell­roy, reign­ing king in the genre's yel­low­ing pages, secured his claim to real­ness as a peep­ing Tom, panty-thief and dis­trib­ut­or of pro­hib­ited literature.
For a genre seen to thrive most verd­antly in the shad­ows of New York, Chica­go or Los Angeles, it's easy to for­get noir's inter­na­tion­al ped­i­gree. But do we not have dark­ness here too? Not to men­tion cor­rup­tion, mor­al miasma and a long-stand­ing drink­ing problem?
Sam Neill's 1995 doc­u­ment­ary Cinema of Unease makes a sol­id case for New Zealand's long-stand­ing tra­di­tion of black thought and art. Gaylene Preston's Wel­ling­ton-set debut Mr Wrong (1985) deployed sly fem­in­ism while Hol­ly­wood noir was still coast­ing on its own fumes. And Edmund Bohan applied noir's stand­ards of enquiry — of broken his­tor­ies, bur­ied secrets and archetyp­al vice — to the past of Wel­ling­ton (and the coun­try at large).
Atkins' debut turns that dark glass fur­ther inward: to the tropes and tru­isms of noir itself. His nov­el takes place in a lim­in­al city some­where between Depres­sion-era under­world USA and noir's ima­gined spaces. This quint­es­sen­tially 20th-cen­tury genre, fuelled by the dis­sol­u­tion of delin­eations — Europe and Amer­ica, law and under­world, vice and vir­tue — has long had its back up against an unas­sail­able bul­wark, as if real­ness and arti­fice weren't once more sol­uble. Now, authors like Atkins are mak­ing a brave effort at map­ping even that shift­ing territory.
Tom is Fish­Head's book colum­nist. A Mas­ter­'s degree in Cre­at­ive Writ­ing from Vic­tori­a's Inter­na­tion­al Insti­tute of Mod­ern Let­ters launched Goulter on the life of an itin­er­ant man of let­ters, wan­der­ing the frac­tious United states in search of.. whatever it was Peter Fonda and Den­nis Hop­per were after, prob­ably. Instead of get­ting shot by red­necks (yet), he returned to Wel­ling­ton, where he essays semi-reg­u­larly into pop­u­lar cul­ture, psy­cho-geo­graphy, under­ground film-mak­ing, and the uncanny in all its myri­ad forms. Not a day goes by that he does not wish Man­ners Street still had Crys­tal city on it.