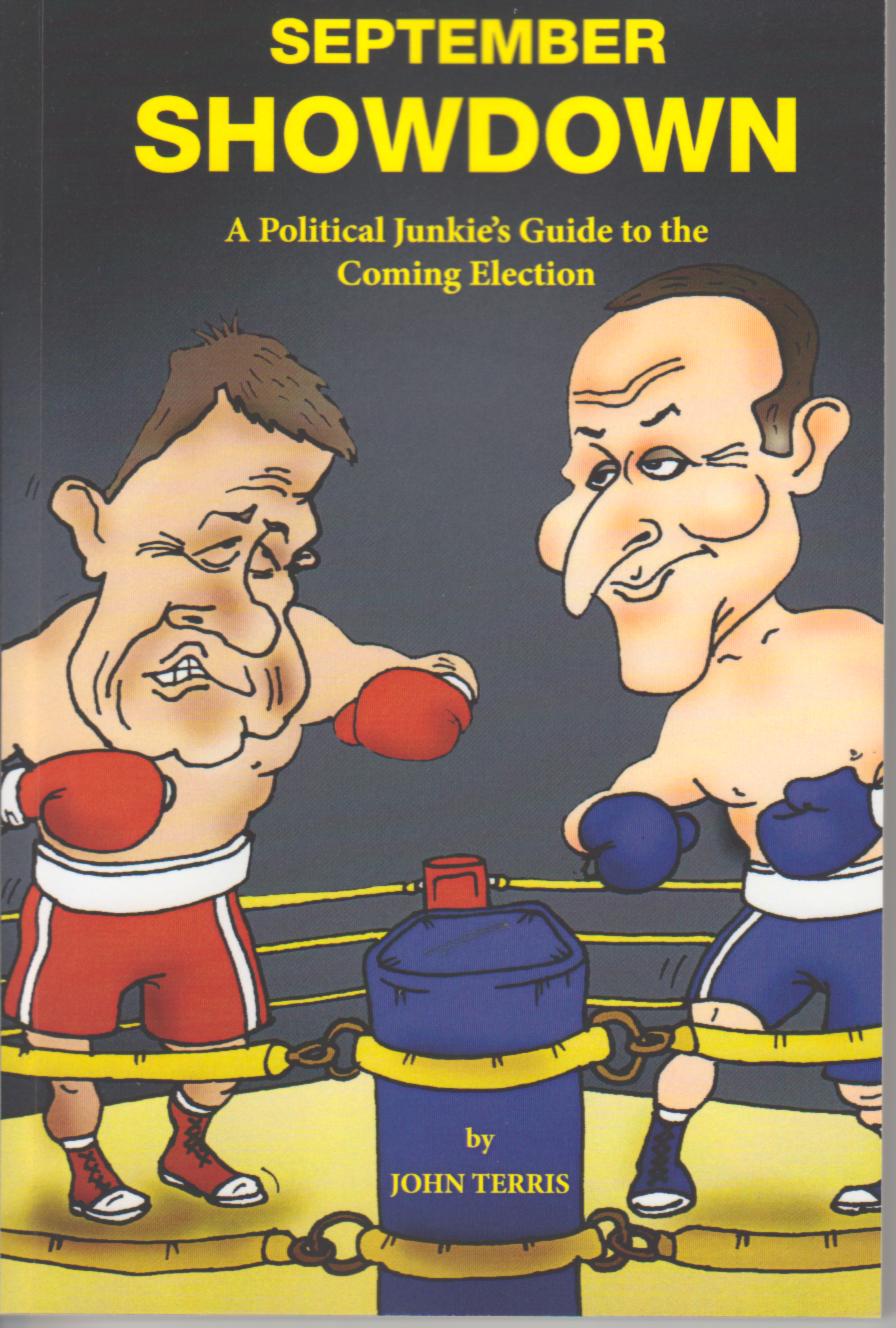 If you lived in Auck­land, you'd prob­ably be sick of people talk­ing about Jaf­fas and Short­land Street. Christ­ch­urch res­id­ents would once have tired of sheep-shagged jokes, hav­ing lat­terly moved onto huff­ing politely when asked if there's any pro­gress with the insur­ance. Among Wel­ling­to­ni­ans, it's done to nur­ture a feigned impa­tience with dis­cus­sions re: Those Bloody Politi­cians; though at this time of year, when pas­sions sim­mer red and blue and hot all over, any reti­cence to address such con­cerns may stem more from a fear of embar­rass­ingly boil­ing over in civ­il­ised company.
Much bet­ter to stick to the writ­ten word, which can't spit-take its beer when the con­ver­sa­tion goes too far. New Zeal­anders are prodi­gious read­ers and writers of Books About Polit­ics. Grow­ing up, we were nev­er far from the genre. Taught to read just up the road from Par­lia­ment, where a fam­ily mem­ber staffed the Press Gal­lery dur­ing the neo­lib­er­al tailspin of the 1980s, we spent one school term draw­ing up a full-class mur­al about the per­ils of user-pays edu­ca­tion. Class­mates included the chil­dren of Richard Preb­ble, author of the widely read I've Been… trilogy.
My first 'grown-up book' was Primary Col­ors by 'Anonym­ous'. The same Press Gal­ler­ied rel­at­ive delighted in rumours that he'd penned the next season's Kiwi copycat, The Spin, by anoth­er 'Anonym­ous'. High­er edu­ca­tion brought les­sons at the foot of loc­al rabble-rouser par excel­lence Alister Barry, whose Hot Air screened at this year's Inter­na­tion­al Film Festival.
Books About Polit­ics are in no short sup­ply in the cap­it­al. The Rus­sell Brown-edited Great New Zea­l­and Argu­ment brings togeth­er Dav­id Lange's era-defin­ing speech 'Nuc­le­ar Weapons are Mor­ally Indefens­ible' and time­less broad­sides like Bill Pearson's 'Fret­ful Sleep­ers'. Greg Hallett's bat­shit New Zea­l­and: A Blackmailer's Guide sits innoc­u­ously beside The Dark Art of Polit­ics, author one Simon Carr: the Spinning Anonym­ous to whom I wasn't, it even­tu­ated, related.
Vet­er­an Hutt MP and former Deputy Speak­er John Ter­ris keeps his sub­jects at punch­able arm's length in Septem­ber Show­down: The Polit­ic­al Junkie's Guide to the Com­ing Elec­tion. Terris's wry sub­title belies the obsol­es­cence haunt­ing every polit­ic­al life. Writ­ten as a series of epistles to a Bee­hive neo­phyte hop­ing to Make a Dif­fer­ence come Octo­ber, this is polit­ic­al coun­sel as The Screwtape Let­ters.
The first 'pāua cor­rupts' pun — without which no Book About Polit­ics would be allowed through the press — rears its head early, pav­ing the way for a sol­id tome's‑worth of obser­va­tions on the State of the Nation 2014. If you felt John Roughan, author of John Key: Por­trait of a Prime Min­is­ter, wasn't suf­fi­ciently rough on his sub­ject, Ter­race insider Terris's account of Thorndon life should redress the bal­ance — provided you can keep your beer down while reading.
Tom is Fish­Head's book colum­nist. A Mas­ter­'s degree in Cre­at­ive Writ­ing from Vic­tori­a's Inter­na­tion­al Insti­tute of Mod­ern Let­ters launched Goulter on the life of an itin­er­ant man of let­ters, wan­der­ing the frac­tious United states in search of.. whatever it was Peter Fonda and Den­nis Hop­per were after, prob­ably. Instead of get­ting shot by red­necks (yet), he returned to Wel­ling­ton, where he essays semi-reg­u­larly into pop­u­lar cul­ture, psy­cho-geo­graphy, under­ground film-mak­ing, and the uncanny in all its myri­ad forms. Not a day goes by that he does not wish Man­ners Street still had Crys­tal city on it.