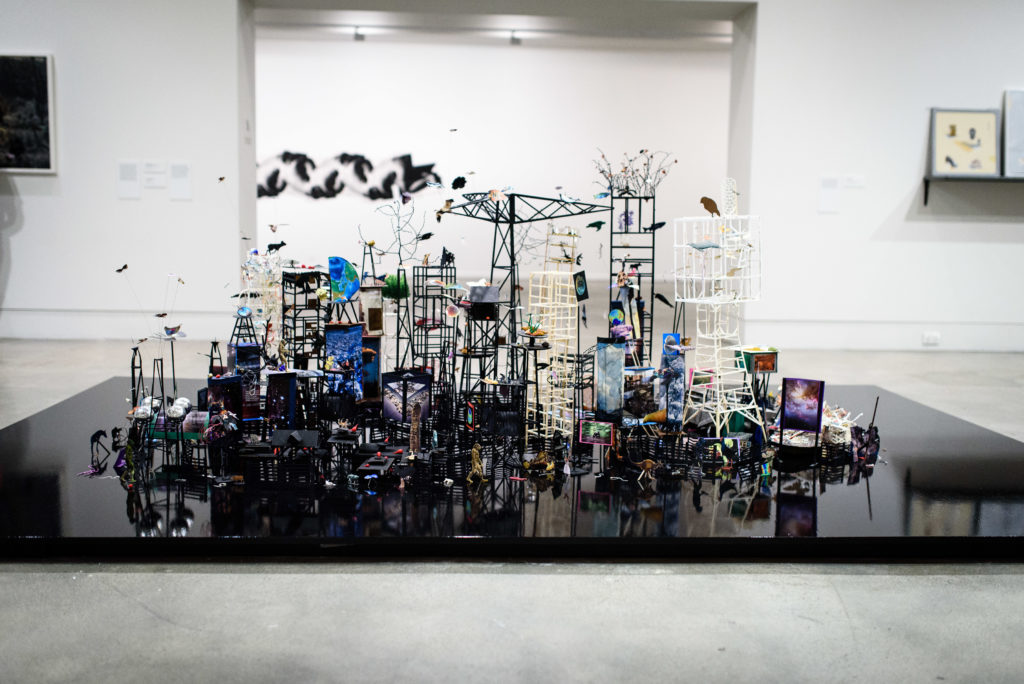 Col­lage seems a use­ful meta­phor for con­tem­por­ary life in the digit­al age.
A col­lage dis­rupts accep­ted mean­ings by tak­ing found images clipped from their ori­gin­al con­text, then mix­ing them up and rearran­ging them. It's hap­pen­ing around us con­stantly across all media. Cur­at­or Sian van Dyk provides a small sur­vey of the prac­tice in Cut + Paste, on at the Dowse (until 14 July).
In the largest room of the show, a string of lady legs cut from girlie magazines wiggles up the wall in Jo Russ's clev­er work Draw­ing with Legs (2015). Witty and care­free, the legs kick about in a joy­ous release from their bod­ies. It's almost an anim­a­tion. Russ is one of those artists to keep your eye on.
At the oth­er end of the room, Tjalling De Vries's Come on Doll Face (2012) has a car­toon Doll Face fall­ing back­wards through a paint portal to a par­al­lel uni­verse — an updated Licht­en­stein. Come on Doll Face makes good con­nec­tions with the nearby Jac­queline Fraser, He says John Bok's a proph­et honey (2007), and Robert Hood's Tele­plas­mic mass — Prince (2007). Wow, the Jac­qui Fraser work is stel­lar. Using media-sourced images enhanced with actu­al mater­i­als, it high­lights the beau­ti­ful hol­low­ness of media imagery. Hood's work, mean­while, is an actu­al Prince album cov­er with a speech or vomit bubble made of yel­low plastic shop­ping bags spew­ing from his mouth and over­tak­ing the whole image. Mys­ter­i­ous but compelling.
That was my favour­ite corner of the show. On the oth­er side of the Fraser are a couple of hil­ari­ous works, The Prince of Right and Wrong (2015) and Love is love is love… is love?, a col­lab­or­a­tion between Wayne Youle and Ans Westra. Youle is hil­ari­ous though, and in this col­lab­or­a­tion he really works his funny stick. Over two of Westra's black and white pho­to­graphs of the 1998 protest out­side Te Papa against the Vir­gin in the Con­dom, Youle has applied brightly col­oured vinyl to give the protest­ors holy gowns and halos. It's puerile and all that, but the res­ult­ing imagery has an ador­able Mex­ic­an folk qual­ity, and once I real­ised what the protest was about, it was a good smirk­ing moment.
Cut + Paste is full of great work and all tastes are catered for. There is even a room with quite min­im­al­ist abstract works by artists such as Claire Har­ris and Richard Bry­ant beside Rob Cherry, Adrienne Mill­wood and Gor­don Walters.
The cent­ral space of the exhib­i­tion fea­tures 'Epic Col­lage'. Peter Mad­den is the King of Epic Col­lage. He spends a lot of time cut­ting things out of Nation­al Geo­graph­ic magazines. But boy, it's worth it. The Last City (2011) is dreamy. It's a 3D met­ro­pol­is built of balsa wood and inhab­ited by flocks and herds of tiny 2D anim­als and birds. It sparkles in a night sky kind of a way.
And I haven't even men­tioned the Daniel Crooks' work — a wall-sized video col­lage. Don't miss that.
[info]
May Art
This month, City Gal­lery Wel­ling­ton shows an inter­est­ing suite of exhib­i­tions — Jono Rot­man: Mon­grel Mob Por­traits, Alberto Gar­cia-Alvarez: Cross­ings, and Can­dice Breitz. Rotman's large-scale pho­to­graph­ic por­traits of Mob mem­bers are con­front­ing and fas­cin­at­ing. Cross­ings provides a look at work by a little-known New Zea­l­and-based artist. Can­dice Breitz presents three major video install­a­tions by this South Afric­an artist, includ­ing the spec­tac­u­lar 16-chan­nel work King (A Por­trait of Michael Jack­son) (2005).[/info]
Mary-jane is a Paekakariki-based poet and essay­ist, and Fish­Head's art colum­nist. She teaches poetry and aca­dem­ic writ­ing on the Whiyireia Cre­at­ive Writ­ing pro­gramme, tor­tur­ing stu­dents with half-rythmes and pan­toums, zom­bie haiku, and line breaks, ref­er­en­cing and struc­ture. Duffy has a back­ground in museum and gal­lery work, mak­ing a lucky escape from the base­ment of the City Gal­lery Wel­ling­ton in 2002 and open­ing the Mary New­town Gal­lery with Paula New­town in 2004. Art (across all the dis­cip­lines) feels like the closest thing she has to reli­gious exper­i­ences — see­ing, read­ing or hear­ing things that make her brain fizz.