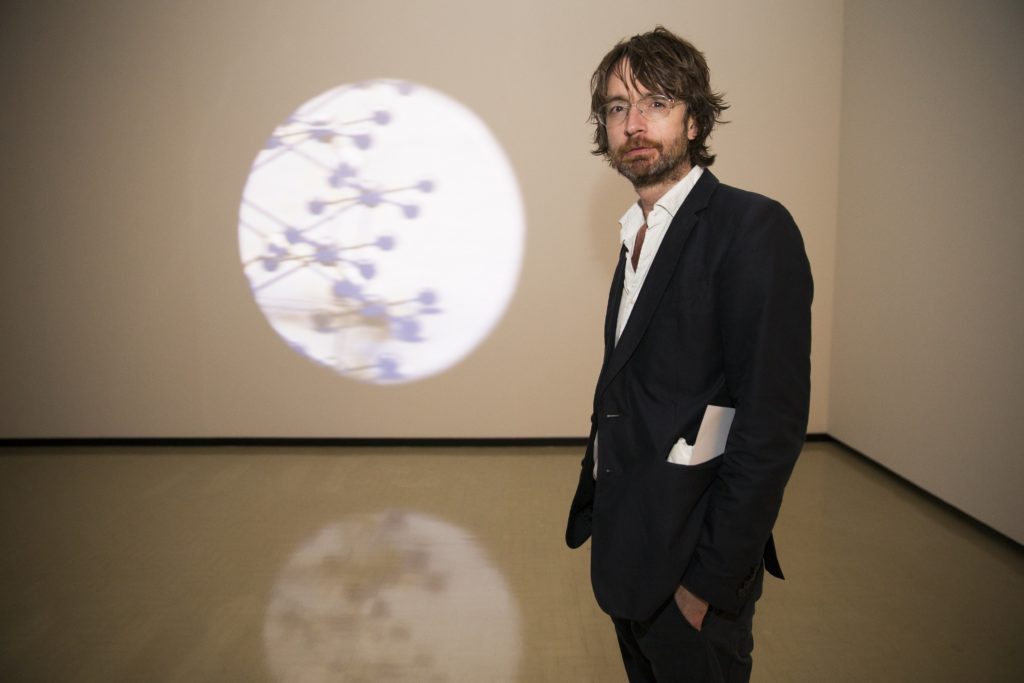 On the final day of my vis­it to Bris­bane last Octo­ber, I per­suaded my sis­ter Lucy to drive me to the Insti­tute of Mod­ern Art (IMA) in For­tune Val­ley. It was only Octo­ber but already boil­ing hot. The IMA, with its guar­an­teed air-con­di­tion­ing, seemed liked a per­fect refuge from the heat. And so it was that we found ourselves at In Spec­u­lum, an exhib­i­tion of work by Scot­tish artist Simon Starling.
Lucy was a good sport and looked at everything with me, but both of us struggled to make sense of what exactly we were look­ing at. Cur­at­or Robert Leonard's essay in the cata­logue sums it up with its title, "Please explain".
There were a couple of works that we enjoyed for the sheer pleas­ure of their object-ness — Wil­helm Noacke oHG (2006) and Three White Desks (2008–09). Wil­helm Noacke oHG (2006) is a pro­ject­or in the shape of a spir­al stair­well that plays only one thing: Starling's film his­tory of the eponym­ous Ger­man met­al fab­ric­at­or firm, which had con­nec­tions to the Bauhaus, inter­na­tion­al mod­ern­ism and — strange to put it in the same sen­tence — the Third Reich. Archiv­al pho­to­graphs and foot­age from the work­shop doc­u­ment the engin­eer­ing com­pany, which built the pro­ject­or. It's a self-ref­er­en­tial business.
Three White Desks (2008–09), on the oth­er hand, ref­er­ences one of those side­bar art his­tor­ies. The main char­ac­ters in this story are Fran­cis Bacon and Patrick White. You'll have to vis­it the show to read how it goes, but suf­fice it to say, the desks are stunning.
Back in Wel­ling­ton with the bene­fit of attend­ing Starling's slightly daffy artist's talk, I looked at the exhib­i­tion more closely at City Gal­lery and watched the two 30-minute films — Pro­ject for a Mas­quer­ade (Hiroshi­ma) (2010) and Black Drop (2012). Set in a 35mm edit­ing suite, the lat­ter tells a sci­ence story pro­pos­ing that 19th-cen­tury astro­nomers and pho­to­graph­ers try­ing to cap­ture the trans­it of Venus inven­ted cinema. There are plenty of ins and outs, of course, but it's a good story.
Pro­ject for a Mas­quer­ade (Hiroshi­ma), on the oth­er hand, is a true story obfus­cated by a fic­tion. It lays a real-life James Bond-style art story over the char­ac­ters of tra­di­tion­al Japan­ese Noh play. What you see as a view­er is a man carving the char­ac­ter masks for the play — one each for James Bond, Col­on­el Sanders, Enrico Fermi, Joseph Hirsh­horn, Henry Moore and Anthony Blunt. So what begins as a story about Henry Moore's Nuc­le­ar Energy/Atom Piece (1942) turns into an exer­cise of mask­ing and obscur­ing. It's all deeply curious.
Starling's works are built from the story up — and these stor­ies are based on research, the pro­cess of mak­ing the work, and the rela­tion­ships involved in both of these endeav­ours. They often high­light the present-ness of his­tory. But the artist also favours cer­tain stor­ies with a 'Boy's Own' feel of explor­a­tion and dis­cov­ery. In Spec­u­lum provides some of the stor­ies of Starling's recent adven­tures with art and his­tory in the Anti­podes and runs at the City Gal­lery until 18 May.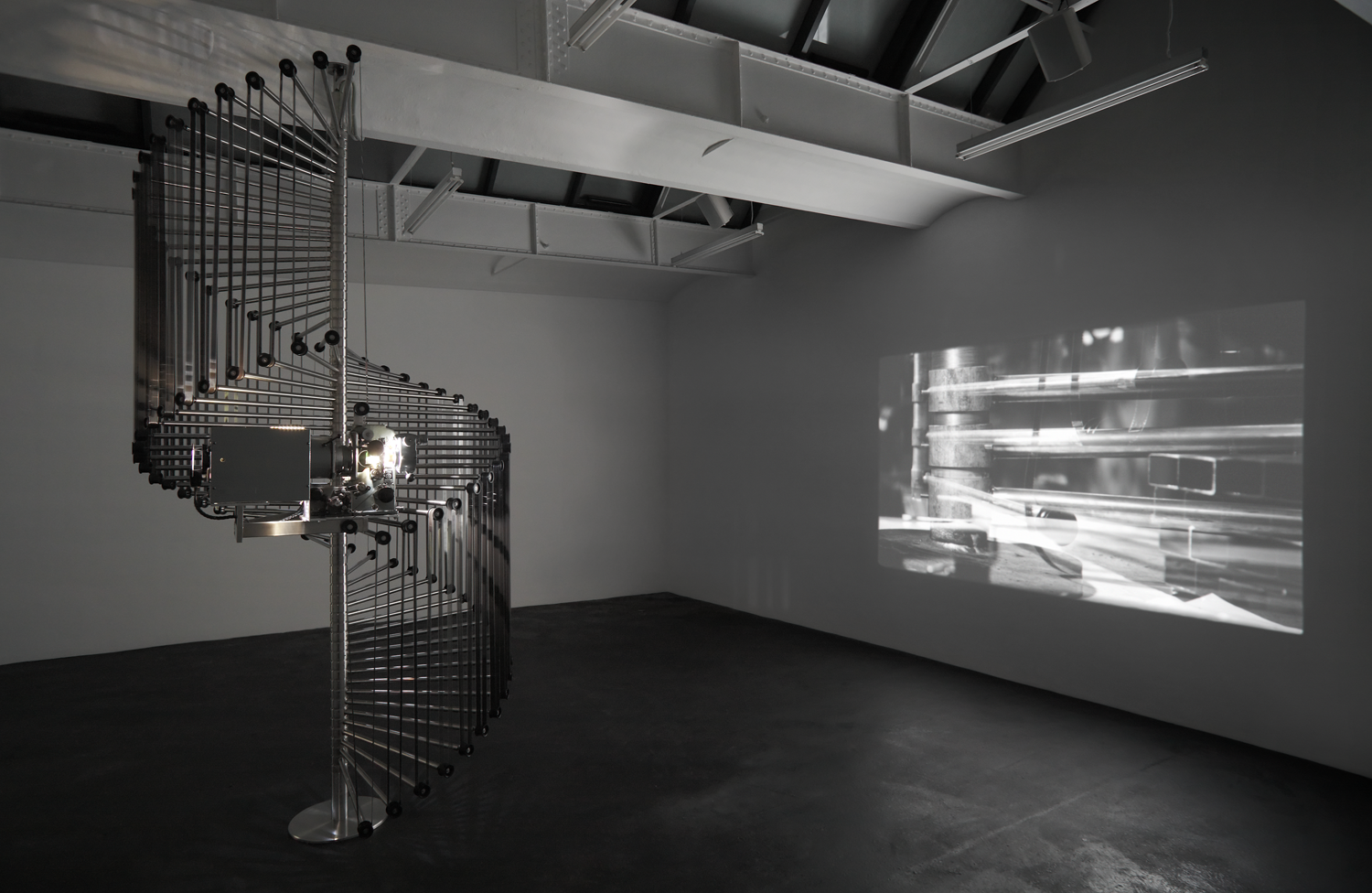 [info]
May Art
Meridi­an Lines: Con­tem­por­ary Art from Te Papa is on at Pataka in Pori­rua until 25 May. It was cur­ated for the open­ing of the refur­bished China Art Museum in Shang­hai last year and fea­tures work by Bill Ham­mond, Ral­ph Hotere, Ani O'Neill, Michael Parekow­hai, John Pule, Yuk King Tan and Gor­don Wal­ters. It includes one of my favour­ite works by Yuk King Tan, Untitled (Red Masks) (1998). Anoth­er must-see is Shi­gey­uki Kihara's Where do we come from? What are we? Where are we going?, a series of stun­ning black and white pho­to­graphs, also on show at Pataka until 25 May.[/info]
Mary-jane is a Paekakariki-based poet and essay­ist, and Fish­Head's art colum­nist. She teaches poetry and aca­dem­ic writ­ing on the Whiyireia Cre­at­ive Writ­ing pro­gramme, tor­tur­ing stu­dents with half-rythmes and pan­toums, zom­bie haiku, and line breaks, ref­er­en­cing and struc­ture. Duffy has a back­ground in museum and gal­lery work, mak­ing a lucky escape from the base­ment of the City Gal­lery Wel­ling­ton in 2002 and open­ing the Mary New­town Gal­lery with Paula New­town in 2004. Art (across all the dis­cip­lines) feels like the closest thing she has to reli­gious exper­i­ences — see­ing, read­ing or hear­ing things that make her brain fizz.