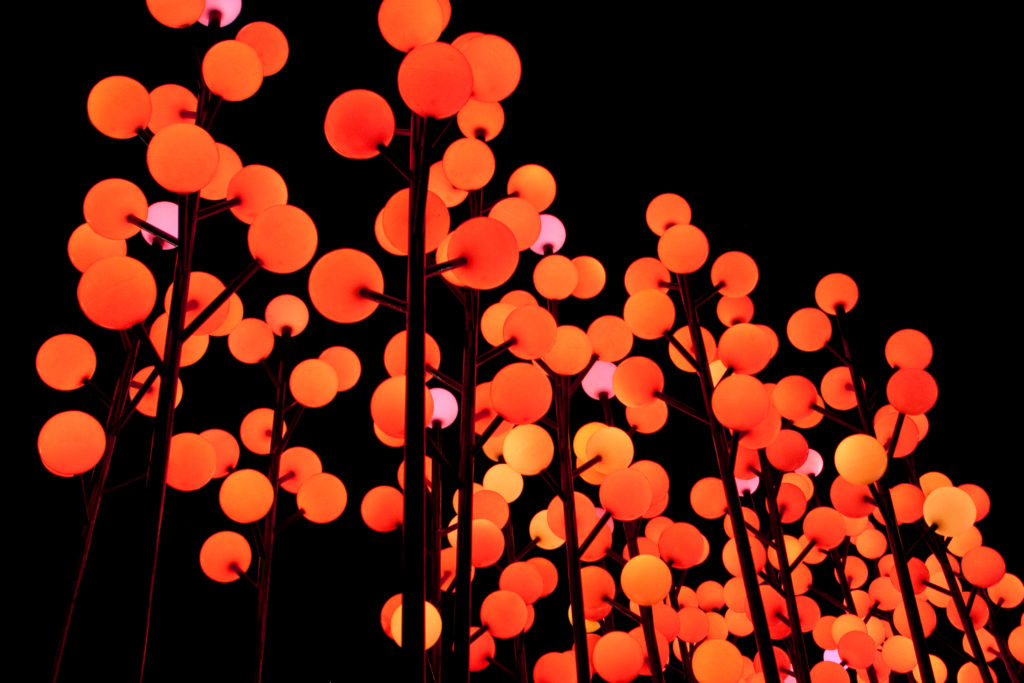 I don't know about you, but for me 2013 has been one of those bewil­der­ing years… but luck­ily there is always art.
This year, the best art turned up when I was least expect­ing it. One night in deep­est winter I came down the steps from Para Matchitt's bridge. Across the lagoon a crowd of people had gathered around what appeared to be a cloud of lights. As I approached, I could see that it was actu­ally a little forest of trees lit by blos­soms that changed col­our – from greens to blues, apricots and pinks. And it droned.
Warm and ador­able like a car­toon, Digit­al Wattle (2012) was a hint of spring in the no man's land of winter. Designed by Fresh Concept, an Auck­land-based com­pany, the work was part of the Lux Fest­iv­al, organ­ised to mark Matariki. On the shortest day, you could take a tour of the 24 works installed around the city for the fest­iv­al. Digit­al Wattle and Free Beau­ties by Kristin O'Sullivan Per­en were the only pieces I saw. Peren's work was a wedge of 'ice' that lay on the ground in Te Aro Park, lit from inside by rain­bow col­ours. Look­ing at the Lux web­site (lux.org.nz), I can see that the tour must have been a treat.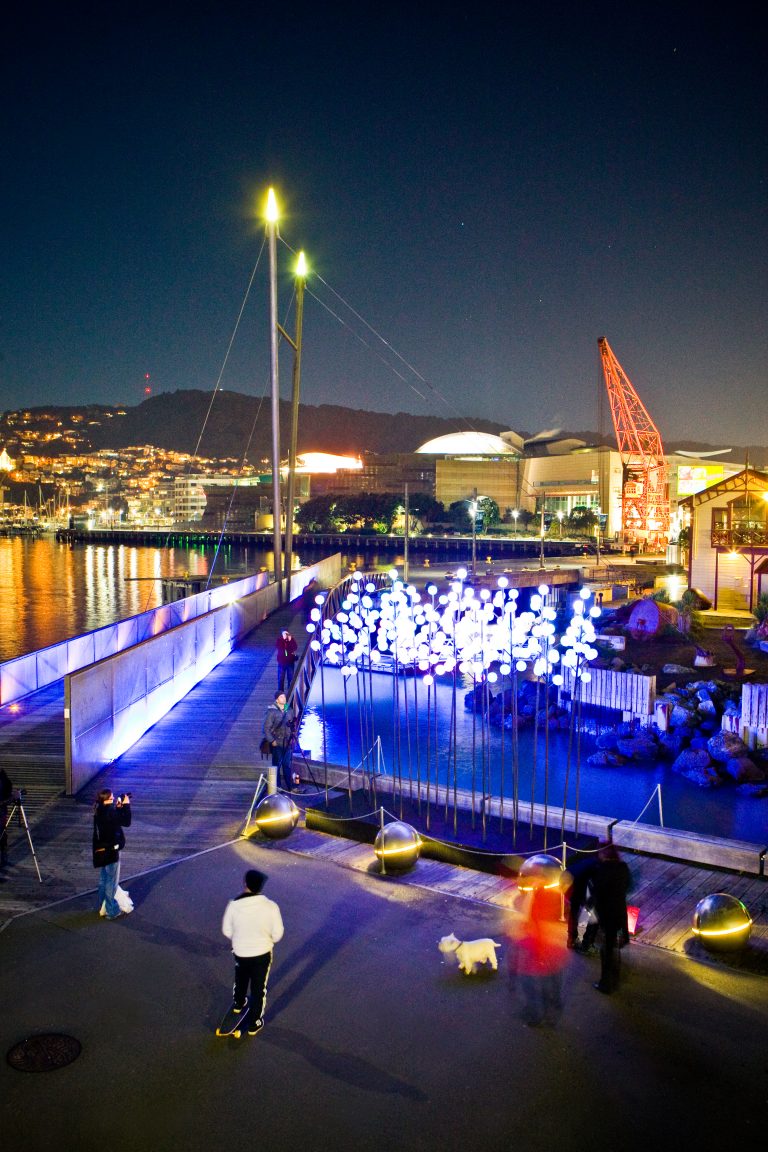 Around the same time, I went along to an exhib­i­tion at the New Zea­l­and Academy of Fine Arts, Matariki: Star & Cloak. The Academy is not a place I usu­ally vis­it for thought-pro­vok­ing art, but this exhib­i­tion brought togeth­er about ten artists work­ing in tex­tiles. High­lights included poi from Ngah­ina Hohaia's Roimata Toroa series, Ron Te Kawa's Matariki quilt, and a per­form­ance work by Suz­anne Tamaki. In Tani­wha, a group of dan­cers in lumin­es­cent body­suits scuttled and slithered around the exhib­i­tion space to the accom­pani­ment of taonga puoro. The per­formers wore boas and korowai made of plastic that shushed and rattled with the sound of the flutes. It was hyp­not­ic and gorgeous.
Two oth­er per­form­ances top my list of high­lights for 2013. The first, by Korean artist Sam­in Son, was part of his exhib­i­tion Sam­in Son TV at the New Zea­l­and Film Archive. Tooth­paste Action Series reflects on Son's train­ing in the South Korean army. In front of a video in which he cleans a bath­room with a tooth­brush, he per­formed push-ups on his knuckles and sprin­ted up and down the gal­lery. In real­ity, he had to per­form these tasks without a word, but in his per­form­ance he was able to voice the screams and protests he felt. It was a power­ful human response to mean­ing­less bru­tal­ising tasks.
The second per­form­ance was by Chicks on Speed at City Gal­lery Wel­ling­ton in March and April. It was staged in the exhib­i­tion space shared with Wel­ling­ton artist Lisa Walk­er. The install­a­tion com­prised fluor­es­cent string that tied the space up in an entangling cat's cradle. The duo crawled and climbed through the string, singing and put­ting on Walker's jew­ellery. 'Piles of Shiny Art at the Art Dump' also has to be the year's most mem­or­able song. Here's look­ing for­ward to a less bewil­der­ing 2014.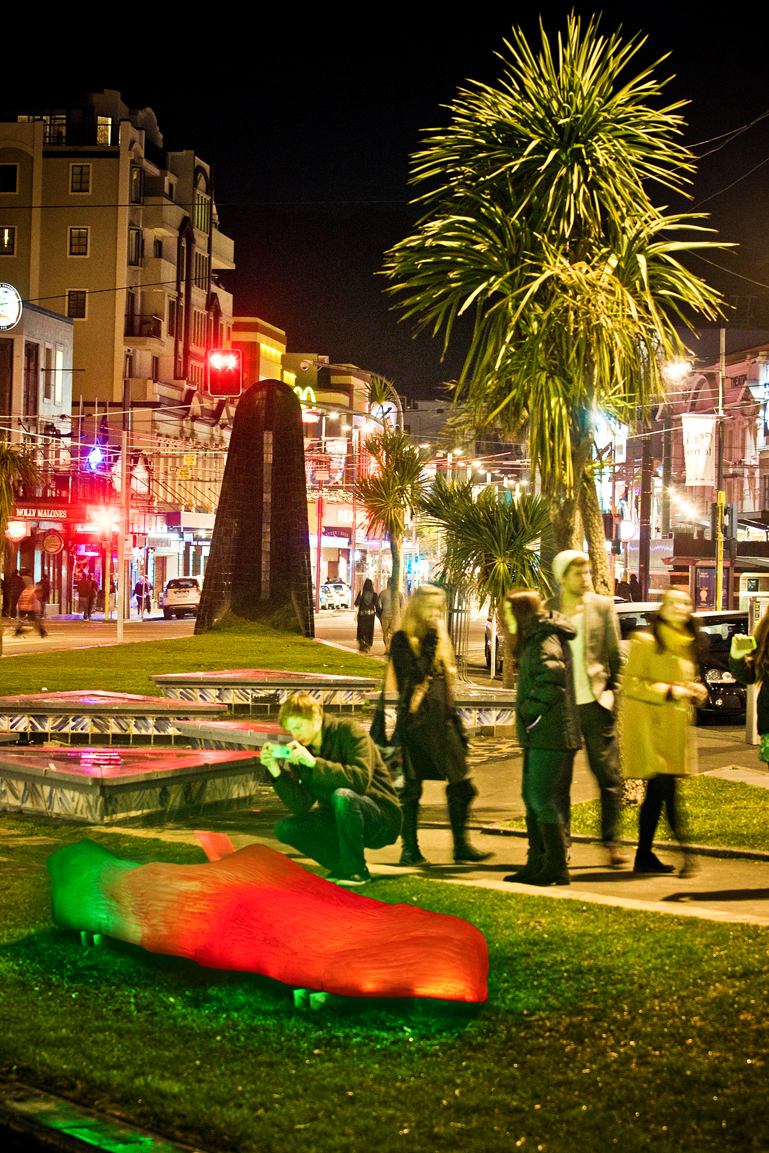 [info]
Decem­ber Art Recommendations
If you haven't seen it already (it runs until 12 Janu­ary), Te Papa's Col­our and Light: Impres­sion­ism from France & Amer­ica is worth a look. There's a good story about how import­ant Impres­sion­ist works ended up in Boston, and the exhib­i­tion is full of French Impres­sion­ist works that you don't often see repro­duced, and works by less­er-known Amer­ic­an Impres­sion­ists. It includes pieces by Mon­et, Céz­anne, Ren­oir, Piss­arro, Degas, Rod­in, Whist­ler, Cas­satt, Homer, Has­sam, and more.[/info]
Mary-jane is a Paekakariki-based poet and essay­ist, and Fish­Head's art colum­nist. She teaches poetry and aca­dem­ic writ­ing on the Whiyireia Cre­at­ive Writ­ing pro­gramme, tor­tur­ing stu­dents with half-rythmes and pan­toums, zom­bie haiku, and line breaks, ref­er­en­cing and struc­ture. Duffy has a back­ground in museum and gal­lery work, mak­ing a lucky escape from the base­ment of the City Gal­lery Wel­ling­ton in 2002 and open­ing the Mary New­town Gal­lery with Paula New­town in 2004. Art (across all the dis­cip­lines) feels like the closest thing she has to reli­gious exper­i­ences — see­ing, read­ing or hear­ing things that make her brain fizz.