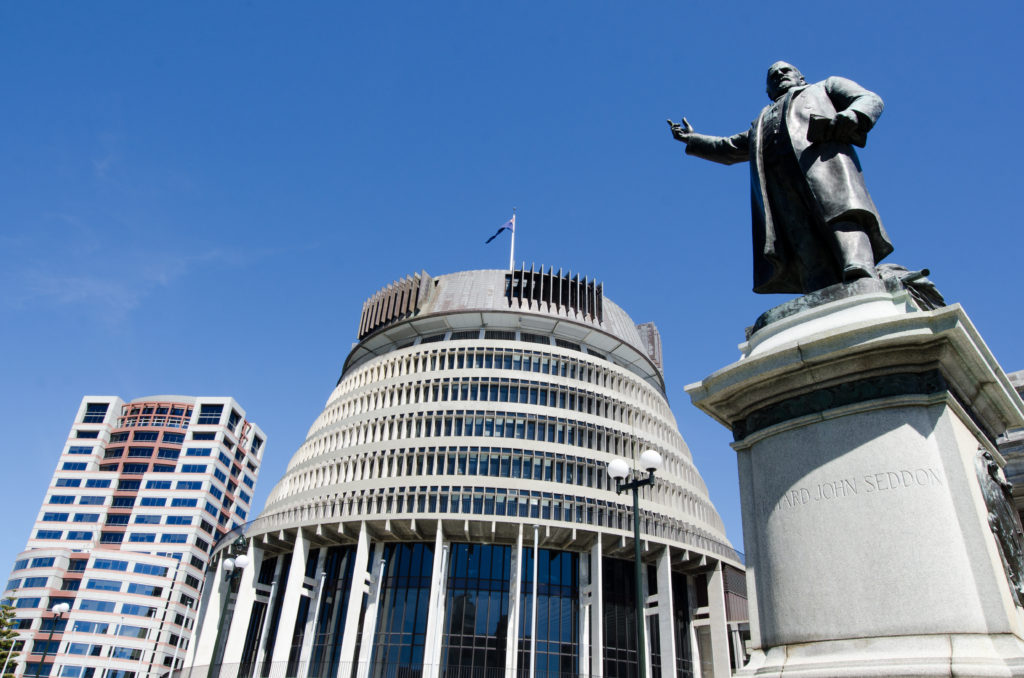 The most effect­ive way to learn is by 'doing'. In the digit­al world in which we live, tech­no­logy now enables stu­dents to reach bey­ond the classroom and their imme­di­ate envir­on­ment and engage in authen­t­ic vir­tu­al learn­ing exper­i­ences. But even bet­ter still is learn­ing through act­ive engage­ment in your com­munity, and in this respect, Wel­ling­ton con­tinu­ally comes up trumps.
When I first moved to Wel­ling­ton, I was impressed by the edu­ca­tion­al pos­sib­il­it­ies avail­able in our cap­it­al city. A dec­ade later, I had come to accept them as 'the norm'. At the Aus­trali­an Alli­ance of Girls' Schools Con­fer­ence, held in May in our city and atten­ded by over a hun­dred lead­ers of girls' schools pre­dom­in­antly from Aus­tralia, I was reminded that the wealth of edu­ca­tion­al resources avail­able to Wel­ling­ton schools is actu­ally 'abnor­mal'. My per­spect­ive has now been recal­ib­rated as time and time again I heard del­eg­ates com­ment about the cul­tur­al rich­ness of our com­pact capital.
The advant­ages for schools loc­ated in a cap­it­al city can­not be under­es­tim­ated. First of all, there is Par­lia­ment with all the oppor­tun­it­ies this presents. Apart from stu­dents phys­ic­ally being able to tour the Bee­hive, through­out the city there are remind­ers of our polit­ic­al past dot­ted around. They include the refur­bished bronze of Keith Holyoake, Kiwi Keith, out­side Rugby House; the impos­ing statue of Richard Sed­don, King Dick, dom­in­at­ing Par­lia­ment grounds; and Peter Fraser, clutch­ing his hat and coat with his briefcase tucked under his arm, with­in the Gov­ern­ment Build­ings His­tor­ic Reserve. There are polit­ic­al events for stu­dent lead­ers to attend, such as the Suf­frage Day Break­fast in Par­lia­ment or Youth Par­lia­ment, and also oppor­tun­it­ies to serve as youth rep­res­ent­at­ives on gov­ern­ment committees.
Then there are the nation­al insti­tu­tions loc­ated in the city: Te Papa, the Nation­al Archives, the Nation­al Lib­rary and the Mari­time Museum. These are won­der­ful des­tin­a­tions for field trips, and house such treas­ures as the 1893 Women's Suf­frage Peti­tion, phys­ic­al cop­ies of the Treaty of Wait­angi and oth­er cul­tur­al taonga.
And, of course, there is the cre­at­ive side of Wel­ling­ton. It is not sur­pris­ing that the girls' school con­fer­ence was entitled 'Cre­at­ive Girls, Cre­at­ive Women' as Wel­ling­ton, with its diverse pop­u­la­tion, the most edu­cated in New Zea­l­and, is widely regarded as a cru­cible for the arts. This is the home of the out­stand­ing Shei­l­ah Winn Shakespeare Fest­iv­al, with region­al win­ners par­ti­cip­at­ing in a nation­al final in the cap­it­al. Remark­ably, there are three theatres in the city, indie cinemas, numer­ous art gal­ler­ies, Toi Whakaari, the New Zea­l­and School of Dance and a vibrant film industry. Last year in the tiny USA town of Tomb­stone, Ari­zona, a loc­al told me that The Lord of the Rings was made in Wel­ling­ton. Apart from that she knew noth­ing else about New Zealand.
Tak­ing a walk around the spec­tac­u­lar Wel­ling­ton Har­bour is not only bene­fi­cial to your health; it is an edu­ca­tion­al jour­ney with quotes from our endur­ing lit­er­ary icons Kath­er­ine Mans­field, James K. Bax­ter, Bruce Mason and oth­ers, writ­ten on vari­ous places along the way. My favour­ite lines are from poet Laur­is Edmond, a pas­sion­ate Wel­ling­to­ni­an. She writes of the city she loved so much: "It's true you can't live here by chance/you have to do and be, not simply watch/or even describe. This is the city of action,/the world headquar­ters of the verb."
Get out and get involved in the learn­ing land­scape our city provides. Social net­work­ing can con­nect you to the world 140 char­ac­ters at a time, but 140 steps around our city is worth so much more.
Car­ol has an MA in Eng­lish from the Uni­ver­sity of Can­ter­bury and has been prin­cip­al of Queen Mar­garet col­lege since 2004. Pri­or to mov­ing to Wel­ling­ton, she was assist­ant prin­cip­al at Orewa col­lege and deputy prin­cip­al at Taka­puna Gram­mar. How­ever, Car­ol is not all about 'dotting the is' and cross­ing the t's'. She has also worked for Radio New Zea­l­and as an announ­cer, acted in Eng­land in a theatre troupe tour­ing schools and raised two daughters.