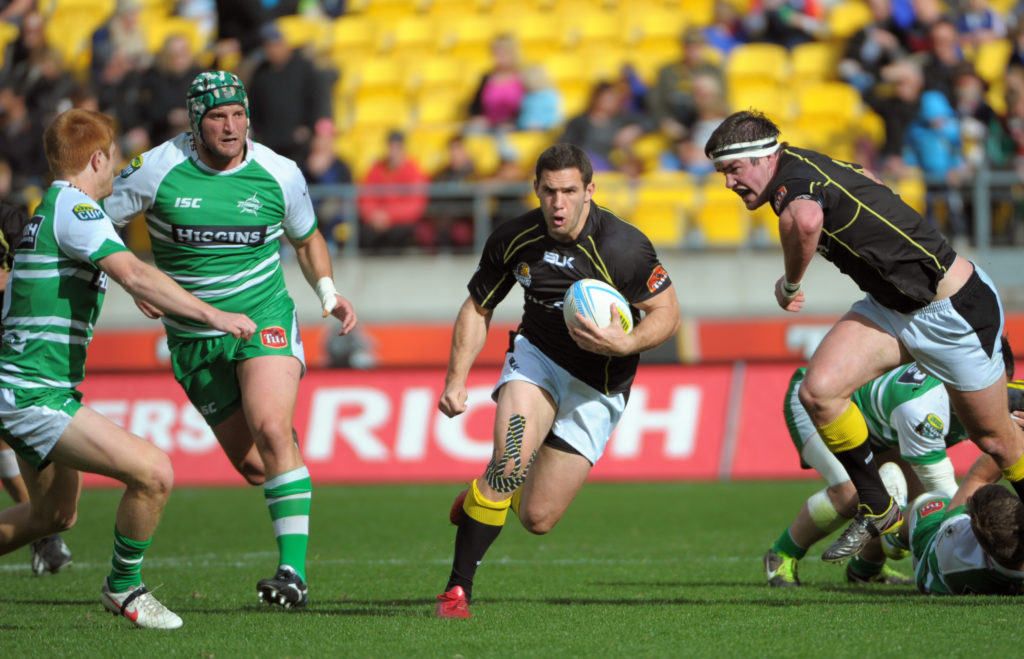 To be a true Wel­ling­ton sports fan you need to be able to accept raised expect­a­tions fol­lowed by dis­ap­point­ment. This is a com­mon fea­ture across most codes with pro­fes­sion­al sides based here, but at the top of the list is the Wel­ling­ton Lions.
In the years fol­low­ing the 2000 tri­umph the side has done well. They have made the final on no few­er than sev­en occa­sions. And each time they have fallen at the last hurdle in a vari­ety of ways.
The set of sev­en, presen­ted in chro­no­lo­gic­al order, is as follows:
2003: Auckland 41, Wellington 29
And so it begins. Three sea­sons after win­ning the NPC, Wel­ling­ton took on our friends from the City of Sales full of con­fid­ence thanks to some Deans/Mitchell crazi­ness that allowed Chris­ti­an Cul­len to play instead of being at a World Cup in Aus­tralia at the time. But the home side was in strut­ting form, and ran out com­fort­able win­ners. Orene Ai'i was the star of the show. It's not often you get to say that.
2004: Wellington 27, Canterbury 40
This was the one we were meant to win. Top of the table in the round-robin, Wel­ling­ton were in a home final against Can­ter­bury, who we'd beaten earli­er in the sea­son. Ma'a Nonu even wore mas­cara in pre­par­a­tion for the cel­eb­ra­tions. But the All Black-laden Can­ter­bury pack ground it out, before the floodgates opened up in the second half. And Dan Carter laughed at Nonu and poin­ted at him. But only after the game was safe.
2006: Waikato 37, Wellington 31
It was the first year of the ITM Cup, with a format nobody under­stood. Nev­er mind, Wel­ling­ton won its quarter-final in Christ­ch­urch of all places. The semi was in Auck­land, who were set aside 30–15. Wow; this was just like 2000 all over again. Off to Cow Town for the final, and the bell-ringers ground out the win. Kelle­her and Leonard scored three tries between them, and there was a giant burn-out to cel­eb­rate, set to the dis­tant sound of roar­ing chain­saws.
2007: Auckland 23, Wellington 14
The year of rest and rota­tion meant that even at finals time the All Blacks were not around. Once again, a trip to Christ­ch­urch proved no prob­lem when the game wasn't a final. The final was a trip to Auck­land, and the home side pre­vailed in a dour and com­pletely for­get­table match.
2008: Wellington 6, Canterbury 7
Once again, Wel­ling­ton were minor premi­ers, and had picked up the Ran­furly Shield along the way after 25 years by beat­ing Auck­land 27–0. So the NPC was just a form­al­ity, right? Not so; a rub­bish night in the cap­it­al suited our friends in red and black per­fectly, and they ground it out.
2009: Canterbury 28, Wellington 20
This time, the fourth final in suc­ces­sion, it was off to Lan­caster Park to play them. And you know it's not going to be your day when Colin Slade scores two tries in the first half. Catch-up foot­ball was required, and it's always hard doing that there.
That was the sheep-rust­lers' second title in suc­ces­sion. They now have five in a row under their belt, and head to the cap­it­al to try in six. The hosts will be try­ing to avoid a sev­enth con­sec­ut­ive final defeat.
2013: Wellington 13, Canterbury 29
So after six lost finals in sev­en years, Wel­ling­ton took to semi-final exits instead. The minor premi­er­ship was sewn up with a round to spare and things looked good. But, once the knock­out matches began, it was obvi­ous that the final would be against them yet again. And when it turned out to be a wet day the out­come was pre­dict­able. The match was as good as over by half-time.
One day this run of events will be broken, but a true Wel­ling­to­ni­an knows we must not get ahead of ourselves.
One of those rare people: a born and bred Wel­ling­to­ni­an. And enough of a Wel­ling­to­ni­an to know how to pro­nounce Majoribanks Street. Has a soft spot for the Makara wind farm, the south coast and the buck­et foun­tain, but refuses to toot the horn in the Mt Vic­tor­ia tun­nel. Very famil­i­ar in hand­ling the full range of emo­tions gen­er­ated by sup­port­ing Wel­ling­ton sports team. Works in IT.