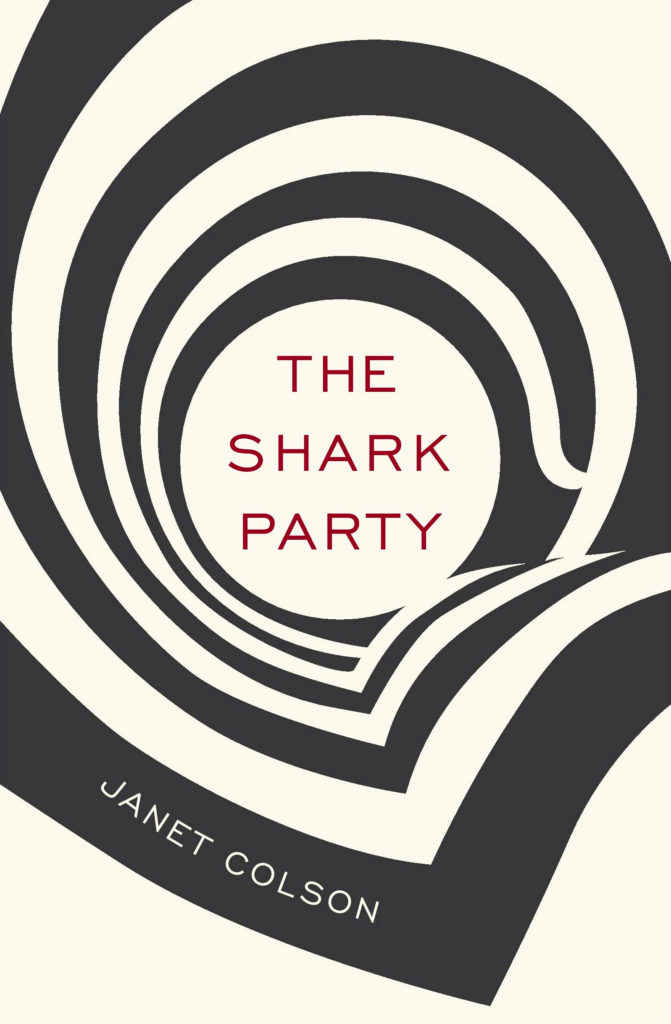 There's a scene early on in Janet Colson's debut, The Shark Party, in which the female main char­ac­ter has sex with a man. This prob­ably doesn't con­sti­tute too dire a spoil­er, but Colson says she was sur­prised at the responses to an early draft: "There was a very old guy in my writ­ing class who couldn't read it. He said, 'It seems like she's rap­ing him.' I thought, this is weird. And really what it seemed like was that this was a sex scene from a woman's perspective."
It shouldn't be shock­ing to read a pos­it­ive, mutu­ally enjoy­able exper­i­ence described in the woman's words. Colson makes no apo­lo­gies for depict­ing sex — or work, or art, or life — from a per­spect­ive she shares with 51 per­cent of the pop­u­la­tion. "I wanted to show weak­ness and bras and clothes. When I'm read­ing a male-writ­ten nov­el I know I'm in a male world and I have to make allow­ances for that."
Ques­tions of gender, per­spect­ive and agency recur in The Shark Party — in the ser­vice of a fast-mov­ing dra­mat­ic thrill­er, set in and around the Man­hat­tan art world. The book's prot­ag­on­ist is Carla, a New York artist with a keen eye but a habit of dis­trust­ing her own instincts — lead­ing to the jeal­ousy-fuelled unrav­el­ling of her Green­wich Vil­lage exist­ence. "I hear lots of women put­ting them­selves down," Colson explains. "They often defer to those around them and find it hard to decide what they really want for them­selves. Carla does this a lot at the start."
One of the novel's most sat­is­fy­ing shifts is in the way Carla relates to her world. When we meet her, she dazzles with lush, obsess­ively visu­al descrip­tions of the New York high life to rival Brett East­on Ellis. As she's broken down and builds her­self back up again, these open up into a more var­ied sens­ory palette, as the char­ac­ter redis­cov­ers sound, music, taste, touch.
"New York was always some­where where my mind felt free," Colson explains: "I'm an ordin­ary per­son but I was mov­ing in an extraordin­ary world." This was the world of arts fun­drais­ing. She describes it as "help­ing oth­er people live their story — not just so people will give them money, but so that they can bring their art form alive".
She'd long con­sidered her exper­i­ences might make a good back­drop for a nov­el, and says that at her first writ­ing class (Mandy Hager was among the tutors who helped shape her approach) "all the lights just went on". The Shark Party was the res­ult: an enga­ging, evoc­at­ive page-turn­er of a debut, writ­ten in Wel­ling­ton with an eye on a much lar­ger world. When Colson next steps into that world, hope­fully she takes us along.
The Shark Party, Janet Colson, Escal­at­or Press
Tom is Fish­Head's book colum­nist. A Mas­ter­'s degree in Cre­at­ive Writ­ing from Vic­tori­a's Inter­na­tion­al Insti­tute of Mod­ern Let­ters launched Goulter on the life of an itin­er­ant man of let­ters, wan­der­ing the frac­tious United states in search of.. whatever it was Peter Fonda and Den­nis Hop­per were after, prob­ably. Instead of get­ting shot by red­necks (yet), he returned to Wel­ling­ton, where he essays semi-reg­u­larly into pop­u­lar cul­ture, psy­cho-geo­graphy, under­ground film-mak­ing, and the uncanny in all its myri­ad forms. Not a day goes by that he does not wish Man­ners Street still had Crys­tal city on it.