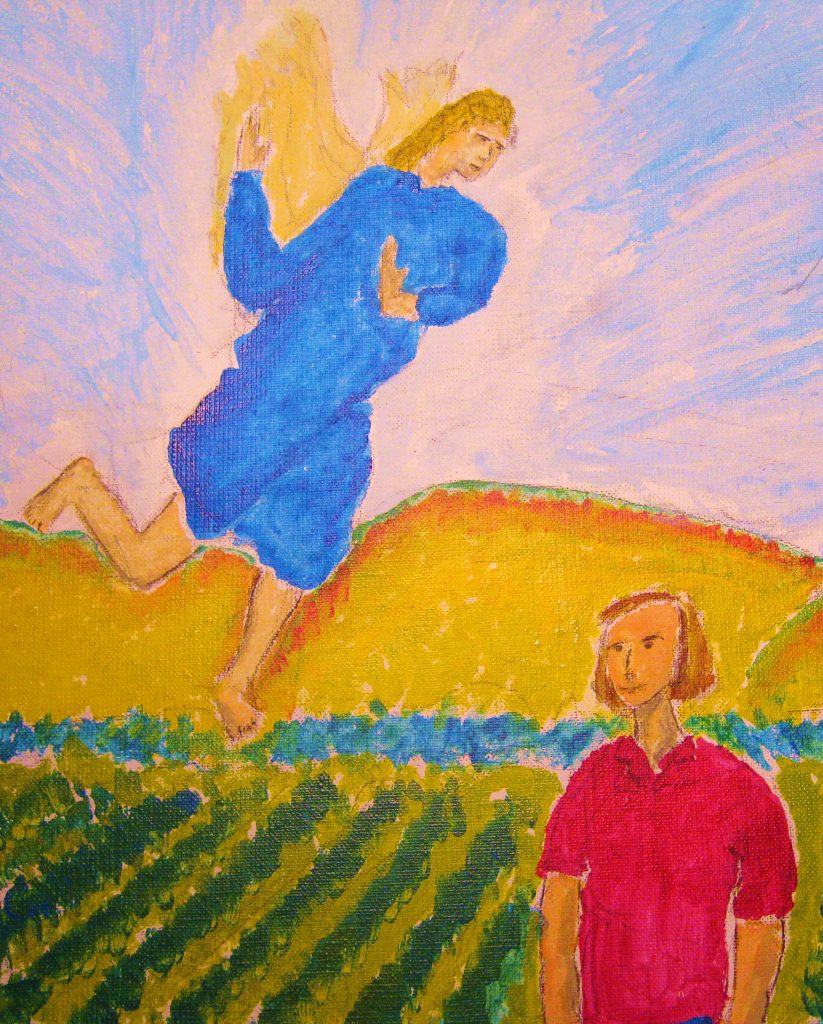 The cen­tur­ies-old expres­sion 'the angels' share' refers to the small amount of wine that evap­or­ates through por­ous oak bar­rels dur­ing the age­ing pro­cess. My own exper­i­ence of angels is that they live among us to look after us. Not an easy job, so I think it appro­pri­ate that they are, in turn, helped out from time to time. That belief is held in high regard in Mar­tin­bor­ough, Wellington's own little wine village.
Since 2009, a group of grape grow­ers, wine­makers and wine industry doers have been work­ing under the radar to pro­duce a wine from which the pro­ceeds of all sales go to the angels of the loc­al com­munity. The Pinot Noir grapes are donated from vine­yards; the wine is made free of charge; bottles, car­tons and label print­ing are provided gratis; and the loc­al bot­tling plant com­pletes the job on the house. All sales from the res­ult­ing $20 bottles of Mar­tin­bor­ough Angels Share Pinot Noir are impar­ted to the loc­al Anglic­an church.
In its deliv­er­ance of com­munity ser­vice and sup­port, Martinborough's Anglic­an church like­wise oper­ates under the radar. Non­ethe­less, it has ensured that all chil­dren have had their first meal of the day via a Break­fast Club; a Home­work Club keeps those kids work­ing to a future; and dur­ing the 2008 Glob­al Fin­an­cial Crisis, it was the church that provided a much-needed coun­selling service.
It needs to be stated that com­munity is the heart of the Mar­tin­bor­ough spir­it. When a loc­al is going through tough times — be it an act of God or oth­er­wise — you will see much activ­ity to help that per­son out. The dona­tion of Angels Share pro­ceeds to the Anglic­an church is not spir­itu­ally based, but a mat­ter-of-fact atti­tude that we all need to roll up our sleeves to look after one anoth­er. As one prom­in­ent wine­maker put it, "We all need [the church] at least once in our lives."
It's com­ing up to the time when we recog­nise God's son, a bloke who expressed his own divin­ity by mak­ing wine from water. Wine is proof that God wants us to be happy. God also ensures that the angels among us get their share. You can be good too. Angels Share is stocked by the Mar­tin­bor­ough Wine Centre (martinboroughwinecentre.co.nz or con­tact info@bigskywines.co.nz).
---
Angels Share Pinot Noir 2012
For $20 a bottle, this has all the aroma of a fruity, funky Mar­tin­bor­ough Pinot Noir. Dark forest berry, damp autumn leaf and com­plex exot­ic spices on the nose are fol­lowed by spice and cam­phor fla­vours in the mouth, along with a silky, opu­lent tex­ture and a vibrant fin­ish. Per­fect at home with a bacon, gar­lic, olive and lem­on pasta dish.
IMAGE CREDIT: Jeremy Corb­an (after McCahon)