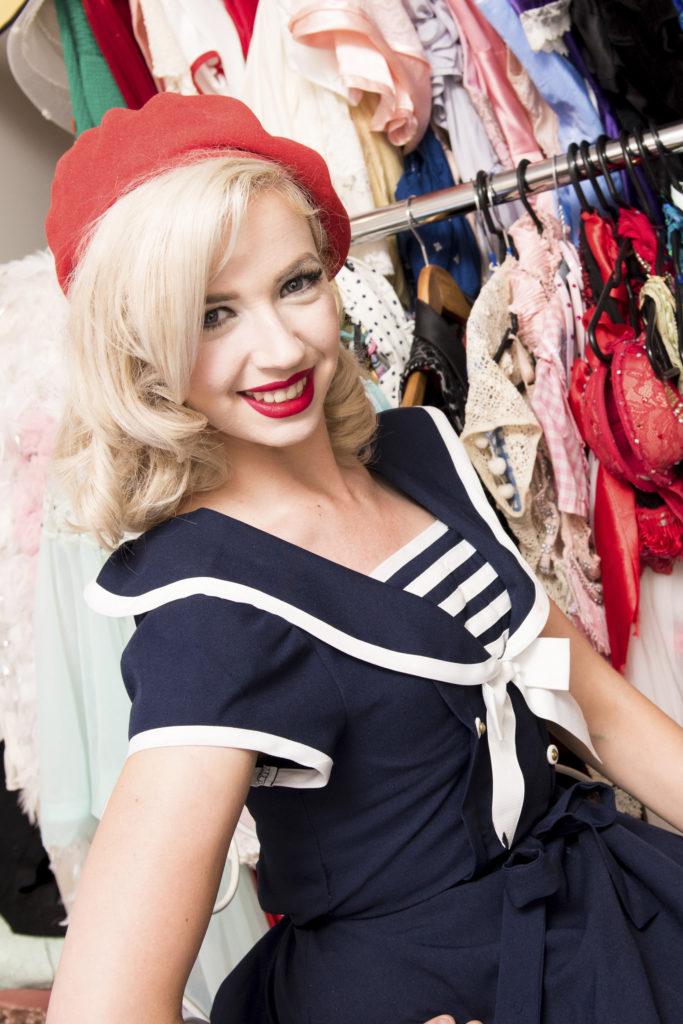 Fanci­for­ia Fox­glove may be adorned with diamantes, feath­ers and lashes, but she still doesn't throw her cre­at­or, Bailey McCor­mack, into the shade.
Bailey and her alter ego have been cut­ting a swathe through the Wel­ling­ton burlesque/pinup/vintage scene for five years, and she will be one of 10 final­ists in Miss Pinup New Zea­l­and at The Very Vin­tage Day Out in Auck­land this month.
With a back­ground in theatre, it's no sur­prise Bailey has ended up on the stage. Early on, she was cast as a bur­lesque char­ac­ter, so she took les­sons for research pur­poses and ended up being booked for sev­er­al bur­lesque per­form­ances. Her interest grew and Fanci­for­ia Fox­glove came to life.
Bailey uses her theatre skills on stage, but admits the aes­thet­ic is a huge part of bur­lesque performance.
"There's a lot that goes into get­ting ready for a show, but it's not a chore for me," she says. "There's set­ting your hair the night before, and the level of make-up is almost at cir­cus clown — false lashes, con­tour­ing, some­times block­ing out your eye­brows and draw­ing them on high­er, glit­ter lips, pasties…
"You take the audi­ence to a fantasy land where more is more, and everything is extravagant."
She main­tains a strong ele­ment of vin­tage/pin-up in her look, even at her Wel­ling­ton City Coun­cil day job.
Bailey's daily beauty routine incor­por­ates some drama from the stage, but in a more relaxed way. She con­tours, but just a little; she wears eye­shad­ow, but a nat­ur­al shade; she wears mas­cara on her top lashes, but keeps it simple under her eyes. Although she strives to wear less found­a­tion dur­ing the day, swap­ping to a BB cream or min­er­al powder to com­pensate for wear­ing heavy stage make-up, she insists on three essen­tial products for her day-to-day pin-up look: red lip­stick, liquid eye­liner and some­thing to cre­ate strong brows.
A make-up enthu­si­ast, her cur­rent favour­ites include Aus­tral­is Velourlips, a cream that dries matte, and the bold lip shades from Lime Crime. "Matte is really good — unless you're on stage and need to throw glit­ter on top!"
Anoth­er favour­ite is Bésame, a brand that cre­ates repro­duc­tions of clas­sic make-up from the 1920s to the 1950s — she owns a Bésame lip­stick called Red Hot Red, based on Mar­ilyn Monroe's favour­ite shade.
Bailey uses an ori­gin­al pin-curl meth­od for her bleached blonde 'Mar­ilyn' hair, avoid­ing hot rollers if pos­sible. She has per­fec­ted vin­tage looks, mas­ter­ing pin curls, vic­tory rolls and the tricky styles in between. In keep­ing with her authen­t­ic streak, Bailey skips bronzers and tan­ning to play up her nat­ur­ally pale skin.
Des­pite the mass of make-up Bailey applies for her shows, she doesn't use a ser­i­ously heavy-duty for­mula to remove it. Her atti­tude is that less is more. Using oil to remove oil, she chooses an Anti­podes cream cleanser or simple rose­hip oil. "Because I have so much grease on my face all time, I like to keep my skin­care super-nat­ur­al," she says.
Even Fanci­for­ia Fox­glove needs some down time.
A con­firmed Wel­ling­to­ni­an, Eliza comes from a fam­ily of journ­al­ists and has recently com­pleted a BA at Vic­tor­ia Uni­ver­sity in Art His­tory and Media. Now mak­ing her own way in the world of journ­al­ism, she has par­tic­u­lar interests in fash­ion and art. She misses the DTL in lower Cuba Street and the dance floor being at the oth­er end of Good Luck Bar. Eliza lives in a bit­terly cold flat in Brook­lyn but appre­ci­ates the walk into town through Cent­ral Park every morning.