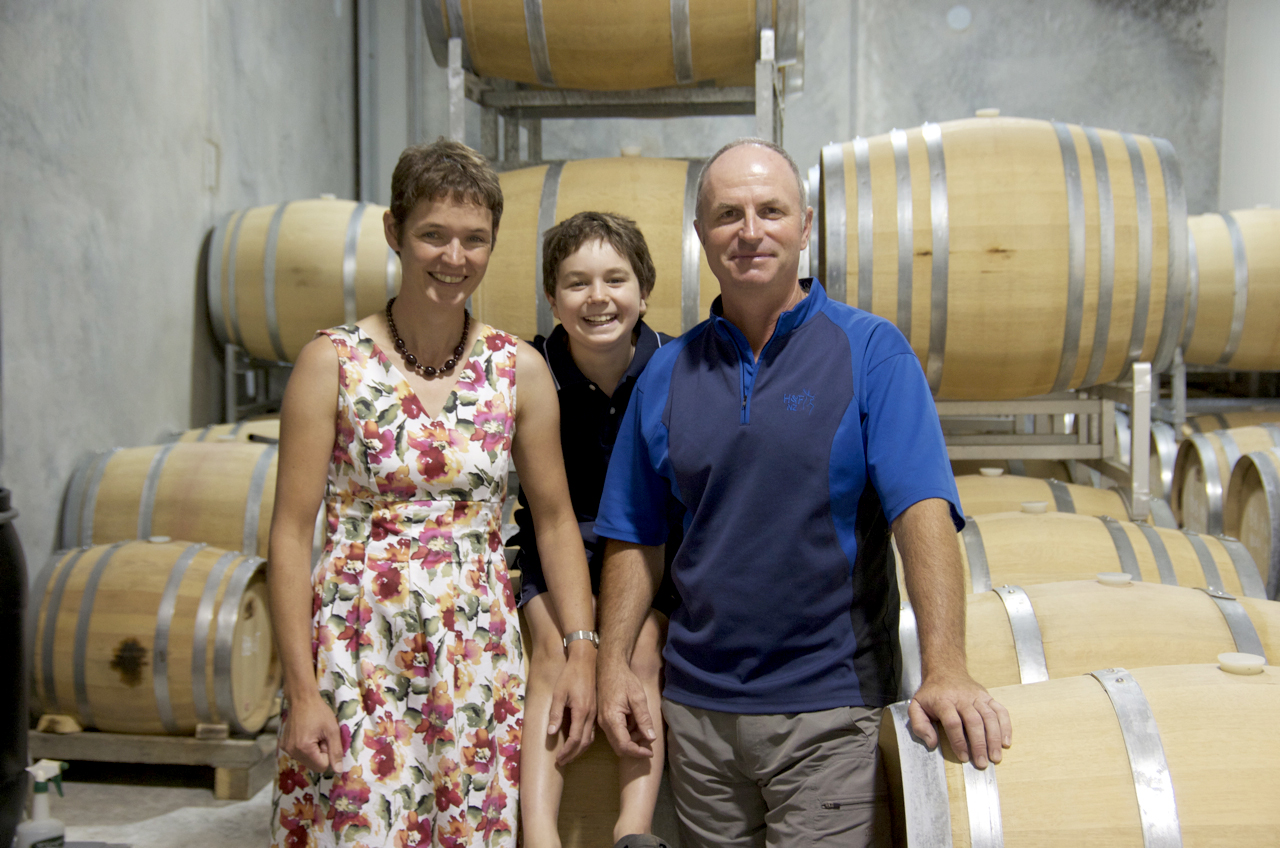 Black­en­brook vine­yard recently cel­eb­rated its tenth birth­day. As vine­yards go, it is pretty young — not even a teen­ager yet. Don't let its youth con­fuse you though. Its wines would sug­gest a much more estab­lished vineyard.
The idyll­ic 20-hec­tare vine­yard, with a north­ern aspect, looks over Tas­man and the Moutere Inlet. Ursula and Daniel Schwar­zen­bach first planted vines here in 2000. They were both born in Switzer­land, but Daniel has been in New Zea­l­and so long there is just the barest hint of a Swiss accent. Daniel is the wine­maker and Ursula takes care of the mar­ket­ing — one of those hus­band and wife com­bos that you find in a num­ber of boutique wineries.
Daniel ori­gin­ally star­ted in the med­ic­al arena but decided wine­mak­ing seemed a lot more inter­est­ing. He retrained and took part in vin­tages in Aus­tria, Ger­many and France's Alsace region. Then he worked with Sei­fried and Kahur­angi, before embark­ing on his own ven­ture. That early European exper­i­ence can be detec­ted in the couple's wines, par­tic­u­larly the aromatics.
Black­en­brook doesn't have as high a pro­file as some oth­er winer­ies in the region. Its wines are not in super­mar­kets and they don't oper­ate a tast­ing facil­ity, although they do have tast­ings if pre-arranged. It is truly a boutique vine­yard, pro­du­cing just 4,000 cases annually.
Black­en­brook grows sev­en vari­et­ies — Chardon­nay, Sauvign­on Blanc, Mus­cat, Pinot Noir, Monte­pul­ciano, Pinot Gris and Gewürztram­iner. They had a small block of Riesling but this was removed and will be replanted on a dif­fer­ent part of the vine­yard. One thing that is evid­ent in whatever vari­ety they are mak­ing is the thread of qual­ity that runs through­out their wines.
The Sauvign­on Blanc is an award-win­ner with won­der­ful trop­ic­al tones, still fresh but without that grip­ing green acid­ity. The Mus­cat is not a com­mon vari­ety in Nel­son and this one is in a drier style for the grape, packed with fla­vour yet refresh­ing. Served chilled, it is a great sum­mer after­noon wine. For me, how­ever, the two white wine stars of this vine­yard are the Pinot Gris and Gewürztram­iner. Both are made medi­um-dry, just as aro­mat­ics should be, and emu­late the Alsace style. These are won­der­ful wines with per­sist­ent fla­vour and superb mouth-feel — unc­tu­ous and deli­cious. The Gewürtz just goes on and on, and the Pinot Gris is a wine that could turn you into an alco­hol­ic. It's impossible to put down.
The real sur­prise for me was the Pinot Noir. When I was there I tried two: the Black­en­brook Reserve 2012, the top label; and the St Jacques, Blackenbrook's second label. I have been crit­ic­al of Nel­son Pinots for exhib­it­ing green fruit char­ac­ter­ist­ics. This cer­tainly was not the case with these two wines. The reserve was har­mo­ni­ous without any unpleas­antly hard tan­nins. A little shy at first, it developed into an abso­lute win­ner when it was giv­en some air. Its broth­er, the St Jacques Pinot, also exhib­ited beau­ti­ful fruit but was a little more edgy. It would be per­fect with a bar­be­cued steak, while its posh broth­er would match nicely with lamb or duck.