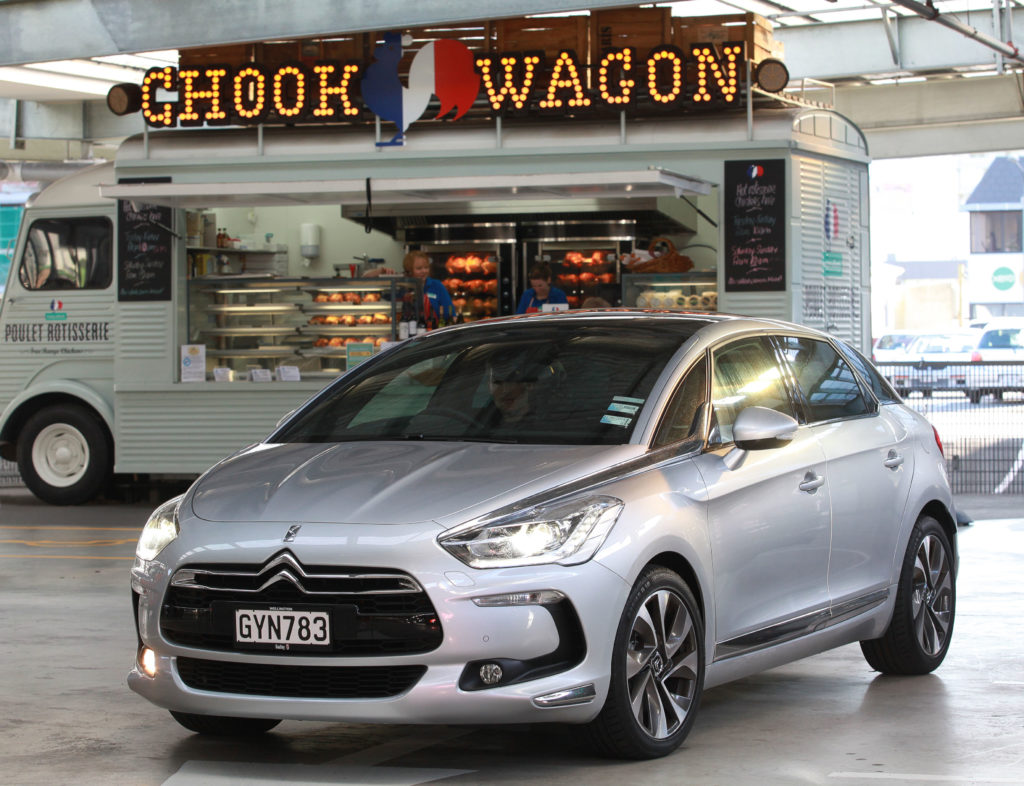 It's rare that I get behind the wheel of a new car that I can't eas­ily cat­egor­ise. And just to be clear, we're not talk­ing about the use of a secret design lan­guage for­eign to the aver­age man or woman on the street – I'm think­ing sedan, coupé, SUV… You get the idea.
And yet, how to define Citroën's new DS5 Sport Chic? Dimen­sion­ally, it could be a hatch­back, or pos­sibly a mid-size people-mover. It rides almost as high as some of the smal­ler SUVs, and yet to look at it, you would swear it was no taller than an aver­age sedan. One thing is cer­tain though – the DS5 is a stun­ning-look­ing vehicle.
Cit­roën has always been design-focused. Depend­ing on your point of view, a Cit­roën can be 'ahead of its time', quirky or just plain ugly, and reac­tion to offer­ings in recent times has been, bluntly, mixed. Yet a recent crop of new mod­els is turn­ing heads again, and the DS5 could well be the pick.
There's a lot going on, from the chrome accents that swoop from the bon­net right to the side mir­rors, to the long, slop­ing roofline that curves and tapers majestic­ally at the rear of the car. In less skilled hands, it might have looked busy or just plain brash. But the Cit­roën has the design lan­guage just about per­fect. From vir­tu­ally every angle, it really is some­thing to feast your eyes upon.
Giv­en the way it looks on the out­side, you could expect to be dis­ap­poin­ted by the inside. Not so. If any­thing, the interi­or is even more spe­cial. The pas­sen­ger space is a touch com­pact, but has the appeal of feel­ing entirely pas­sen­ger-centred. The beau­ti­fully upholstered leath­er seats mould them­selves to the driver and pas­sen­ger: hands, mean­while, run over the styl­ish wheel, and are drawn to the many but­tons that adorn the centre con­sole, roof lin­ing and high-rid­ing cent­ral trans­mis­sion tun­nel. Rather than feel over­whelm­ing, it could be a make-believe com­mand centre where all your coolest sci­ence-fic­tion fantas­ies become a real­ity. Truly.
At this point, you could well be ask­ing – is the Citroën's appeal more than skin-deep? Is there sub­stance beneath the sur­face, in oth­er words? Yes, is the short answer. There are two power plants on offer: a 1.6‑litre turbo pet­rol, or a 2‑litre 120kW turbo dies­el that serves up a ser­i­ous help­ing of torque. While I can't speak for the pet­rol vari­ant, the dies­el, mated to a mod­ern six-speed auto­mat­ic trans­mis­sion, is highly respons­ive and ensures the Cit­roën is as much go as show. The DS5 will dis­pense with the 0–100km/h dash in around 8.5 seconds, but it's in the mid-range space that the engine will really impress. Less pos­it­ive is the engine note, which is a little on the crude side – not unusu­al in a dies­el, but cer­tainly less than wel­come on a car that prom­ises so much.
Giv­en Citroën's her­it­age, you might expect a pil­low-like ride from the DS5, but it has sport in its title for a reas­on. The firm sus­pen­sion Cit­roën have opted for makes sense when it comes to hand­ling, but it can jar on cer­tain sur­faces. Like­wise, while it feels pretty well con­trolled when nego­ti­at­ing more chal­len­ging roads, the DS5 – with its tor­sion-beam rear-sus­pen­sion set-up – doesn't feel quite as com­posed as, say, a smal­ler, more focused hatch might.
While the DS5 might not push all your but­tons dynam­ic­ally, the gen­er­ous spe­cific­a­tion levels cer­tainly act as a wel­come dis­trac­tion. There is vir­tu­ally noth­ing lack­ing from a stand­ard kit point of view. Satel­lite nav­ig­a­tion, glass roof with elec­tric blinds, nifty heads-up dis­play for the driver, leath­er uphol­stery, cli­mate air-con­di­tion­ing and revers­ing cam­era, not to men­tion mag­ni­fi­cent-look­ing 18-inch wheels – the list is seem­ingly end­less. At around $62,900 for the dies­el, the DS5 offers an inter­est­ing pro­pos­i­tion indeed. There are some areas for improve­ment, but for those who can look past these, the rewards are impress­ive. After all, who doesn't want to drive a great-look­ing car?
[warn­ing]
Tech specs
Mod­el reviewed: Cit­roën DS5 Sport Chic diesel
Price: $62,990
Fuel eco­nomy: 5.9 L/100km com­bined cycle (manufacturer's figures)
0–100km/h: 8.5 seconds
Over­all: Finally, a great-look­ing new Cit­roën. More import­antly, it offers a real altern­at­ive to more estab­lished Europeans, offer­ing great looks and more than a touch of the unusual
[/warning]