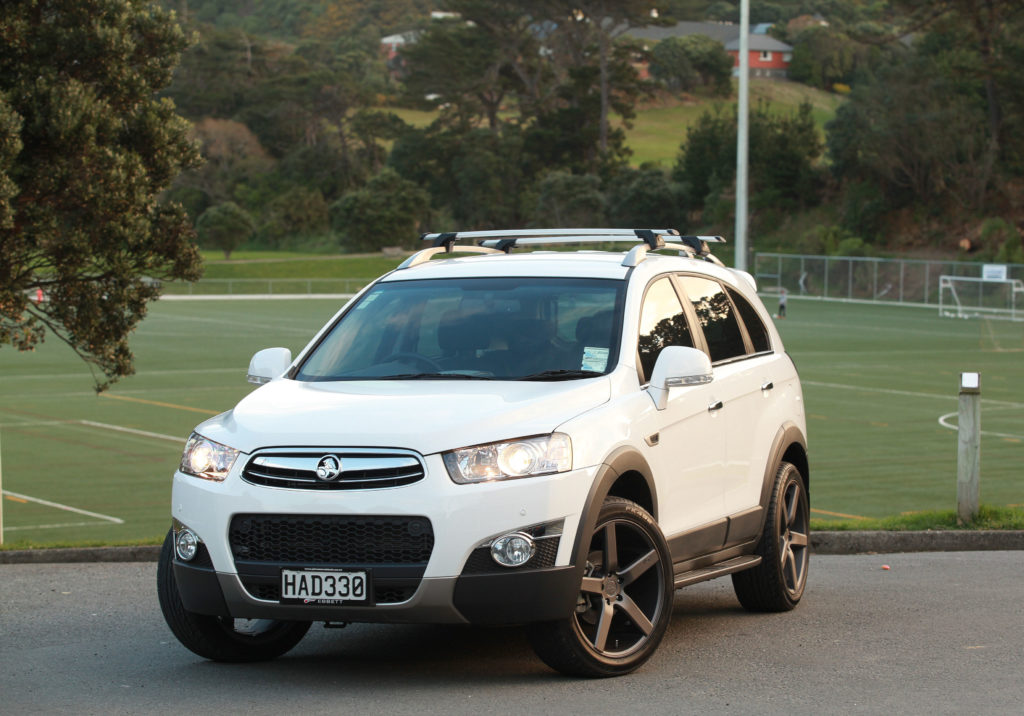 Noth­ing, it seems, will dimin­ish the pop­ular­ity of the SUV. Not rising fuel prices or car­bon-foot­print con­cern – although these days it's the mid-sized SUV or 'soft road­er', with its car-like qual­it­ies and fuel-effi­cient engines, that is rolling into town in ever-increas­ing numbers.
And quite a bit of choice there is, too, with just about every man­u­fac­turer – Japan­ese, European, Korean – offer­ing at least one mod­el. Many offer sev­er­al. How do we pick the right one?
Increas­ingly, when I talk to friends and fam­ily – par­tic­u­larly those with young chil­dren – about SUVs, the ques­tion I often get in the course of the con­ver­sa­tion is an obvi­ous one: how many does it seat?
It's this point of dif­fer­ence that buy­ers are becom­ing increas­ingly inter­ested in, and it's a point that Hold­en are only too happy to exploit. When it comes to their reli­ably pop­u­lar Cap­tiva range, you can spe­cify either the Cap­tiva five-seat­er '5' mod­el or, you guessed it, the sev­en-seat­er '7'. The choice doesn't stop there – Hold­en cater to a wide range of budgets. An entry-level pet­rol-powered, manu­al 5 with two-wheel drive starts from a com­pet­it­ive $38,490, while a top-spec 2.2‑litre, all-wheel drive LX dies­el 7 will set you back around $58,000.
In addi­tion to being a fully loaded LX, my pristine white week­end test vehicle also came with added extras in the form of 20in rims in car­bon black, run­ning boards and roof rack. Quite a pro­file it cut too. The Series II Cap­tiva has been in the mar­ket a year or two now, but this year it gets addi­tion­al stand­ard spec. It also makes for an attract­ive-look­ing vehicle, with its pleas­antly roun­ded front end, dis­tinct­ive grille and driv­ing light treatment.
Inside the LX, you'll find gen­er­ous equip­ment levels, includ­ing satel­lite nav­ig­a­tion, leath­er uphol­stery, revers­ing cam­era, elec­tric driver's seat and elec­tron­ic park brake (amongst oth­er use­ful kit). The interi­or is gen­er­ally well decked out, although in some cases the plastics and fit­tings would look more at home on the cheap­er vari­ants. There is cer­tainly no short­age of space though, and the rear seats are easy to access and sur­pris­ingly prac­tic­al – you might not lever grandma into the very back, but even your full-sized mates could man­age it, and you prob­ably wouldn't hear too much complaining.
As well as doing the busi­ness as a load-car­ri­er, the Cap­tiva impresses on the road. It drives well, with sol­id hand­ling char­ac­ter­ist­ics and well-con­trolled body roll. Com­mu­nic­at­ive steer­ing adds to the over­all package.
But it's the 2.2‑litre dies­el that impresses most. Its 135kW might not be excep­tion­al, but the 400Nm of torque it devel­ops at a very access­ible 2,000rpm sets this engine apart. While not hugely quick in a straight line – expect the Cap­tiva to man­age the 0–100km/h dash in under ten seconds – it has bags of prac­tic­al power that makes it respons­ive where it counts.
Hold­en quote respect­able fuel eco­nomy fig­ures of 8.1 litres over a com­bined cycle, although my low-mileage example couldn't quite man­age that. Think twice, too, before choos­ing the big­ger wheels – they may look great, but they do impact on ride qual­ity, espe­cially at low speeds.
The Cap­tiva might not be the new­est kid on the block, but it impresses thanks to its abil­ity to do pretty much everything well. Sev­en seats aside, it's not hard to see why this seg­ment con­tin­ues to enjoy such a strong following.
[warn­ing]
Tech Specs
Mod­el reviewed: Hold­en Cap­tiva 7 AWD 2.2L Diesel
Price: $55,890 (wheel pack­age and body kit additional)
Fuel eco­nomy: 8.1 litres/100km (manufacturer's figures)
0–100km/h: 9.98 seconds (New Zea­l­and Auto­car figures)
Over­all: Con­sumers are spoilt for choice in this brack­et, but the charms of the Cap­tiva are quite beguil­ing. An easy car to feel at home in around the capital[/warning]