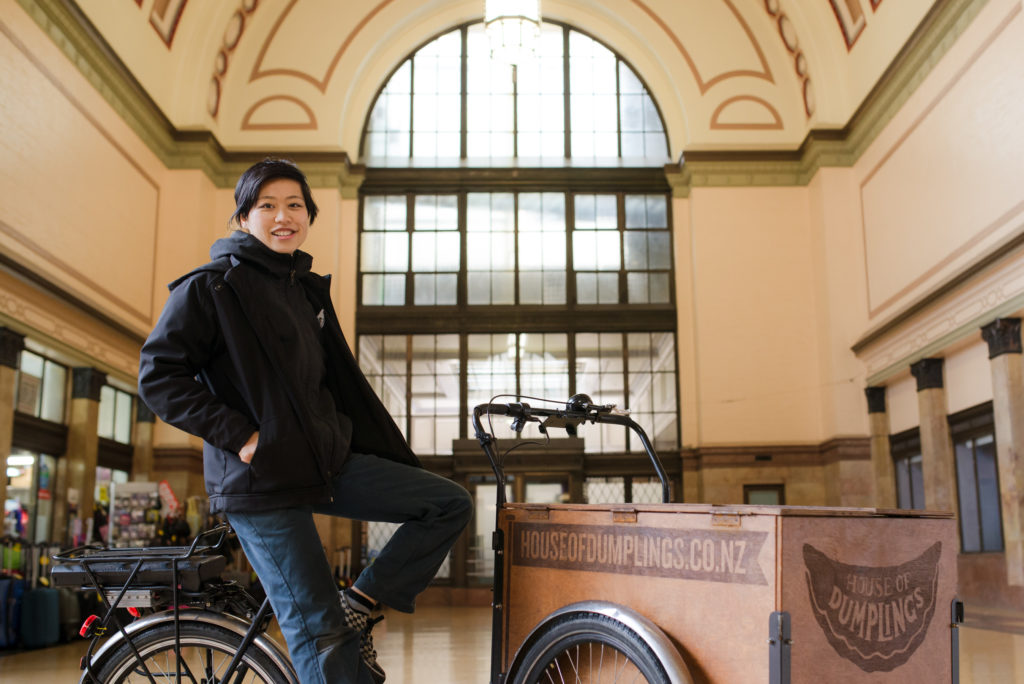 If you fre­quent Sunday's City Mar­ket, then no doubt you've heard of the enig­mat­ic Vicky Ha, dubbed the 'Dump­ling Queen' of the House of Dump­lings. No mean feat, Fish­Head caught up with Ha to dis­cov­er her favour­ite city spots.
If it's been a hard week at work and I'm in need of a drink I'll be at… the Malt­house or Hop Garden. They're close to our pro­duc­tion kit­chen and I know I can always pick some ran­dom beer that I might fancy on the day.
Then the next day if I need a slap-up feed and a cup of Wellington's finest cof­fee I'll be at… Cafe L'affare. I don't drink cof­fee, so def­in­itely a cuppa. Love the deco, also I know I can chill in there, read the papers as long as I want, and no one will both­er me.
I always find if you need some cul­ture you can't go past… Cuba Street. Busk­ers that do magic tricks, jazz bands, cheap eats, art gal­ler­ies, brunch at Floriditas, cock­tails at the Mat­ter­horn, Fidel's, nice old build­ings, cream buns from Mr. Bun, tat­too shops, the buck­et foun­tain. I think someone needs to open a pet shop on that street to com­plete the circle.
My favour­ite Wel­ling­ton land­mark has to be… the Rail­way Sta­tion. It's so grand, and I also love the fact that some­times I ride my bike through, com­pletely get yelled at, and the shout­ing makes awe­some echoes. Hilarious!
The Wel­ling­to­ni­an I would take to a pub quiz is… my part­ner. We sit in front of the com­puter each night and do quizzes on the Stuff web­site. Our scores are pretty hideous most of the time.
I am most ashamed to have nev­er vis­ited… Logan Brown, even though I love the boys [Steve and Shaun] and said many times I will go and vis­it them.
I know I shouldn't, but Wellington's best-kept secret is… Time Cinema in Lyall Bay. It's truly classy and some­thing really spe­cial. You have to find out for your­self why, though.
Wellington's next best food trend will be… afford­able, fresh, unpre­ten­tious and super-deli­cious street-style food.
The most unusu­al fla­vour of dump­lings I have made is… a copied ver­sion of my mum's ones – a mix­ture of prawn, pork, shii­take mush­room and loads of fresh herbs. Money can't buy that. My mum lives in Hong Kong and makes the best dumplings.
My favour­ite sellers down at the Sunday mar­kets are… the vege and fruit grow­ers from Lev­in. They are the one's who bring all those sea­son­al, afford­able, fresh, loc­al veges to us every single week, rain or shine. Bless them!
Holly has recently moved back to her home city after spend­ing four years at Otago Uni­ver­sity com­plet­ing her Bach­el­or of Arts in art his­tory and media stud­ies. She spends her days fuel­ling the pub­lic's caf­feine addic­tion as a barista and hanging out at Fish­Head Towers fit­ting into her intern­ing pos­i­tion. Bagge's pos­i­tion include vis­it­ing art gal­ler­ies, read­ing, drink­ing tea obsess­ively and watch­ing back-to-back epis­odes of Peep Show. She is a con­nois­seur of zom­bie films, one of her favour­ites being the ori­gin­al Dawn of the Dead. Much to her dis­may, her last name is pro­nounced "bag" as in "plastic bag".