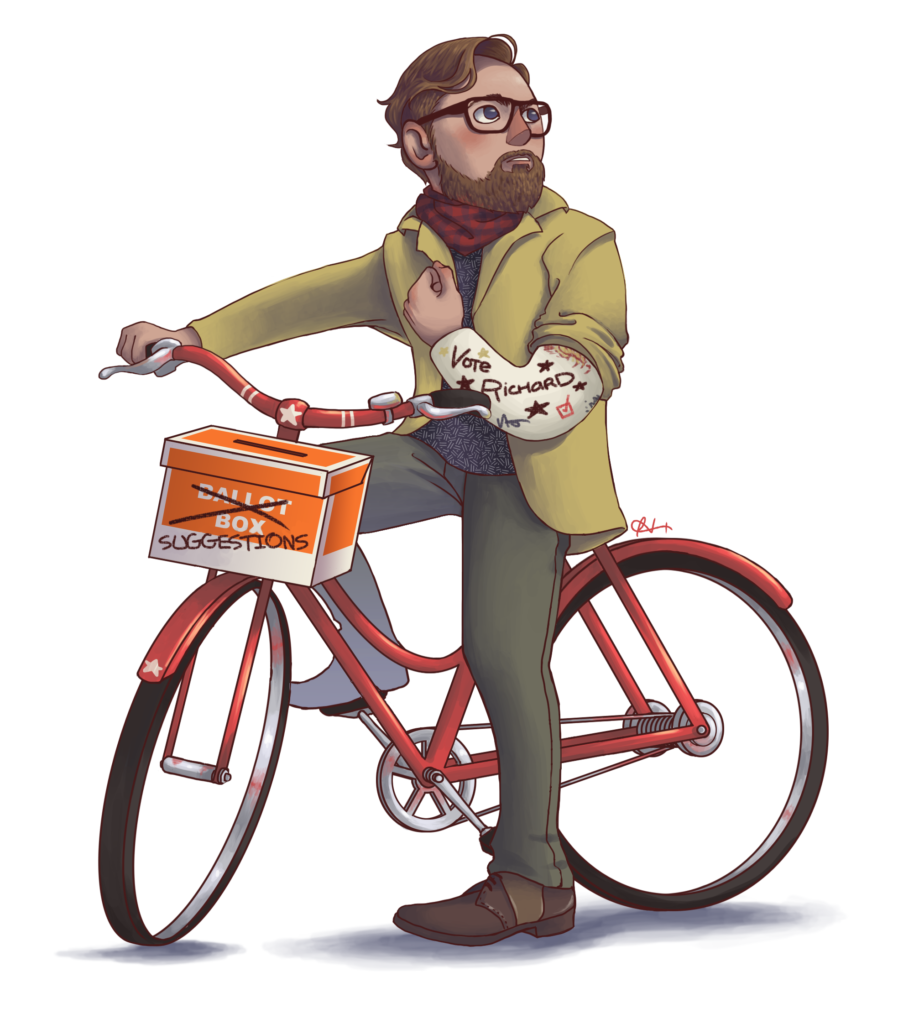 The oth­er day I had a cof­fee with a hip­ster called Richard. He has a bean­ie, a beard and a broken arm from a bicycle acci­dent. Of course he rides a bicycle. Prob­ably one with a chirp-chirp bell like all the oth­er quaint hip­sters. Any­way, the oth­er day Richard changed my mind about idi­ots who don't vote.
I def­in­itely would've called them idi­ots. And uneducated. And demo­crat­ic­ally spoilt brats. Ooooh. Mean. I'd have ridiculed the biggest non-voter of them all, Rus­sell Brand. I'd have called him a comedi­an dressed like a pir­ate, using a big vocab to dress up his ter­rible ideas. Rus­sell doesn't vote because politi­cians are liars and his vote won't change any­thing. Those are my words. His words went like this: "I'm not vot­ing out of abso­lute indif­fer­ence and wear­i­ness and exhaus­tion from the lies, treach­ery, deceit of the polit­ic­al class."
A few weeks ago I'd have told you that not vot­ing is the civic equi­val­ent of wear­ing your slip­pers and dress­ing gown to the dairy. It shows that life's so com­fy, you've stopped giv­ing a toss. I'd have day­dreamed the con­ver­sa­tion between Nel­son Man­dela and Rus­sell Brand:
Rus­sell: I don't vote because it doesn't make a difference.
Nel­son: I spent 27 years in jail for the right to vote. You're a dick.
Before the cof­fee chat, I would've told you your vote could be the drop that over­flows the cup. I might've poin­ted out that if just one per­son at each vot­ing sta­tion in 1960 changed their bal­lot, JFK would nev­er have become US pres­id­ent. 'Happy Birth­day' would still be a kids' song.
But then I spent an hour listen­ing to a hip­ster explain the reas­ons he doesn't vote. He got enthu­si­ast­ic. He waved his broken arm about and scratched his head as he talked. He isn't too lazy, too apathet­ic, too dis­in­ter­ested. He's just unim­pressed. He thinks it could be bet­ter. He wants more involve­ment than just turn­ing up every three years to pick a party. He has lofty ideas. We could use our phones to text vote. We could have cit­izen jur­ies vot­ing yes or no to Par­lia­ment­ary ideas. We could have coun­cils of 50 people, which each send a del­eg­ate to the next coun­cils of 50 people, which each do the same to the next coun­cils of 50 people, till everyone's had a say in a giant pyr­am­id scheme of democracy.
I'm starry-eyed too, until I leave and walk straight back into real­ity. That's not how the world works. But maybe, just maybe it one day will. We shouldn't call Richard an idi­ot. There are as many of him as there are cit­izens who picked our gov­ern­ment. For every per­son who voted for Nation­al at the last elec­tion, nearly as many didn't vote at all. So this elec­tion, if every one of those non-voters voted for Richard, maybe he could beat John Key. Maybe we could have a PM with a bean­ie, a beard and a bicycle. And big ideas.
Heath­er is a Jafa who's called Wel­ling­ton home for sev­en years and counitng. The wind still drives her crazy, but the buck­et foun­tain still makes her smile. She's run­ning around Ori­ent­al Bay and learn­ing to surf Lyall Bay. Her day job is report­ing for TVN­Z's Sev­en Sharp.