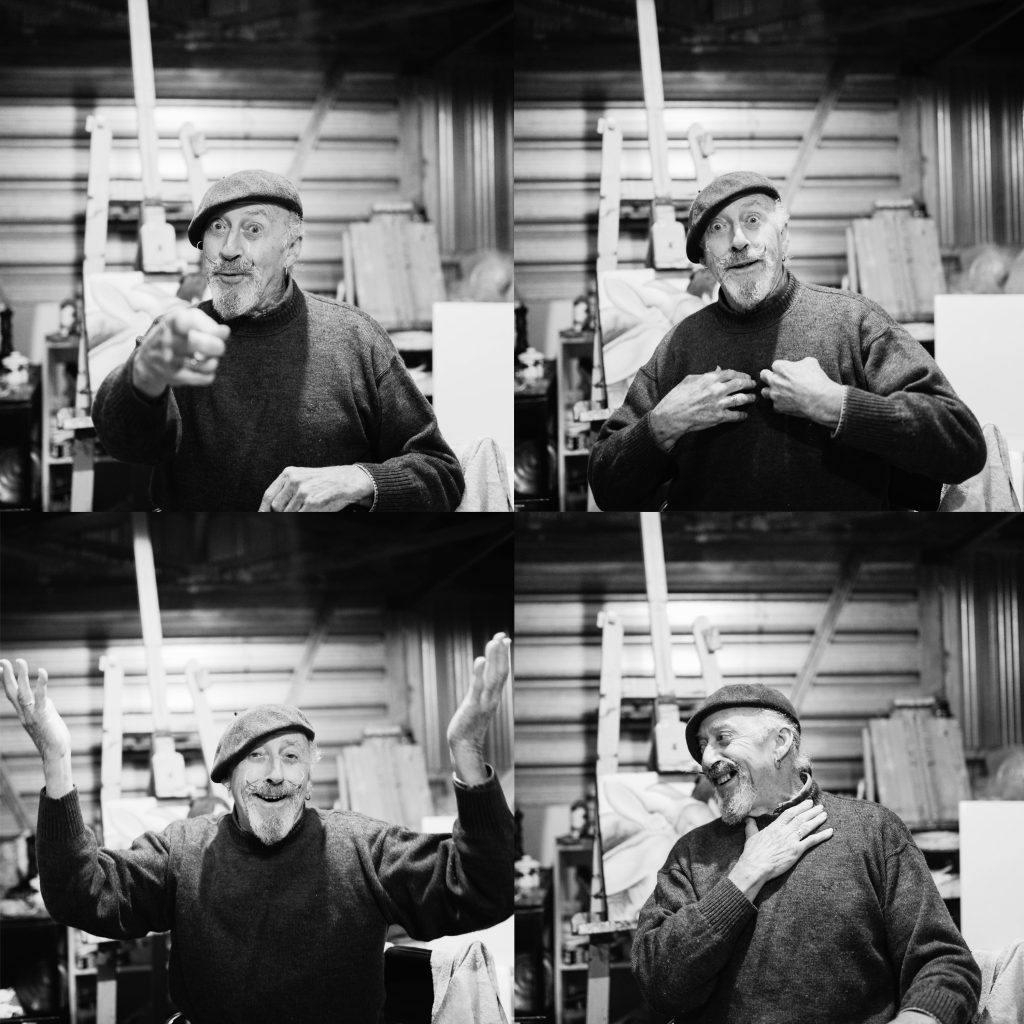 Last month, Dance Aotearoa New Zea­l­and (DANZ) cel­eb­rated its 20th anniversary, so in com­mem­or­a­tion Fish­Head caught up with one of New Zealand's greatest bal­let icons, Sir Jon Trim­mer. The ever-cour­teous dan­cer kept the Fish­Head team gig­gling and amused, per­form­ing some of the mime actions he's been teach­ing to chil­dren in Kapiti.
If it's been a hard week at work and I'm in need of a drink I'll be at… The Jimmy at St James Theatre to start with. And there is also a lovely new place just along Dix­on Street called Laz­eeza, next door to the Dix­on Street Deli. In Paekakariki, where we live, are two favour­ite places – the Beach Road Deli and the Perch­ing Par­rot. Both are lovely for cof­fees, lunch and morn­ing tea. There is also Finn's across the road. They have a very nice even­ing meal menu.
Then the next day if I need a slap-up feed and a cup of Wellington's finest cof­fee I'll be at… Nikau Café in Civic Square at City Gal­lery. It's got lovely, lovely food.
I always find if you need some cul­ture you can't go past… good­ness me! Usu­ally Circa has some­thing fant­ast­ic on in one of its two theatres. BATS occa­sion­ally has some­thing really good, too. I like the little Light­house cinemas as well. We also have a very nice little cinema here in Paekakariki. It's part of Finn's res­taur­ant bar and has excel­lent movies.
My favour­ite Wel­ling­ton land­mark has to be… see­ing I was born in Petone, I might have more than one. When you're com­ing into town on the train there's always Mt Vic­tor­ia, so it really is the main land­mark that I adore. But also I like the Ceno­taph. That little col­lec­tion of Par­lia­ment build­ings, the Bee­hive and the Old Gov­ern­ment Build­ings, that's a nice com­plex. Petone itself has a lot of lovely memor­ies for me, but I think about the artesian foun­tain in par­tic­u­lar. It's there for people to col­lect water in bottles if they want to.
The Wel­ling­to­ni­an I would take to a pub quiz is… I think I would like to take Ray Hen­wood, and his wife if she wants to come along too. He's a great char­ac­ter and a won­der­ful act­or. I think he would be a laugh to go along with: he would have a lot of witty lines.
I am most ashamed nev­er to have vis­ited… Zeal­and­ia! I always mean to, and on top of that Kapiti Island. I haven't been there and I have lived here [in Kapiti] for about 30 years now.
In light of the 20th anniversary of DANZ, my best memory of dance in the last 20 years is… I don't think I can pick out one best memory. I think what I like about DANZ is that it's still there. It's icon­ic now and it's got to keep going.
As a spec­tat­or I am most excited to see… any new tal­ent that's com­ing along, wheth­er it's act­ing, singing or dan­cing in any of its forms: clas­sic­al bal­let, mod­ern dance, kapa haka, Indi­an dance. I'm excited when there's a nice bright new tal­ent shin­ing through from the oth­ers in a group.
My favour­ite bal­let char­ac­ter to play is… when I was young­er it was the lead­ing male role in Gis­elle, but see­ing as I can't do those sort of things now, I think pos­sibly what is com­ing up next year is Cop­pélia. I'll be play­ing the doc­tor, the old mad doc­tor. I like play­ing mad roles, it's good fun.
I'm still dan­cing at 74, so the advice I would give for a long and suc­cess­ful career is… to keep per­sever­ing. If people try to pull you down, don't let them. Just keep enjoy­ing what you're doing, and once you stop enjoy­ing, then stop. I've told the powers that be at Roy­al New Zea­l­and Bal­let that I do intend to keep per­form­ing until I'm 80, even if I'm on a Zim­mer frame, but that the Zim­mer frame will have to have sequins all over it. I've got to sparkle somehow!
Holly has recently moved back to her home city after spend­ing four years at Otago Uni­ver­sity com­plet­ing her Bach­el­or of Arts in art his­tory and media stud­ies. She spends her days fuel­ling the pub­lic's caf­feine addic­tion as a barista and hanging out at Fish­Head Towers fit­ting into her intern­ing pos­i­tion. Bagge's pos­i­tion include vis­it­ing art gal­ler­ies, read­ing, drink­ing tea obsess­ively and watch­ing back-to-back epis­odes of Peep Show. She is a con­nois­seur of zom­bie films, one of her favour­ites being the ori­gin­al Dawn of the Dead. Much to her dis­may, her last name is pro­nounced "bag" as in "plastic bag".