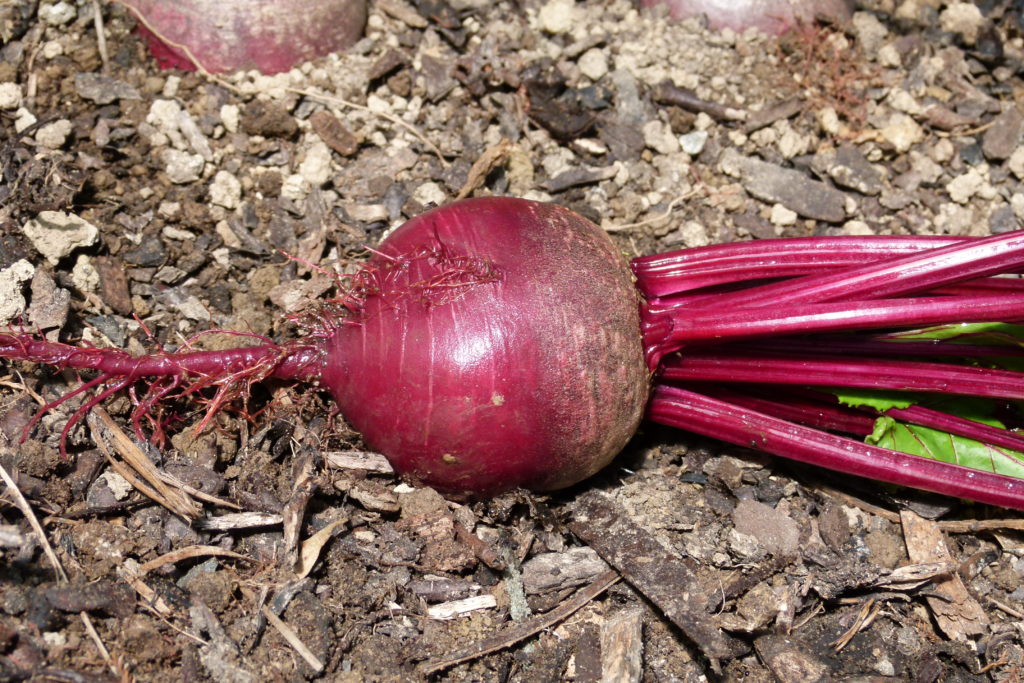 Beet­root doesn't have to come pickled from a can, and the beau­ti­ful roots need be neither red nor round. In Wel­ling­ton we can grow them most of the year and har­vest them for their leaves, mini 'gour­met' globes for roast­ing and pick­ling whole, or robust full-sized roots. They are packed with phytonu­tri­ents, are col­our­ful on our plates, and are suit­able for soups, salads and roasts. You can even include them sur­repti­tiously in sweet treats. They're a ver­sat­ile, deli­cious and healthy addi­tion to our diet, so if you've lost your love of beet­roots, give them anoth­er try in a new incarnation.
Beet­root bene­fits from being grown from seed. The 'seeds' you'll find in a pack­et of beet­root are actu­ally a cluster of seeds in a corky husk. As with all root veget­ables, it pays to cul­tiv­ate the soil well to give the roots an easi­er jour­ney. They'll enjoy some com­post and a slightly acid­ic soil, so many soils in Wel­ling­ton will need lim­ing, ideally a few months pri­or to sow­ing. Space the seed clusters 8–10cm apart in both dir­ec­tions (nine or 16 in a 30cm square depend­ing on how big you want them to grow). The soil needs to be about 7˚C or warm­er to ensure good ger­min­a­tion. Thin the seed­lings once they are big enough to handle, leav­ing the strongest intact. Use the thin­nings as micro-greens in a salad.
Small beet­roots will be ready nine to 12 weeks after sow­ing, and lar­ger ones at about 16 weeks. Choose the lar­ger roots first and let the sur­round­ing ones con­tin­ue to grow. In winter they can be left in the soil and pulled as needed. They won't grow much in the cold­est months but they'll remain fresh in the ground, even if their leaves become a bit dishevelled. To pre­pare small beet­root, just wash and slice off the tops and tails. Big­ger roots are bet­ter peeled. The plants don't suf­fer from many pests, although slugs and snails enjoy the young seed­lings and birds may scratch them out too.
Beet­root is, of course, the quint­es­sen­tial New Zea­l­and bur­ger top­ping. How­ever, it's far more ver­sat­ile than that. Its dis­tinct­ive taste and tex­ture work well grated raw in salads and it makes a stun­ning soup. Bar­be­cued or roas­ted, it devel­ops an earthy sweet­ness. If you have any left over, you can of course pickle them in vin­eg­ar. Beet­root brownies will have most beet­root-haters clam­our­ing for more as the root lends the chocol­ate slice suc­cu­lence and an appeal­ing deep colour.
Wheth­er you choose to eat the greens, pull the roots up when they are the size of golf balls or are patient enough to wait and dig crick­et ball-sized treas­ures, add some beet­root to your garden and you'll be richly rewar­ded by the red root.
Beet­root vari­et­ies to try
I think round red beet­roots are easi­est to grow and taste best, but here are some altern­at­ives. You can try them all by buy­ing a pack­et of beet­root col­our blend seeds.
Albino – white beet­root with slightly con­ic­al roots.
Chiog­gia – del­ic­ately striped pink and white beet­root with a smooth red skin.
Crosby's Egyp­tian Flat – flat­tish, deep red beet­root grow­ing mainly above the ground.
Cyl­indra – cyl­indric­al red beet­root for lots of slices.
Golden Detroit – orange beet­root for those of us who don't like everything on our plate turn­ing red.
Your edible garden in March
1. Sow some rock­et in a flower pot.
2. Plant out cab­bage, pak choi, cauli­flower, kale and broc­coli seedlings.
3. Spread com­post or pea straw where you've pulled out sum­mer crops.
4. Sow beet­roots, car­rots, radishes and turnips.
5. Cut back edible herbs and pot some up to bring inside when it gets colder.