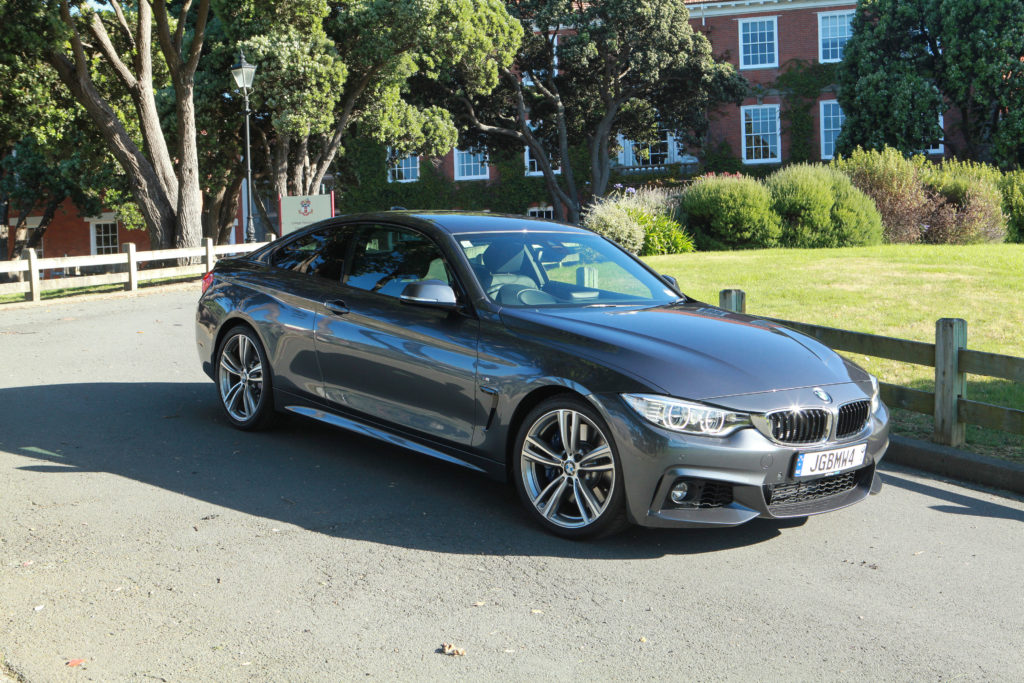 As luck would have it, it turns out that the Mar­tin­bor­ough Hotel has really good mid-week pizza. In my exper­i­ence though, pretty much any­thing will taste great when it's 10pm and your stom­ach has been rum­bling for an hour or two.
As I cruised into town, the lights of the hotel were a wel­come beacon. On any giv­en week­end, I have no doubt BMW's 435i coupé would have turned plenty of heads. Mar­tin­bor­ough is the kind of place in which new BMWs are noticed. But on this occa­sion, there was barely a soul to be seen. Which is a shame really, as the 4‑Series is a really good-look­ing car.
Don't be sur­prised if you're con­fused at this point. 4‑Series? Yes, it's new, but only in the sense that in the past this par­tic­u­lar mod­el would have been known as the 3‑Series coupé. The change is part of BMW's plan to fur­ther seg­ment its range of mod­els – a 2‑Series coupé (to replace the old 1‑Series) is also in the works.
The look of the new coupé closely resembles that of the 3‑Series sedan – a hand­some car in its own right – by mak­ing it both lower and sleeker. It's quite strik­ing (in a smart, Ger­man car kind of way), sport­ing flared kid­ney grille 'nos­trils', short front over­hangs and a tapered rear end. I really like it.
There are two mod­els on offer. The test car was the all-singing, all-dan­cing 435i, or – in oth­er words – the one to have, with its straight-six motor and twin-scroll turbo. It's good for 5.1 seconds in the 0–100km/h dash thanks to a sol­id 225kW and a hefty 400Nm of torque. The 428i is not far behind. It drops a couple of cyl­in­ders, but thanks to the mar­vels of mod­ern tur­bochar­ging, is less than a second behind in the race to the leg­al limit.
Hav­ing enthused pos­it­ively in the past as to the bril­liance of the 3‑Series, I was pretty keen to sample the coupé, and I wasn't dis­ap­poin­ted. All BMWs have a famil­i­ar feel or 'drive­ab­il­ity' and the 435i is no excep­tion. Although more muted than I would like, the engine note is crisp and busi­ness­like under accel­er­a­tion. The eight-speed gear­box is first rate, ensur­ing the engine is on boost vir­tu­ally without excep­tion, and when you really want to work the engine, the steer­ing wheel-moun­ted paddles are access­ible and respons­ive. Mean­while, the coupé feels sure­footed, des­pite the many off-cam­ber corners of the Rimutaka's infam­ous hill road. The lower ride height ensures it tackles corners with vir­tu­ally no body roll, and while the steer­ing lacks a degree of feel, it's still involving. In oth­er words, the BMW feels bulletproof.
The interi­or is kit­ted out in first-rate mater­i­als as you might expect, and can eas­ily accom­mod­ate four full-sized adults. New for the mod­el is an upgraded inter­face (iDrive), which works pretty well, and the Har­mon Kar­don ste­reo is well worth the extra invest­ment. Frus­trat­ingly, even pas­sen­gers can't pair a phone to the car while on the move. Safety first for sure, but this belies com­mon sense, although it's a pretty small gripe in the scheme of things.
Is it fun? Com­pared to Jaguar's in-your-face F‑Type (see Fish­Head, Janu­ary 2014), the 435i feels com­par­at­ively con­ser­vat­ive. But therein lies its appeal, not to men­tion the fact that it is more prac­tic­al. The BMW will do everything to a very high stand­ard indeed, and I can't ima­gine a situ­ation or cir­cum­stance in which it wouldn't feel well suited – it's the ideal car to com­ple­ment the exec­ut­ive life­style. Which it would have to be, because inex­pens­ive it is not.
The 435i, fit­ted with M‑Sport kit, is $126,500, while the entry-level 328i is a smidgen under $100k at $98,000. That makes the 435i close to $20k more than its sedan sib­ling, which is quite a premi­um by anyone's meas­ure, even giv­en the impress­ive stand­ard kit. But then the lower ride height means road-hold­ing is really quite impress­ive… and did I men­tion just how good it looks?
[warn­ing]
Tech specs
Mod­el reviewed: BMW 435i
Price: from $98k (mod­el reviewed $126,500k plus $2,900 options)
Fuel eco­nomy: 7.4 litres/100km (manufacturer's figures)
0–100km/h: 5.25 seconds
Over­all: A very styl­ish coupé indeed that ticks all the boxes but won't unne­ces­sar­ily raise eye­brows in car-con­ser­vat­ive Wellington[/warning]