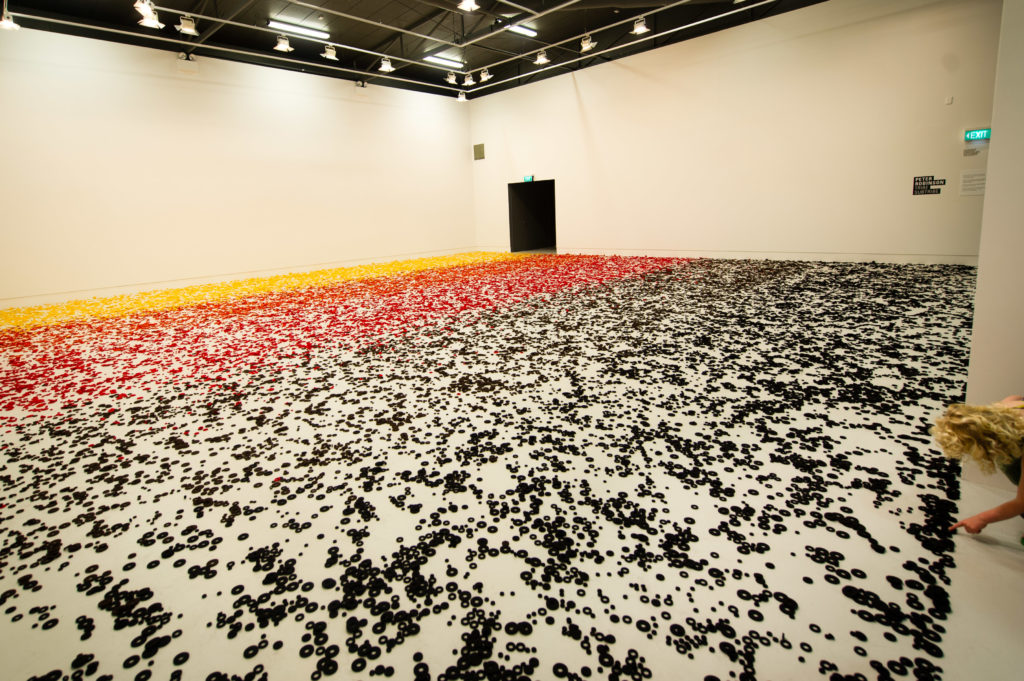 I wasn't sure what I was expect­ing when I went to Peter Robinson's Tribe Sub­tribe. The pub­li­city pho­tos showed a series of multi-col­oured sculp­tur­al 'sticks', and the blurb said, "Vis­it­ors are asked to con­trib­ute to the cre­ation of this col­our­ful exhib­i­tion." Mmmmm.
The exhib­i­tion is in the Dowse's large north gal­lery. I had to pass through a very charm­ing exhib­i­tion of ban­ners to get to it. Moment­ar­ily dis­trac­ted by the ban­ners – com­mis­sioned to cel­eb­rate the tenth anniversary of the Dowse in 1981 – I was unpre­pared for a room full of small felt circles.
Well, I'm exag­ger­at­ing. The floor was covered in felt circles. These had been organ­ised into strict bands of col­our – red, orange, yel­low, black and brown – but by the time I got there, the felt circles were becom­ing mixed up and the floor looked like an Abori­gin­al dot paint­ing. At the entrance to the gal­lery, signs ask you to remove your shoes and a swathe of instruc­tions tell you what to do.
To par­ti­cip­ate, you are asked to thread fel­ted circles onto spun alu­mini­um poles of dif­fer­ent lengths. The walls of the gal­lery were already lined with a good num­ber of works cre­ated by mem­bers of the pub­lic, so I didn't hold back. I got going and threaded a pat­tern of brown and orange circles onto my pole – it was my homage to the 1970s.
And that's the thing with this install­a­tion: it's full of homage. That felt circles and sticks threaded with felt circles could provide so many art ref­er­ences is aston­ish­ing. Partly it's the restrained palette. For me it evokes the Abori­gin­al land rights flag, as I'm sure it's inten­ded to do, and the com­pleted poles lean­ing around the walls remind me of Arnold Wilson's Pou When­ua works from the 1980s – large-scale wooden posts whose shapes and col­ours are echoed in this installation.
Then there's the felt, with its Joseph Beuys ref­er­ences. Felt was one of Beuys' favour­ite media, as was the idea that any­one can be an artist. Is Robin­son sug­gest­ing that for the pur­poses of this install­a­tion any­one can be a Māori artist?
But the sur­prise of the pro­ject is the rela­tion­al aes­thet­ics aspect. Accord­ing to Wiki­pe­dia, rela­tion­al aes­thet­ics means that the art­work cre­ates a social envir­on­ment in which people come togeth­er to par­ti­cip­ate in a shared activ­ity. Robin­son has nev­er struck me as that sort of an artist, but there you go. While I was there some friends arrived, and we hung out mak­ing our sticks. I'll be cheesy and sug­gest this is Robinson's way of show­ing that art can bring us togeth­er – and hence the title.
When I vis­ited the exhib­i­tion it was in its first phase: the mak­ing. As I write, it is in its second phase, where all the com­pleted sticks are lean­ing around the walls of the gal­lery. By the time you read this, the exhib­i­tion will be in its third phase and all the sticks will be lying on the floor. I want to see that – I think that's the moment when the work will cre­ate its own ref­er­ences. Tribe Sub­tribe is on until 30 March.
[info]
March Art Recommendations
The Hutt Val­ley is the place to be in March. Shape­shifter returns as part of the New Zea­l­and Inter­na­tion­al Arts Fest­iv­al visu­al arts pro­gramme (until 16 March). Cur­ated by Dowse dir­ect­or Court­ney John­ston, it includes 3D works by 64 artists from around the coun­try, installed in the Hutt City Civic Gar­dens. Artists include Tim Wraight, Lucy Buck­nall, Mia Hamilton, Rick Rudd and Guy Ngan.
At the Dowse itself, Fran­cis Upritchard, Suji Park, Kate Newby, Paul Maseyk, Madeline Child, Iso­bel Thom and Kate Fitzhar­ris fea­ture in Slip Cast, an exhib­i­tion that con­siders a revived interest in ceram­ics by con­tem­por­ary artists. Slip Cast runs until 2 June.
[/info]
Mary-jane is a Paekakariki-based poet and essay­ist, and Fish­Head's art colum­nist. She teaches poetry and aca­dem­ic writ­ing on the Whiyireia Cre­at­ive Writ­ing pro­gramme, tor­tur­ing stu­dents with half-rythmes and pan­toums, zom­bie haiku, and line breaks, ref­er­en­cing and struc­ture. Duffy has a back­ground in museum and gal­lery work, mak­ing a lucky escape from the base­ment of the City Gal­lery Wel­ling­ton in 2002 and open­ing the Mary New­town Gal­lery with Paula New­town in 2004. Art (across all the dis­cip­lines) feels like the closest thing she has to reli­gious exper­i­ences — see­ing, read­ing or hear­ing things that make her brain fizz.