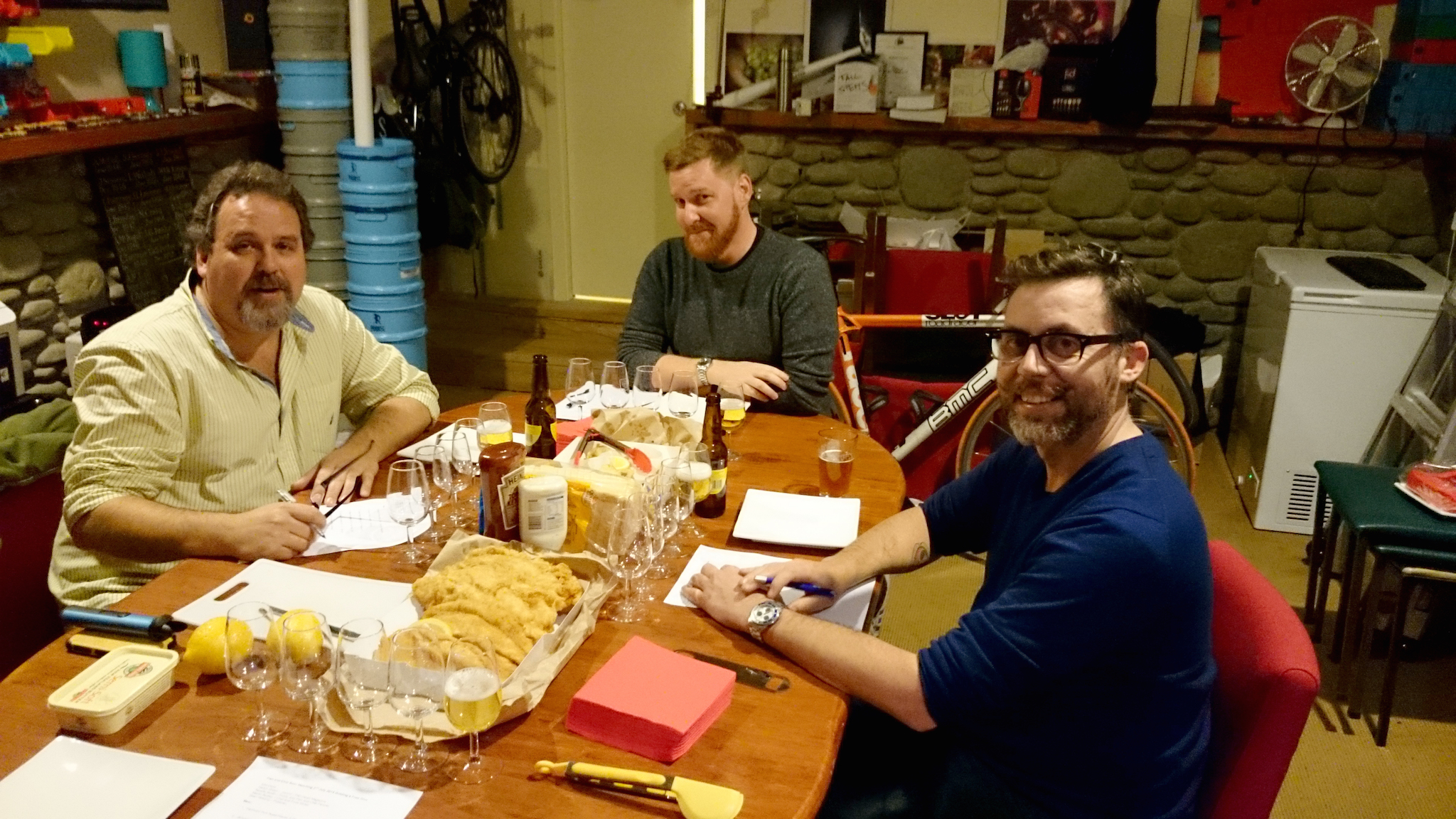 It star­ted, as these things often do, over beers. At a recent gath­er­ing hos­ted by the Brit­ish High Com­mis­sion­er, I had a dis­cus­sion with Sean Gold­ing, own­er of Golding's Free Dive, about which beer goes best with fish and chips.
I was on the side of light pils­ners and lagers, while Sean sided with sour beers like Roden­bach. For the next few weeks, whenev­er I men­tioned this top­ic to any­one, all I heard was "Roden­bach, Roden­bach, Roden­bach". The idea is that the sour taste of the beer would com­ple­ment the salt and fat like vin­eg­ar does on chips. I sug­ges­ted an experiment.
We gathered one night in the back office of Golding's: Sean and I, along with my part­ner Narelle, a tal­en­ted cook with a dis­cern­ing pal­ate, and Mar­tin Bos­ley, because if you're match­ing beer and fish then you should really have an excel­lent sea­food chef and beer lov­er. Mar­tin was keen as for this tast­ing, as he hadn't had fish and chips in months and had tried few of the beers.
The table was set. We had six beers to taste and a heap of fish and chips. We had basic battered and crumbed fish, battered Bluff oysters and a mound of chips, along with tomato and tartare sauces. We were ready for this.
Schneider Weisse Hefe 5.4% (Ger­many)
The idea is sound: a Bel­gian-style wheat beer goes with frîtes and mayo, so why not fish and chips? The con­sensus was that the fla­vours were wrong, and more suited to meat than fish.
Pan­head Port Road Pils­ner 5.2% (Upper Hutt)
I hon­estly thought this would be a bet­ter match than it was. Every­one around the table agreed it was a great beer, but where we wanted a sharp bit­ter­ness to carry away the oily taste of the fish, we instead got a smooth, grainy fla­vour. The lack of sharp­ness in the beer is nor­mally what makes Port Road Pils so drink­able, but in this case it was a weakness.
Tuatara Aotearoa Pale Ale 5.7% (Par­a­pa­raumu)
Bal­last Point Sculpin IPA 7% (USA)
Both of these beers brought that bit­ter­ness that we all wanted. The Tuatara APA came in with a very sharp hop­pi­ness, while the Sculpin was more roun­ded but still bit­ter enough to carry off the greasy taste of the fish. To be hon­est, I thought that the strong taste of an APA would over­whelm fish and chips, but instead it bal­anced the taste brilliantly.
Haller­tau Funkon­nay 6.5% (Auck­land)
This was our New Zea­l­and answer to Roden­bach: a big sour beer and, like Roden­bach, the taste match­ing was obvi­ous. How­ever, we weren't as impressed as we thought we'd be. The fla­vour over­whelmed the fish a little, though it was nicer with tartare sauce than the oth­er beers. We also tried a light­er sour Mikkeller Spon­tan­riesling (7.7% Den­mark), but that was a ter­rible match.
Par­rot­Dog Otis Oat­meal Stout 6.3% (Wel­ling­ton)
This was the sur­prise beer of the night. New Zea­l­and beer geni­us Richard Emer­son has often said that the best fish and chip beer is a stout; we could not agree more! The low car­bon­a­tion and dark 'burnt' notes worked incred­ibly well with all of the fla­vours of the fish, chips and sauces. So well, in fact, that we decided to double down and intro­duced a Green Flash Double Stout (8.8% USA); it was just as good.