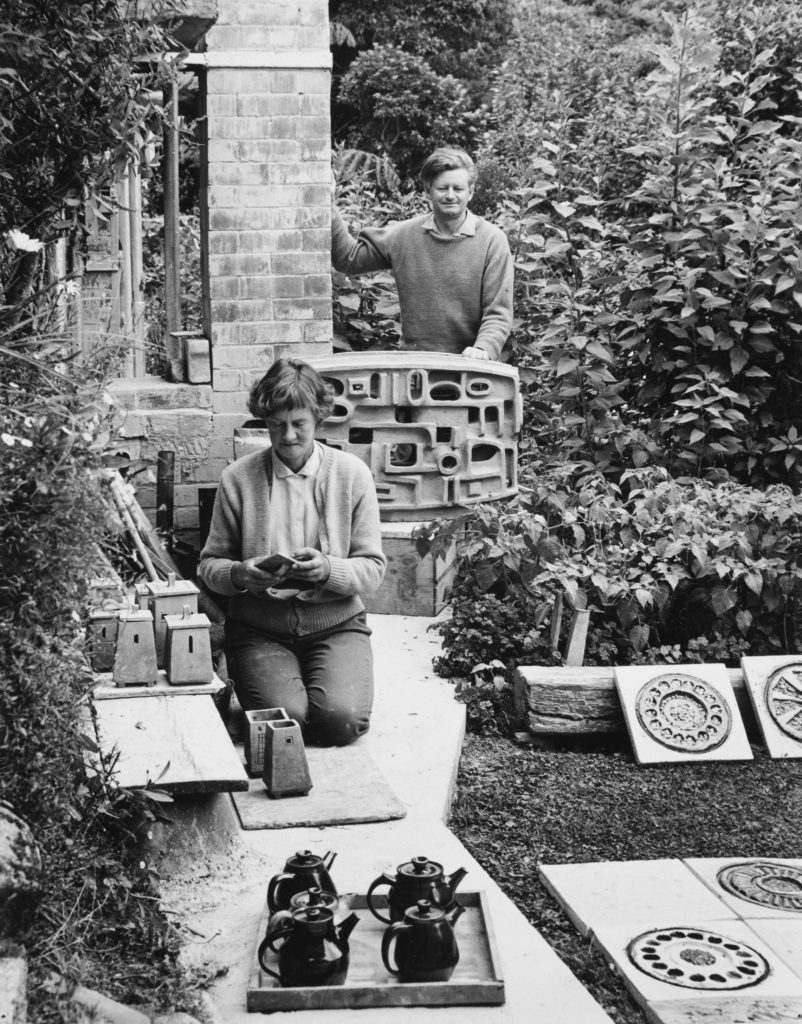 When I worked at City Gal­lery Wel­ling­ton in 2001, we bor­rowed some Janet Paul works for an exhib­i­tion from Kaye Roberts. Kaye ran the Brook­er Gal­lery in Kel­burn for many years but had retired by then. The day I col­lec­ted the works from her home, I admired a ceram­ic horse by Juliet Peter in the liv­ing room. "You should organ­ise an exhib­i­tion of Juliet's work," she told me.
So that's what happened. In 2002, just before I left the gal­lery, I cur­ated an exhib­i­tion of Juliet's paint­ings and prints in the Hirschfeld Gal­lery. Juliet was still alive then and I was able to con­sult her on the where­abouts of many works — espe­cially a bunch of fant­ast­ic water­col­ours done dur­ing the war while she was a land girl in Can­ter­bury. My favour­ite was a paint­ing of her cous­in, Anne Ensor, spin­ning. In the paint­ing Anne wears trousers and smokes, and it's stayed in my mind as a for­ward-look­ing image — one that speaks of a time in which women could be them­selves. And for a short win­dow in the 1940s that was possible.
After the war Juliet mar­ried Roy Cow­an, and togeth­er they pro­duced prints, pot­tery and paint­ings from their house in Ngaio. They had a kiln in the back yard and a print­ing press in the base­ment. In the 1970s they were the nuc­le­us of a close-knit arts com­munity. And then they disappeared.
I knew Juliet's work from the School Journ­al — her prints and illus­tra­tions were often fea­tured there — but little else. While work­ing on the exhib­i­tion, I vis­ited her in Ngaio and met the cats, and I saw the huge out­put of work that filled the house. I was attrac­ted and repelled in equal meas­ure by the ceram­ics. As a child of the 1970s, I have been over­ex­posed to brown earth­en­ware, but I loved the sur­prise of her horses — frivol­ous and dec­or­at­ive amongst the util­it­ari­an din­ner­ware and weird containers.
A Mod­est Mod­ern­ism (at the Dowse until 2 Novem­ber) fea­tures Juliet and Roy's work from the Dowse's col­lec­tion. Their rela­tion­ship sings across all of it with call and response — the Ngaio bush and the anim­als and the people appear­ing and reappearing.
Roy's paint­ings have come to light in the last few years, and with their inclu­sion it's pos­sible to see his interests more clearly. The paint­ings have a dark­er tone than any­thing else he pro­duced, but his illus­trat­ive approach is most inter­est­ing when applied to the large-scale vases.
And like the title says, it's a mod­est mod­ern­ism. Less con­cerned with form­al­ism, it's mod­ern­ism applied across a range of media and loc­al con­tent, about two artists mak­ing their life togeth­er in art.
[info]
Octo­ber Art
Sel­flok, a new install­a­tion work by Sydney-based Egyp­tian artist Hany Armani­ous, has been described as "Middle Earth on drugs". This whim­sic­al work com­bines diorama with the aes­thet­ic of the stu­dio or the garden shed. How­ever, look more closely at those things on the shelves and you'll spot gnomes and their little gnome homes amongst the abstract blobs and tin cans. It's pro­vi­sion­al and play­ful, and full of the chaos and joy of mak­ing shit. And it's on at City Gal­lery Wel­ling­ton until 30 November.[/info]
Mary-jane is a Paekakariki-based poet and essay­ist, and Fish­Head's art colum­nist. She teaches poetry and aca­dem­ic writ­ing on the Whiyireia Cre­at­ive Writ­ing pro­gramme, tor­tur­ing stu­dents with half-rythmes and pan­toums, zom­bie haiku, and line breaks, ref­er­en­cing and struc­ture. Duffy has a back­ground in museum and gal­lery work, mak­ing a lucky escape from the base­ment of the City Gal­lery Wel­ling­ton in 2002 and open­ing the Mary New­town Gal­lery with Paula New­town in 2004. Art (across all the dis­cip­lines) feels like the closest thing she has to reli­gious exper­i­ences — see­ing, read­ing or hear­ing things that make her brain fizz.