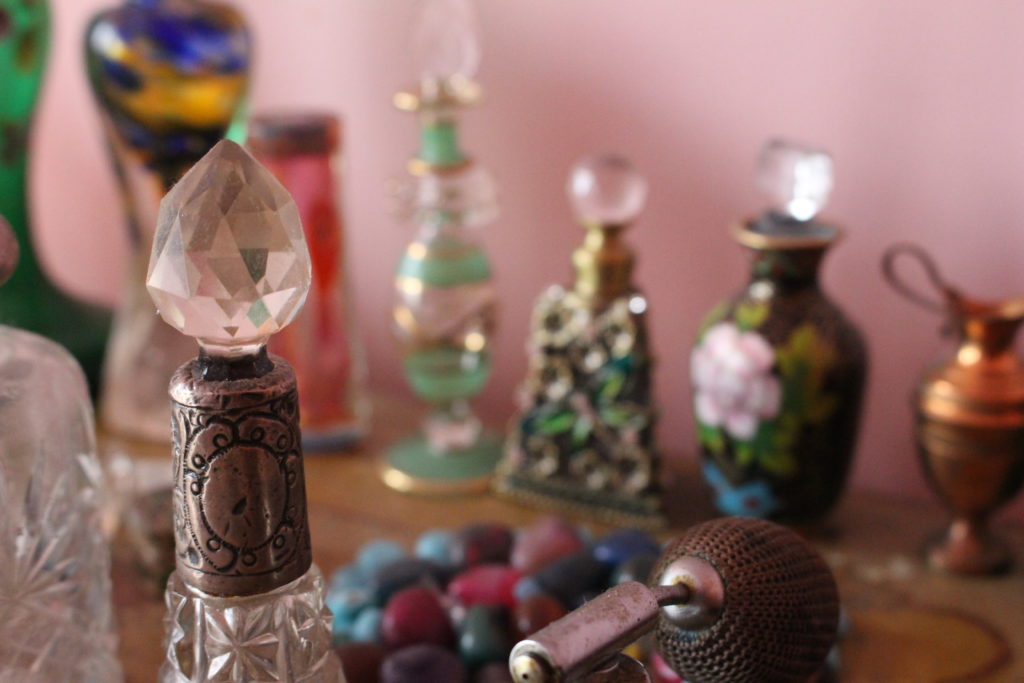 On a warm, wind­less Wel­ling­ton morn­ing, I walked down Cour­tenay Place on the search for Mar­garet Hema's salon. A search is required. For­tu­nately, I was fore­warned. I'd met Mar­garet for a facial pre­vi­ously, and I found myself, again, up two flights of stairs, through a door, then anoth­er, before find­ing her in the clas­sic her­it­age build­ing she moved her busi­ness to in 2012. A lack of sig­nage is inten­tion­al: hers is not the kind of salon you stumble upon — Mar­garet is avail­able only by appointment.
While she isn't usu­ally one for inter­views, Mar­garet kindly agreed to talk to me. "I like to stay back — I don't want to be a loud-mouth!" she says.
Her com­ment reflects much of what the HEMA brand stands for. With a dis­like for mar­ket­ing, Mar­garet says the only HEMA advert­ising is that which appears in people's faces: her cli­ents' skin.
What sets HEMA apart from oth­er skin­care approaches is its min­im­al­ist style and strictly organ­ic ingredi­ents. After an extens­ive career in the beauty industry, here and inter­na­tion­ally, Mar­garet recog­nised that she had long been dis­sat­is­fied with typ­ic­al skin­care approaches. So she sought to cre­ate an "intel­lec­tu­al­ised" for­mula that focused on the fab­ric of the skin, keep­ing the six top­ic­al lay­ers and pore struc­ture unaltered with nour­ish­ing ingredients.
"My back­ground in aro­ma­ther­apy and beauty ther­apy meant I saw cli­ents with sens­it­ive skin, and I found that the com­mer­cial products that I was using then would make them come up pink and itchy."
After some delib­er­a­tion, Mar­garet stopped work­ing with com­mer­cial products: "I thought, 'I'm not going to sell any products, just do facials.'" That is what led her to start hand-blend­ing oils, and then to cre­ate her new unbranded for­mula, for use only in her salon. In the early 1990s, Margaret's new, stripped-back concept gained increas­ing pop­ular­ity, and in 1994, with bur­geon­ing cli­ent demand, her for­mula became "HEMA".
Mar­garet says that her work is often a case of "fix­ing back up", includ­ing her own skin. "I was in the industry for so long that it was neces­sary to try products on my own sens­it­ive skin — some of the products that I now call Jiff and Janola!"
She is an advoc­ate for min­im­al­ist skin­care, devoid of exfo­li­ants. "The beauty pro­fes­sion is often over­cooked and over­loaded, and I'm not going to use products that over­cook or over­load the skin. I don't want to deprive people, but I'm not going to do facials with any­thing I don't believe works."
Since its cre­ation, HEMA has reigned as the ori­gin­al oil-based skin­care range. Early on, its loc­al repu­ta­tion boos­ted the brand's pro­file with an inter­na­tion­al crowd. When the Lord of the Rings movie cast was in town, Mar­garet treated Mir­anda Otto, Eli­jah Wood and Liv Tyler with HEMA facials, and the word has since spread to oth­er celebrity clients.
After leas­ing a space on Lamb­ton Quay for nearly 24 years, Mar­garet has recently relo­cated. In keep­ing with her sig­na­ture salon look, her new space has been styled with the same pink walls, chan­delier and eclect­ic fur­niture, all posi­tioned in exactly the same way as in the pre­vi­ous salon. "I believe if you've got a for­mula that works, stay with it," she affirms.
Margaret's atti­tude to her salon's endur­ing aes­thet­ic echoes her own con­fid­ent and inim­it­able style, which sees her wear­ing her hair long and dress­ing as she did in the 1960s. Most fit­tingly, her time­less nature and per­son­al­ity are reflec­ted in her tried and true HEMA formula.
A con­firmed Wel­ling­to­ni­an, Eliza comes from a fam­ily of journ­al­ists and has recently com­pleted a BA at Vic­tor­ia Uni­ver­sity in Art His­tory and Media. Now mak­ing her own way in the world of journ­al­ism, she has par­tic­u­lar interests in fash­ion and art. She misses the DTL in lower Cuba Street and the dance floor being at the oth­er end of Good Luck Bar. Eliza lives in a bit­terly cold flat in Brook­lyn but appre­ci­ates the walk into town through Cent­ral Park every morning.