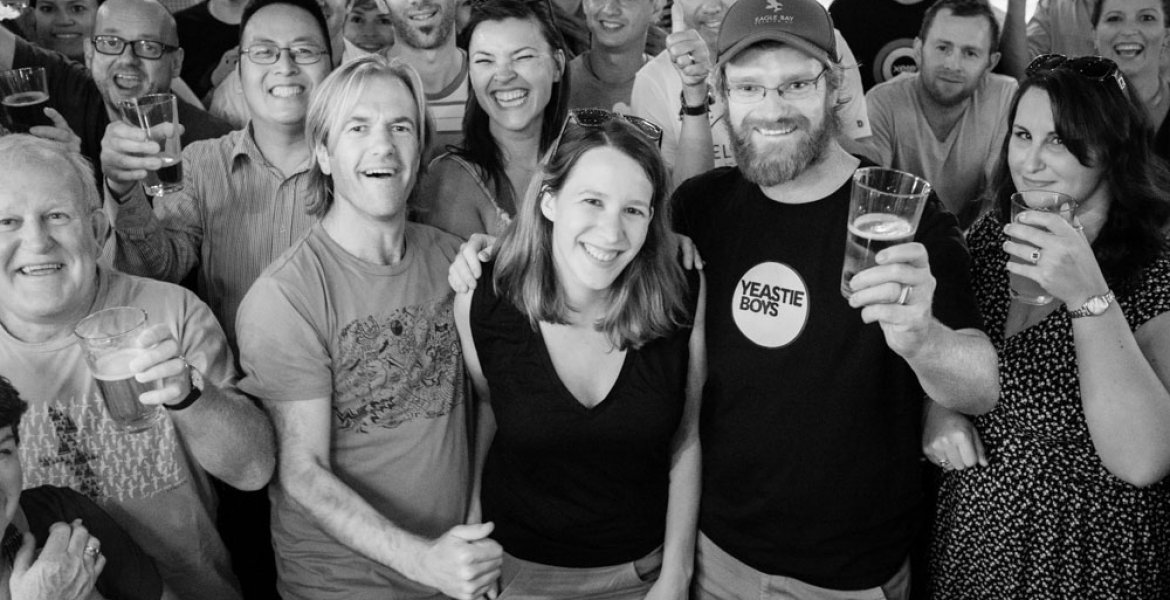 As we were record­ing his pod­cast the oth­er day, former beer writer of the year Phil Cook said some­thing that has stuck with me. He said that 2014 was the year of the beer com­munity. Actu­ally, he said that too many of his com­munity ideas had happened at the end of 2014, so it was actu­ally the year of some­thing else, but this idea of com­munity really hit home to me.
It's obvi­ous when you look at things like the Yeast­ie Boys equity crowd­fund­ing float via PledgeMe. Half a mil­lion dol­lars was raised in such a short a time that when you asked what the total was, no two people could give you the same answer — the page was refresh­ing at an aston­ish­ing rate.
The amaz­ing response to the Craft Beer Cal­en­dar is anoth­er great example. As is the com­munity of women who took part in the Pink Boots brew on Inter­na­tion­al Women's Col­lab­or­a­tion Brew Day. Or the legions of volun­teers at Beer­vana or SOBA events, or any of the oth­er big festivals.
But it's more than all that.
Sit­ting at the table with me and Phil were George Lang­lands, the oth­er half of the Beer Diary Pod­cast, and Jono Galuszka, report­er for the Man­awatu Stand­ard and writer of the excel­lent From Drink­er to Brew­er blog. Jono had been in town cov­er­ing the Mark Lundy tri­al, which had only just fin­ished, and he was on the come-down from doing almost noth­ing but writing.
George and Phil were resur­rect­ing the pod­cast, after a hiatus, with a 'Year in Review' show and had invited me and Jono to join them. If you haven't listened to the Beer Diary Pod­cast before, please do so — it's a won­der­ful ram­bling jour­ney through inter­est­ing beers and inter­est­ing top­ics. I made my first appear­ance just so that Phil and I could argue about beer names.
When it came to nam­ing the win­ner of our 'Per­son who writes about beer on the Inter­net of the year' award, Phil and I nom­in­ated Dylan Jauslin. Dylan's writ­ing on The Bot­tle­neck blog is superb, dry and flat-out honest.
So when Phil later talked about "the year of the beer com­munity", I was struck by this idea. All we had been doing was sit­ting and talk­ing about the amaz­ing com­munity we were part of: the people we loved, and the things we didn't love that threatened the har­mony of the com­munity. It's not as cult­ish as it sounds, but more that we all like each oth­er and that's why we get along.
Now where do I go with this? "Beer brings people togeth­er, bro"? Not really, because frankly, we don't all get along. We are more like a big dys­func­tion­al fam­ily — and you don't mess with family.