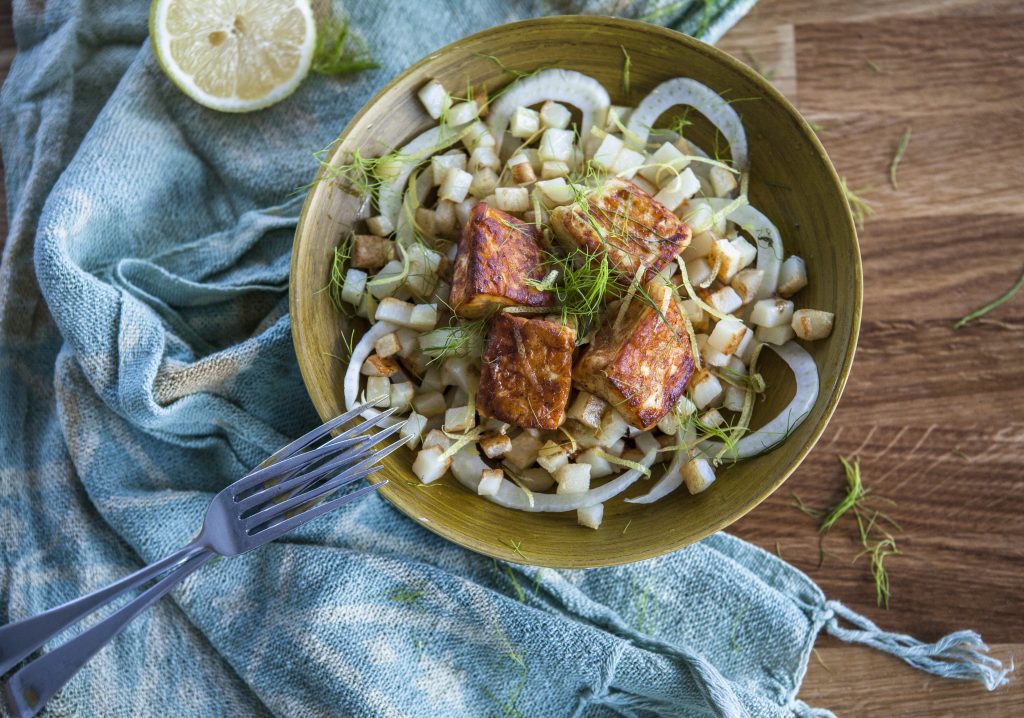 After fla­vour, I con­sider tex­ture to be the most import­ant ele­ment of any recipe. This salad com­bines three lay­ers of my favour­ite tex­ture — crisply crunchy, prefer­ably from being recently fried — to make some­thing very simple but rather spectacular.
As the weath­er gets colder, it can start to feel like there's lit­er­ally noth­ing fresh and veget­able-like that's in sea­son, but hap­pily pota­toes and fen­nel both tend to be read­ily avail­able at this time of year. And, oh hal­loumi, I swear I'll nev­er ever grow weary of its remark­able fla­vour — although admit­tedly I did say that about pesto in 2003. But for now, hal­loumi is so but­tery and bul­gingly almost-melt­ing, with a crisp and golden sur­face, it makes everything more exciting.
The potato and fen­nel bring their own crisp­ness, the pota­toes fried to with­in an inch of their life and the fen­nel clean, fresh and raw, with a mild hint of ani­seed. This salad star­ted off as a recipe I inven­ted for my blog, hungryandfrozen.com, but here I've expan­ded it to feed more and be easi­er to serve. A bowl­ful makes a fine meal on its own, but it would also be ideal as part of a lar­ger feast, a pot-luck, or per­haps even a heed­less early-winter barbecue.
Halloumi, fried potato and raw fennel salad
Ingredients
3 medi­um potatoes
3 tbsp olive oil
1 large fen­nel bulb
25g but­ter
8 thick slices of hal­loumi, cut in half cross­wise to make six­teen squar­ish pieces
1 lem­on
Method
1 Dice the potato finely — the smal­ler it is, the quick­er it will cook.
Heat the olive oil in a large fry­ing pan and, once it's very hot, tip in the diced potato.
Fry the pota­toes until crisp, stir­ring occa­sion­ally. It will prob­ably take a good 10–15 minutes for the cubes to get prop­erly golden and cooked through, but it's vital not to rush this step. Depend­ing on the size of your pan, it may be easi­er to do this step in two goes.
Finely slice the fen­nel bulb and then slice any lar­ger pieces in half lengthwise.
Tip the fen­nel into a serving bowl, and stir in the potato once it's ready.
Heat the but­ter in the same pan, and fry your hal­loumi pieces until nicely golden brown on each side. Stir these into the serving dish.
Zest the lem­on, then squeeze its juice into the still-hot pan, so it melds with whatever but­tery olive oil remains. Drizzle this over the salad along with the lem­on zest, and give it one final stir. Serve immediately.
Serves 3–4 depend­ing on what it is being served with