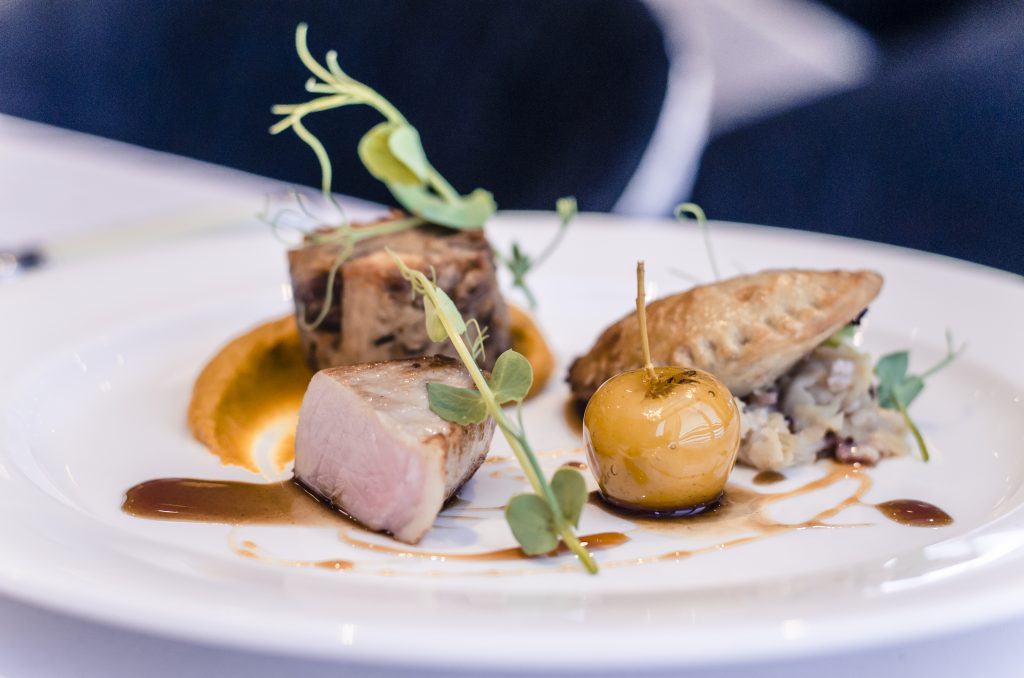 There are a lot of parts to this dish, so the recipes can be made togeth­er to assemble the com­plete dish, or each indi­vidu­al com­pon­ent can be made on its own and used in a dif­fer­ent way. I believe in treat­ing anim­als with respect, and to me that means using happy, free-range anim­als and leav­ing noth­ing to waste. We use Long­bush free-range pork from the Wair­ar­apa and get our pork delivered whole. This recipe uses all of the pig in dif­fer­ent ways on the one plate.
Assiette of pork
Ingredients
Pork con­fit
1 bulb garlic
1 tsp juni­per berries
1 tbsp black peppercorns
12 sprigs thyme
6 bay leaves
½ cup Mal­don salt
1kg pork shoulder
1kg duck fat
Sous vide loin
250g pork loin
4 bay leaves
4 sprigs sage
2 cloves garlic
Baby tof­fee apples
100g sug­ar
100ml water
Squeeze of lem­on juice
4 baby apples
Car­rot purée
500g car­rots, peeled and chopped
50g onion, peeled and chopped
1 cori­ander root
½ tsp turmeric
½ tsp ground cumin
½ tsp ground cori­ander seed
½ tsp curry powder
½ red chilli, chopped and seeds removed
½ cup water
100ml coconut cream
Fish sauce, to taste
Lime juice, to taste
Port reduc­tion
100ml port
2 sprigs thyme
2 sprigs sage
1 clove garlic
1 bay leaf
5 pep­per­corns
Pork-offal pud­ding with suet pastry
175g pork back fat
175g pork offal — any or all of kid­ney, heart, liver
50g onion, finely diced
1 clove gar­lic, minced
½ tsp onion powder
150g pork mince
1 tbsp dried mixed herbs
Salt and pepper
250g flour
125g grated suet
1 tsp bak­ing powder
½ tsp salt
½ cup water
Braised cab­bage
1 tsp cook­ing oil
50g bacon, diced
1 clove gar­lic, minced
½ orange, juiced and zest finely grated
65ml sherry vinegar
65g palm sug­ar, grated
1 star anise
½ tsp thyme, finely chopped
25g whole­grain mustard
½ savoy cab­bage, sliced
Vanilla and cider reduction
½ vanilla pod
250ml cider
100ml apple juice
To serve
60ml jus
Small pun­net of pea shoots
Method
Pork con­fit
Blend the first five con­fit ingredi­ents in a food pro­cessor and then pulse in the salt.
Rub the pork shoulder with the salt mix­ture and mar­in­ate for 8–12 hours, then wash the salt off thor­oughly under cold run­ning water.
Place the pork in a deep bak­ing dish, cov­er with the duck fat and roast at 130˚C for 3–4 hours or until the pork is very tender and nearly fall­ing off the bone. Remove the pork from the fat and take out any bones, skin and sinew, ensur­ing that you keep some of the fat for mois­ture and fla­vour. Roll and torque in cling film, then chill to set. Once cold, cut into tourne­dos and roast at 160˚C for 5 minutes or until hot in the centre.
Sous vide loin
Por­tion the pork loin and vacu­um seal each piece in a plastic bag with 1 bay leaf, 1 sprig of sage and ½ clove of gar­lic. Sous vide in a water cir­cu­lat­or at 54˚C for 1 hour. Remove the por­tions from their bags and pan-fry until golden brown. Rest for 10 minutes before carving.
Baby tof­fee apples
Com­bine the sug­ar, water and lem­on juice in a pot. Place on the stove and cook to car­a­mel stage, then leave to cool slightly.
Dry the apples and care­fully dip them in the car­a­mel, shake off the excess and place on a tray lined with bak­ing paper to cool.
Car­rot purée
Place everything except the coconut cream, fish sauce and lime juice in a deep bak­ing dish, cov­er with tin­foil and bake at 160˚C until the car­rot is very tender (about 1–2 hours).
Blend in a food pro­cessor and add enough coconut cream to make a nice purée con­sist­ency, then sea­son with fish sauce and lime juice.
Port reduc­tion
Sim­mer all the ingredi­ents togeth­er in a pot until the reduc­tion becomes syr­upy. Pass through a sieve.
Pork-offal pud­ding with suet pastry
Fine chop or coarsely mince the back fat and offal. Mix togeth­er with the onion, gar­lic, mice, herbs and season­ing, and fold in the port reduction.
Mix togeth­er the flour, suet, bak­ing powder, salt and water, and knead lightly, adding a little more water if the dough becomes too stiff. Roll out into small circles, add the pork filling, seal the edges and brush the top with egg wash. Bake at 180˚C until golden brown.
Braised cab­bage
Heat the oil and sweat off the bacon and garlic.
Add all the remain­ing ingredi­ents except the cab­bage and bring to a sim­mer. Cook for 3 minutes to dis­solve the sugar.
Add the cab­bage, cov­er with bak­ing paper and cook over a low heat until the cab­bage is tender and the liquid has reduced.
Vanilla and cider reduction
Split the vanilla pod and scrape the seeds out into a sauce­pan. Add the cider and apple juice and sim­mer to a light syrup.
To serve
Smear some of the hot car­rot purée on each plate and place a table­spoon of hot braised cab­bage next to it. Arrange the hot pork shoulder, loin and offal pud­ding on the plate nicely, along with the tof­fee apple and the cider reduc­tion. Fin­ish with some hot jus and pea shoots.
Serves 4