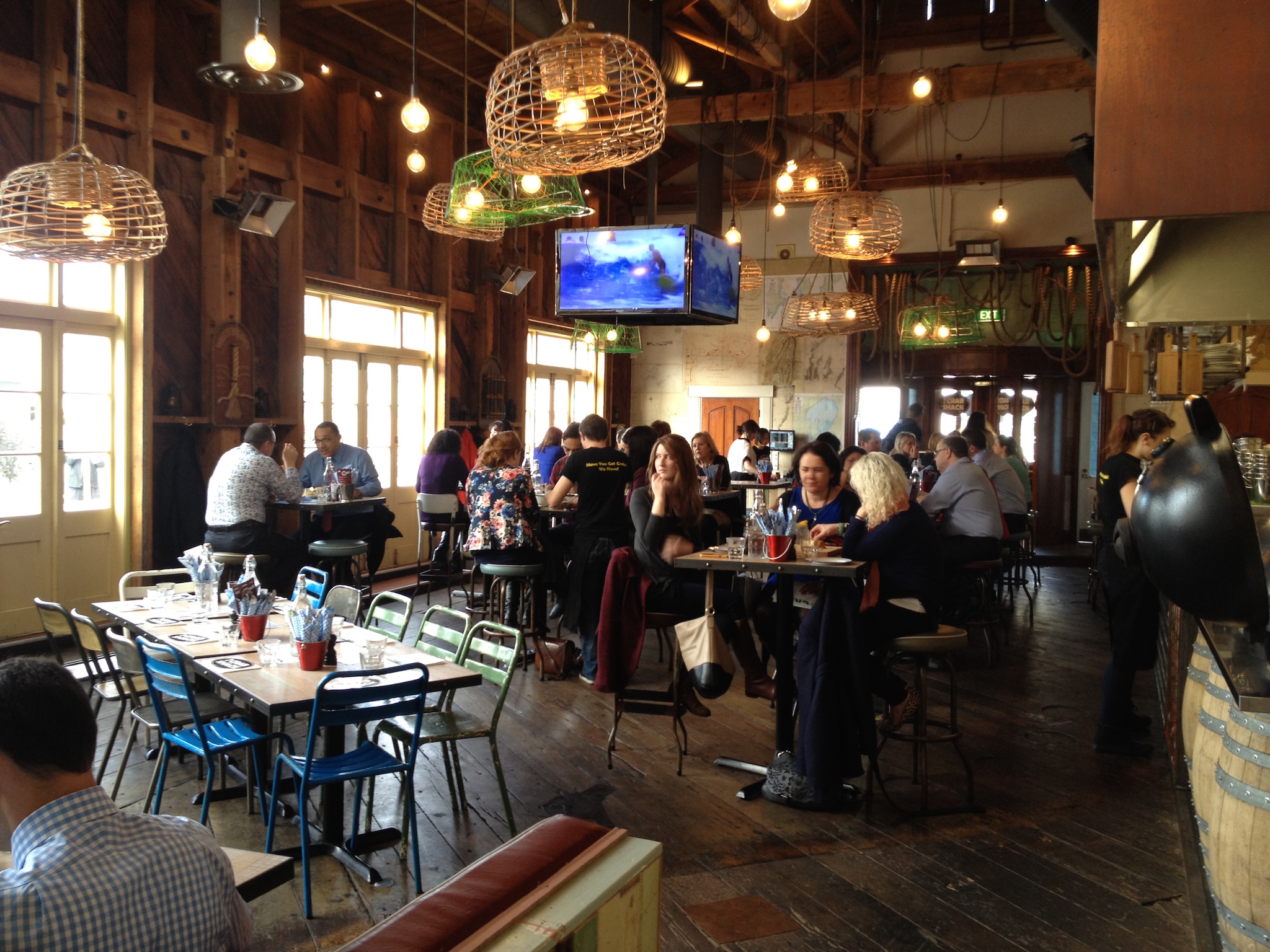 The south end of Shed 5 is now unre­cog­nis­able in its Crab Shack guise. Expense-account lunches and Stein­la­ger-fuelled Fri­day night mat­ing rituals have made way for a folksy, fam­ily-friendly Cape Cod-themed eat­ery, com­plete with crab pots, surf videos and Power­Point slides advert­ising daily spe­cials. It takes a lot of work to make a place look this shabby, and when they ran out of actu­al dis­tressed tim­ber to line the walls, they resor­ted to wall­pa­per with a dis­tressed tim­ber print. With grin­ning staff in "Have you got crabs? We have!" T‑shirts, it feels like the start of a chain: an aquat­ic Lone Star, perhaps.
They don't take book­ings for small groups, and since there's no bar, for our 40-minute wait we were poin­ted towards Shed 5. This entails a trip through the hushed cav­ernous space to the indif­fer­ent bar ser­vice of the former Green Room, an awk­ward inter­rup­tion in the bois­ter­ous bon­homie. At least the wine selec­tion was bet­ter, though the beer list was just as depress­ingly corporate.
Things improved back in the shack, and the meal began with a touch of theatre as a waiter used a mud­dling stick to smash the large tor­tilla-like 'corn chips' in our corn chip plat­ter into man­age­able pieces. The blue cheese and 'Indi­an pump­kin' dips had rich (if some­what incon­gru­ous) fla­vours, in con­trast to the overly mild crab and corn dip.
Sim­il­arly, the crab cakes and remoulade didn't live up to their effus­ive staff recom­mend­a­tion. The tex­ture was more­ish, but crab fla­vours were so faint that these might as well have been potato cro­quettes. My date, wiser in the ways of the crus­ta­cean than I, agreed that they were dis­ap­point­ingly uncrabby. Mind you, she was too busy slurp­ing up the last of the white wine, chilli and gar­lic cream that accom­pan­ied her pot of mus­sels, and she had no com­plaints what­so­ever with their fla­vour and suc­cu­lence or with the gen­er­os­ity of her portion.
Next was Cajun fish, cooked in rock salt and lime sauce. It was all present and cor­rect, if unex­cit­ing, but I chose the wrong accom­pani­ment: Dutch babies with Gor­gonzola cheese sauce. These savoury pop­overs resembled (slightly burnt) York­shire pud­dings, with strong blue cheese fla­vours. They would bet­ter suit the meat­i­er items on the menu, which are saddled with names such as "Messy Cow" and "Grumpy Lamb Shank". What, no "Angry Bird"?
My date's 1kg pot of Nel­son paddle crabs in chilli gar­lic but­ter was labelled "Crab to Share", but she wouldn't part with more than the occa­sion­al limb. Their tex­ture and fresh­ness were impec­cable, and the mild crab fla­vour benefited from dir­ect­ness of present­a­tion. So to enjoy Crab Shack, go for the simple sea­food, take loud friends and mod­est expect­a­tions, and you'll be fine.
[warn­ing]
Digested
Address: Shed 5, Queens Wharf, Wellington
Phone: 04 916 4250
Cost: starters $6.50–21.50; mains $20–27
Open: Daily 11.30am–late
Food: New Eng­land seafood
Drink: Crafty Beg­gars Pils­ner $8; Main Divide Riesling $9.50/glass, $46/bottle
[wp-review]
[info]
Octo­ber Café
I used to won­der how La Cloche could be so suc­cess­ful, marooned as it is among the semi-indus­tri­al edge­lands at the bot­tom of Ngaio Gorge. But it's halfway between Thorndon and Khan­dal­lah, and a quick glance around sug­gests that the pat­rons are not the type to worry about hop­ping in the beem­er to grab some mille­feuilles. Even for the car-free among us, it's worth the trek to sample their superb ter­rines, patis­ser­ie, crêpes, onion soup or boeuf bour­guignon. It's also a deli and off-licence, so be sure to stuff your bags with cheese, pâté and wine for later indulgence.
Address: 134 Hutt Road, Kaiwharawhara
Phone: 04 473 4892
Open: Mon–Fri 7.30am–4pm, Sat–Sun 9am–4pm
[/info]