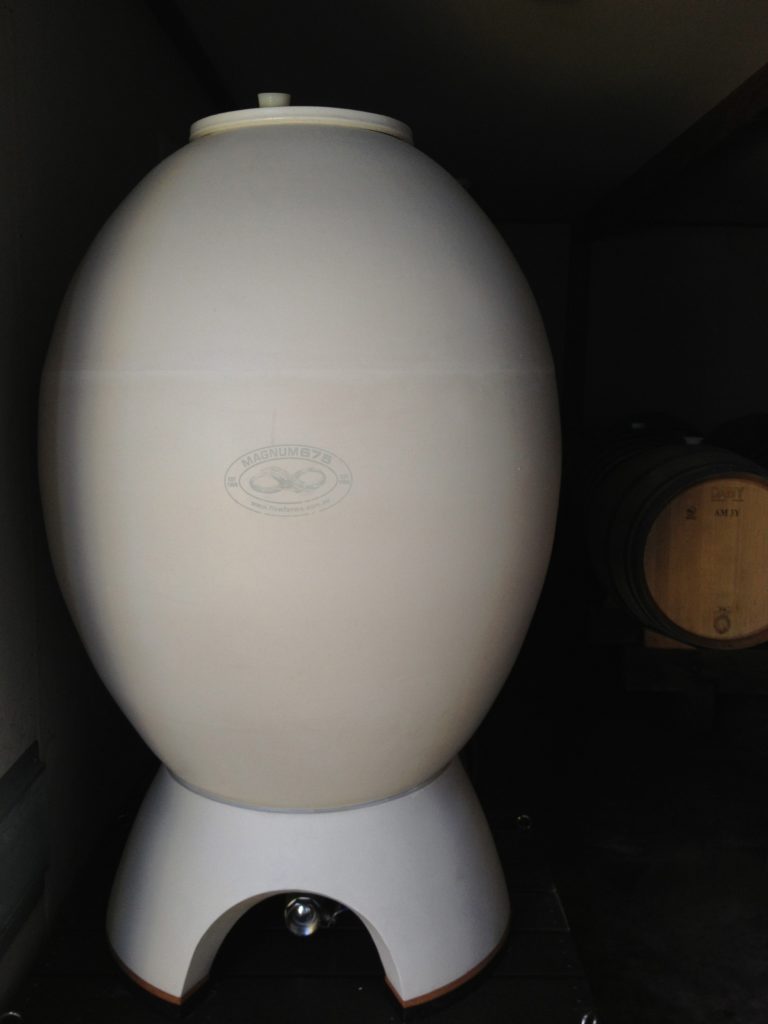 The Egg: a sen­su­al piece of wine­mak­ing equip­ment but, at the same time, Humpty Dumpty-like and not far removed from an Ork­an space­ship. In Mar­tin­bor­ough, the people of Cam­bridge Road Wines have an egg. It's the first of its kind to, erm, 'nest' in New Zealand.
Since pur­chas­ing one of Martinborough's old­est blocks of Pinot Noir and Syrah in 2007, Lance Redg­well has made his pres­ence known. Unas­sum­ingly named after its cent­ral vil­lage loc­a­tion, Cam­bridge Road Wines is a pro­du­cer build­ing a repu­ta­tion for push­ing the bound­ar­ies. In vit­i­cul­ture and wine, Redgwell's approach is firmly foun­ded in clas­sic tech­nique, yet he also yearns for some­thing dif­fer­ent. He likes to stir things up a bit. He's con­fid­ent in his con­vic­tions and open to tak­ing a risk – just to see what hap­pens. In this, he demon­strates the wine producer's artisanship.
So why an egg? For Redg­well, it's firstly to do with the lay­ers of com­plex­ity he can achieve in his wines. Secondly, he gets to explore fur­ther his organ­ic and bio­dy­nam­ic philosophy.
Pre-dat­ing bar­rels, and tra­di­tion­ally made of con­crete, egg-shaped wine fer­menters are one of the old­est wine­mak­ing tech­no­lo­gies. The shape of the egg aids flu­id move­ment of both wine and tem­per­at­ure. In addi­tion, it aids the depos­ition of dead yeast cells (lees) across a smal­ler floor area than a bar­rel, avoid­ing the need for aggress­ive stir­ring or pump­ing. All of this is wine-speak for pro­du­cing a product that is more com­plex, more layered and more interesting.
Although Redg­well con­fesses to talk­ing to his vines, he's no hippy. He knows that Mar­tin­bor­ough is where we can taste the very best of New Zealand's well-made and well-struc­tured wines. Pinot Noir and time-hon­oured wine­mak­ing meth­ods are where Redg­well believes we find our wine 'centre'. Nev­er­the­less, with the new-old tech­no­logy of the egg, Redg­well is look­ing to keep his wine­mak­ing fun and interesting.
Listen to him, and his respect for the forces of nature is loud and clear: "I like the inert­ness of the egg," he says, "yet it emu­lates the nat­ur­al move­ment of water in a stream." This move­ment is what Redg­well is after. A con­tinu­ous fig­ure-eight, infin­ity-like cas­cade of grape juice and yeasts. This gentle move­ment replaces man-made actions and Redg­well just knows the res­ult will be dif­fer­ent to a steel or bar­rel fer­ment. ''I have no major pre­dic­tions,'' he says, "but one day, I may stumble on some­thing par­tic­u­larly use­ful – to help the classics."
And we cer­tainly look for­ward to tast­ing it. Sure as eggs is eggs.
[info]
Cambridge Road Pinot Noir 2009
Con­sid­er­ing the aver­age time between pur­chas­ing and con­sum­ing a bottle of wine in New Zea­l­and is 40 minutes, you'll be sur­prised to find that there is a ready sup­ply of this deli­cious five-year-old Mar­tin­bor­ough Pinot Noir. The oppor­tun­ity is greatly appre­ci­ated, well before you get a whiff of the cam­phor spices and con­cen­trated mocha notes of the organ­ic wine itself. Com­plex in aroma, and more old-world in style than new, these flor­al and spice per­fumes spill sat­is­fy­ingly onto a pal­ate that embod­ies silk itself. The wine envel­ops every taste bud. I didn't eat any­thing with it; I just enjoyed it for what it was. Every last drop.
Avail­able from: Region­al Wines, Centre City Wines & Spir­its, Arbit­rageur and Ancestral.
Cam­bridge Road Wines
32 Cam­bridge Road, Martinborough
cambridgeroad.co.nz
[/info]