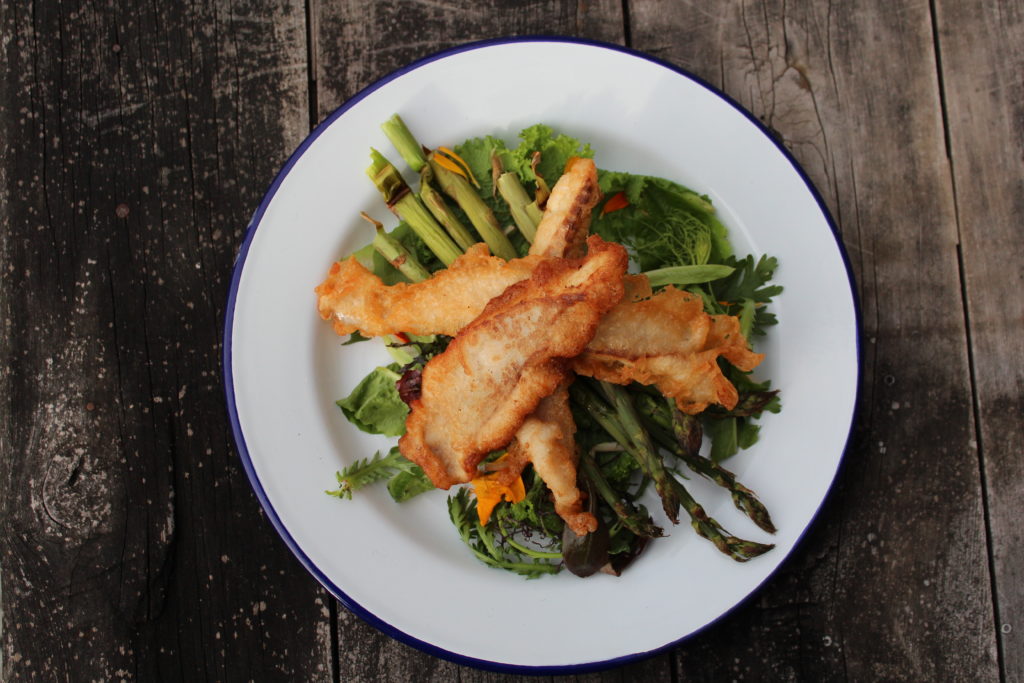 Sum­mer is tan­tal­isingly close, and aside from the season's first bar­be­cue parties it's a great time of year for fish and chips. If, like me, you have been com­fort­ing your­self through winter with a little too much bak­ing, it's a good time of year to replace the chips with a tasty salad. Asparagus is still around, so a bunch of salad greens and some roas­ted asparagus does the trick, or even just some new baby pota­toes steamed with fresh mint and topped with a little butter.
Refresh­ment wise, it's going to have to be beer. It's almost like Wellington's craft beer scene has now reached crit­ic­al mass; you can't go into a bar now without an array of deli­cious loc­al and not-so-loc­al craft beers being offered up on tap or in a bottle. I went to Beer­vana earli­er in the year and was amazed at how many cre­ations were on offer, and the mix­ture of attendees. I was expect­ing mostly middle-aged males, but there was a huge range of people, plenty of ladies included, all there for their craft beer hit. It is a move­ment I am fully behind, both in and out of my kitchen.
Beer-battered tarakihi
You could use any golden beer or lager for this recipe. Yeast­ie Boys Rex Atti­tude or Epic lager are both great. The addi­tion of water makes the bat­ter light­er and less por­ous, so it doesn't soak up as much fat when cooked, and ends up bril­liantly crisp. Enjoy!
Ingredients
1 cup beer (I used Epic lager)
½ cup water
1 cup plain flour
500g fresh tara­kihi, sliced length­ways down the fil­let into 4 pieces
250ml can­ola oil, for frying
Method
Place the beer and water in a large mix­ing bowl. Add the flour and whisk well until smooth.
Pour the oil into a medi­um-sized, deep-sided fry­ing pan to a depth of about 2cm. Heat on medi­um-high. To test when it's hot enough for fry­ing, drop a tiny dol­lop of bat­ter into the oil – it should turn golden and rise to the surface.
Dip each strip of fish into the bat­ter and lift out, let­ting any excess drip away. Care­fully place into the oil. You can usu­ally cook a couple of strips at a time. Flip them over once golden using tongs.
Remove the fish from the pan when golden on both sides (this doesn't take long) and place on a plate covered in paper tow­els. Sprinkle with a little sea salt and eat imme­di­ately with salad, grilled asparagus and plenty of fresh lemon.
Serves 4