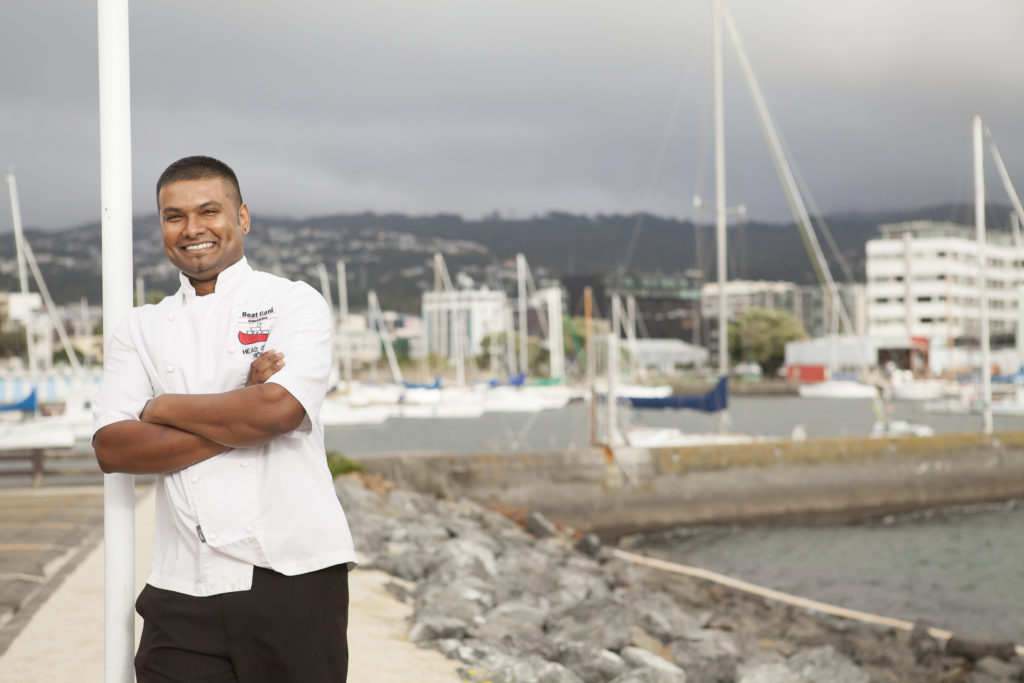 I'm often asked how I came to be head chef at the Boat Café in Ori­ent­al Bay, and basic­ally the story goes like this.
I had a good look around Wel­ling­ton, spent time eat­ing and sit­ting in res­taur­ants, eat­er­ies and cafés — any­where that I knew had a full kit­chen. I decided on the Boat as I saw a great deal of unreal­ised poten­tial there, an oppor­tun­ity to grow their food repu­ta­tion. At the same time for my career, I thought it was a great place to devel­op my own lead­er­ship skills and broaden my experiences.
As an eat­ery, the Boat is a chal­len­ging envir­on­ment, with a day­time café that quickly changes from pure café style, where you pur­chase your food at the counter, order from the cab­in­et or from the kit­chen, and find a seat you like, to a full res­taur­ant din­ing exper­i­ence in the even­ings, with table ser­vice and an excel­lent wine list to com­ple­ment my clean, New Zea­l­and-authen­t­ic din­ner menu.
We also host a couple of wed­dings a month, con­fer­ences and parties to cel­eb­rate people's spe­cial occasions.
My food philo­sophy is simple: if I can plan my dishes and menus to incor­por­ate loc­ally sourced ingredi­ents and pro­duce, I will. As an example, the lamb used in this dukkah-crus­ted lamb rack is sourced from John­son­ville, just out­side Wel­ling­ton city.
I like to know my sup­pli­ers per­son­ally and I always favour pro­du­cers and farm­ers with sim­il­ar val­ues to ours here on the Boat.
This dish is one I chose to share because it is easy enough to make and has that 'wow' factor when it is served to friends and fam­ily. It looks very spe­cial plated up. The ingredi­ents are cost effect­ive, easy to source and healthy.
Enjoy.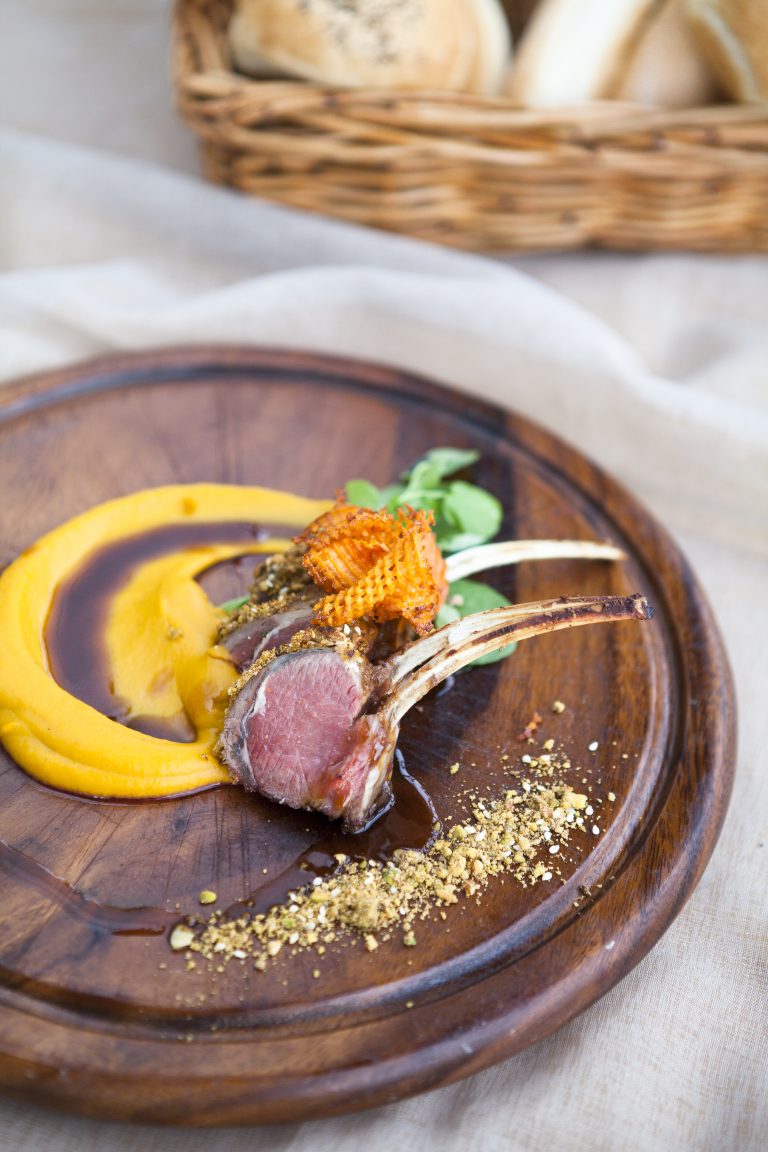 Dukkah-crusted lamb rack with smoked pumpkin purée, kumara crisps, watercress and port wine jus
Ingredients
Dukkah
2 tbsp cori­ander seeds
1 tbsp cumin seeds
1 tsp chilli flakes
2 tbsp pista­chio nuts
A pinch of sea salt
1 tbsp ses­ame seeds
1 tbsp horopito
Smoked pump­kin purée
1 whole pump­kin, peeled
Mānuka saw­dust
1 tbsp butter
Olive oil
Gar­lic con­fit (slow cooked in fat)
2 shal­lots
2 cups of cream
A pinch of sea salt
Lamb
2 sides of lamb rack
2 tsp Dijon mustard
Port wine jus
2 cloves
2 bay leaves
2 pep­per­corns
2 cin­na­mon sticks
1 tbsp cori­ander seed
Lamb stock
Port wine
Kumara crisps
1 kumara, thinly sliced in a mandolin
Oil for deep-frying
Fresh baby water­cress to serve
Method
To make the dukkah, toast the ingredi­ents in a hot oven (180˚C) for 5 minutes. Cool and blend to a fine mix.
Next, make the pump­kin purée. Smoke the pump­kin for 10 minutes.
Melt the but­ter in a sauce­pan with the olive oil, then add the gar­lic con­fit and shal­lots. Cook on medi­um heat for 5 minutes.
Add the smoked pump­kin and the cream, and sim­mer on a low heat for 40 minutes.
Blend to a smooth pur­ee, adding salt to taste.
Seal the lamb in hot, smoking pan, then brush on the Dijon mus­tard and the dukkah.
Roast the lamb at 180˚C for 10 minutes until medi­um rare. (Allow time for the lamb to rest for at least 3 minutes before sli­cing and serving.)
While the lamb is cook­ing, make the port wine jus. Toss the cloves, bay leaves, pep­per­corns, cin­na­mon sticks and cori­ander seeds in a sauce­pan, add the lamb stock and port wine, then reduce to a third of the quant­ity. Strain.
Finally, make the kumara crisps by deep-fry­ing the kumara slices until golden brown.
To serve, slice the lamb and place on each plate with the pump­kin purée, then gar­nish with fresh baby water­cress seasoned with sea salt and extra-vir­gin olive oil, and the kumara crisps.
Serves 4