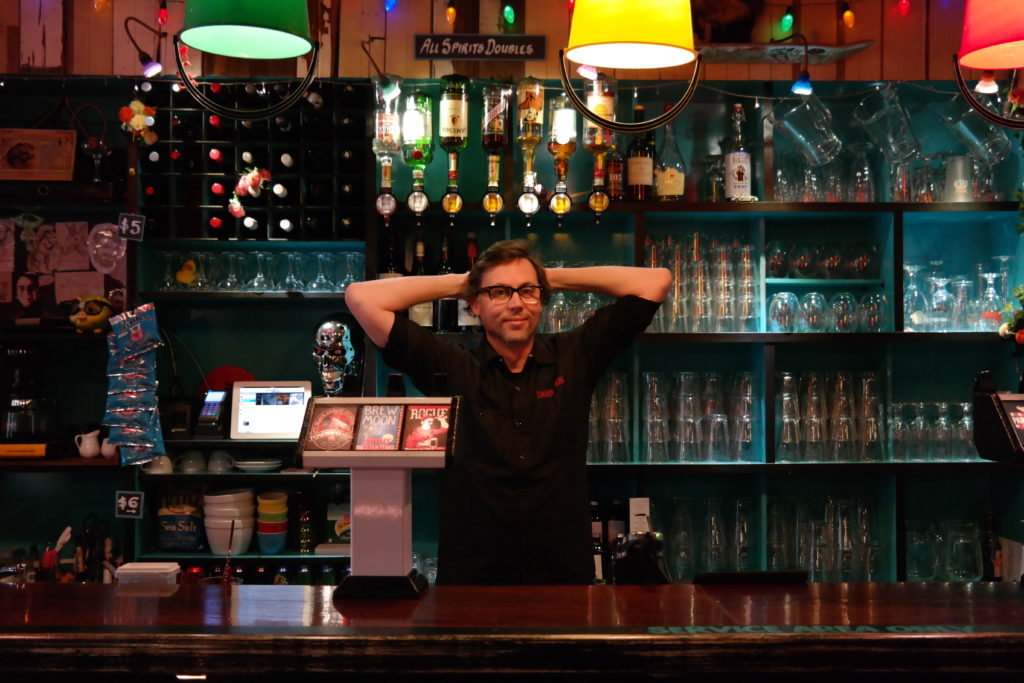 "You start with the staff. You have to," says Sean Gold­ing, own­er of Golding's Free Dive. "For some people, [drink­ing craft beer] is tak­ing a risk, so good staff is the con­duit for chan­ging their life!"
This is one of the many reas­ons why people like Golding's – its owner's ideas on beer drink­ing are infec­tious. Take the smoking area, or lack there­of, at the bar. Gold­ing says that he doesn't hate smokers, but why should non-smokers have to sit indoors. There are places to smoke around Golding's; you just can't drink there.
A few punters have taken issue with this policy, but Gold­ing main­tains that the best thing to go with beer is com­pany. He wants every­one drink­ing togeth­er, happy and comfortable.
Com­fort­able is a good descrip­tion of the bar itself. The tables are lined with seats that Gold­ing picked up from a sale from an old casino. They are so accom­mod­at­ing because they are designed to keep you sit­ting in front of a pokie machine all day, or in this case, drink­ing beer and chat­ting to friends. Golding's friendly "dive bar" vibe is pop­u­lar, sit­ting between the "ser­i­ous" craft beer bar scene at Hashigo Zake and the very laid-back feel­ing of bars such as Rogue and Vagabond.
Of course, it wasn't easy get­ting into the space. The bar is loc­ated off the main Dix­on Street drag on Eva Street (near Pizza Pomodoro). It's also in the bot­tom of an apart­ment build­ing: suf­fice it to say that the body cor­por­ate wasn't behind the idea at all.
"I built the bar for the neigh­bour­hood, and now we have people from the apart­ments com­ing in here to drink," says Gold­ing. "I made them no prom­ises; instead, I needed to show them that it would work." There was the obvi­ous worry that the new bar would attract the wrong crowd: this is also the reas­on why the out­door seat­ing area is closed after 9pm and why the bar shuts at midnight.
While I was chat­ting to Gold­ing, two of the apart­ment body cor­por­ate wandered in to report that someone had dumped rub­bish out­side the bar. At first I thought it was a com­plaint, but instead they were just look­ing for a bin to put it in and a place to wash their hands. Very nice to see. Golding's oth­er neigh­bours are get­ting in on the act, too: the bar sells Six Bar­rel sodas and Pomodoro piz­zas. But if Golding's has become fam­ous for any­thing, it might just be their sandwiches.
"I wanted to do toasties because we don't have a huge kit­chen and they are some­thing quick and simple that you can do and make it sort of spe­cial." Gold­ing recalls that the first time he asked his bar­tender Steve to make their sig­na­ture Reuben Schlu­man Gold­bür­gen­stein (a typ­ic­al Reuben sand­wich with corned beef, sauerkraut, and cheese, then toasted and served with a pickle and crisps), Gold­ing told him to "super­nova the prick!" When you get one you'll see why – there's so much beef in there it's crazy.
Gold­ing punc­tu­ates his con­ver­sa­tion with lines that sound like pop philo­sophy. "Beer is love" is a great one that is writ­ten across the mur­al at one end of the bar. Anoth­er is "Beer is com­pli­ment­ary; it likes its friends around it". The bar lends itself well to Ins­tagram and Twit­ter, and the use of these apps is encour­aged. Golding's wants you to be com­fort­able while you do your thing: no one will judge. And on Fri­days the place is packed.
If beer is love, then Golding's is beer's warm embrace.