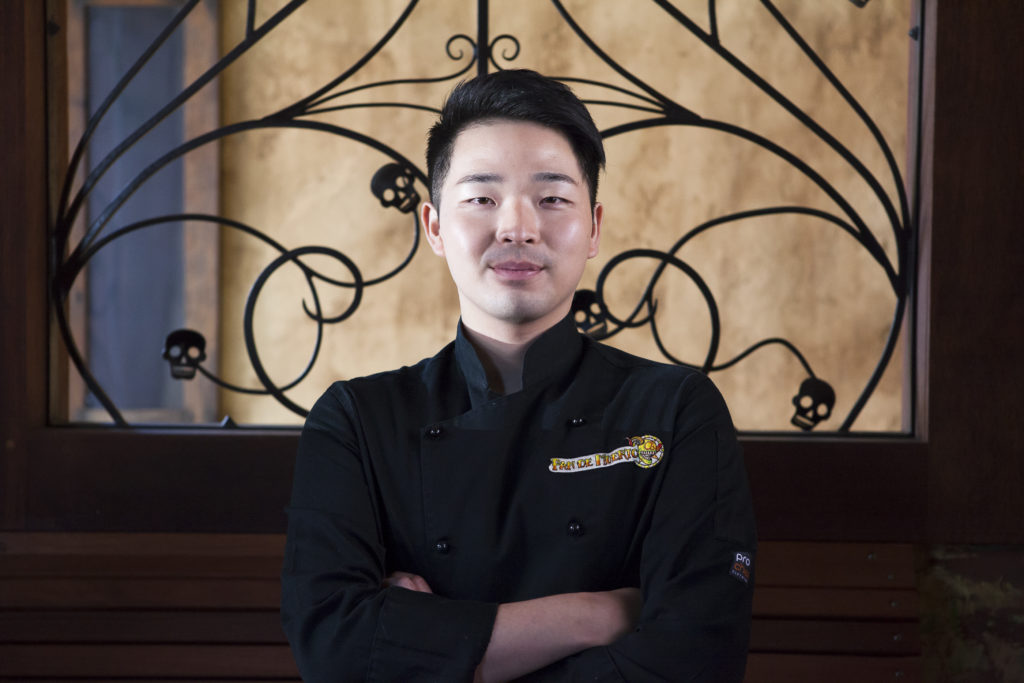 Con­tem­por­ary Mex­ic­an cuisine is not well known in New Zea­l­and. Pan de Muerto has dis­covered this style of cook­ing, fam­ous in Mex­ico City, and is now bring­ing it to your din­ner plate. I use tra­di­tion­al Mex­ic­an ingredi­ents such as guajillo chilli, star anise and cin­na­mon to infuse one of our ocean's great boun­ties: snap­per. It cre­ates the most invit­ing aroma of Mexico.
For dessert, noth­ing is bet­ter than a spoon­ful of sweets, espe­cially the most tra­di­tion­al Mex­ic­an cake — tres leches (three-milk cake). This ver­sion has been redesigned into a vel­vety mousse, with the added crunch of ginger and coconut biscotti.
Pescado empapelado with fresh tomato and red wine salsa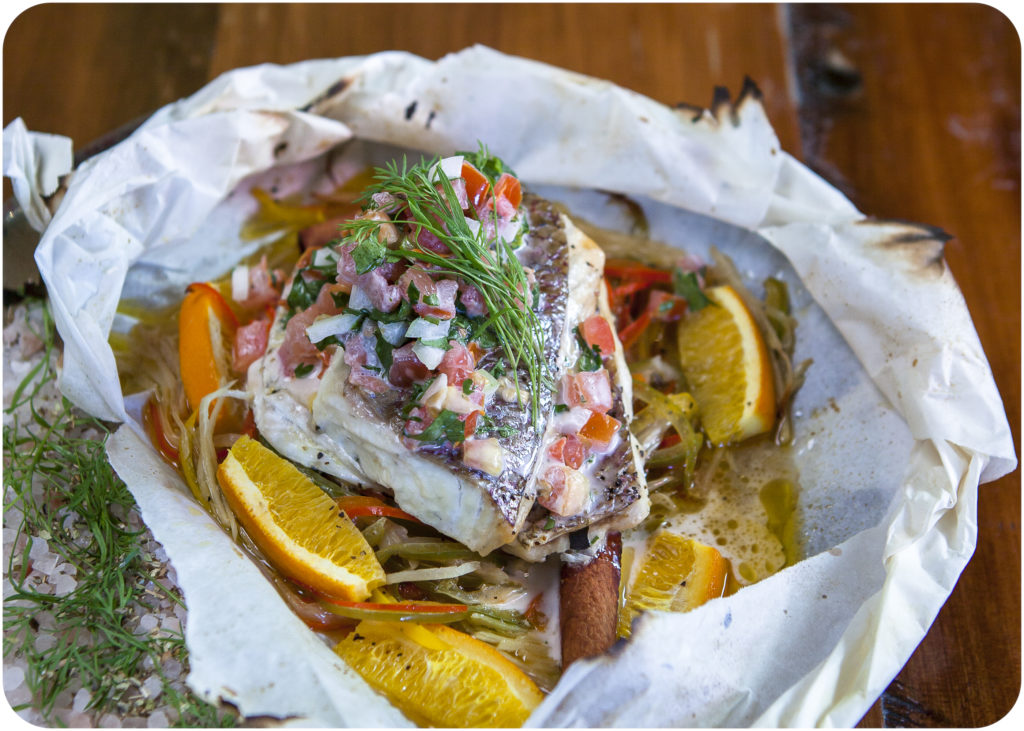 Ingredients
2 dried guajillo chil­lies (altern­at­ively, use fresh jalapenos)
2 fen­nel bulbs (stalk and leaves removed), finely sliced
1 red onion, finely sliced
2 cap­sic­um of vary­ing col­ours (seeds removed), cut into 2cm chunks
50g unsalted but­ter, cut into cubes
Salt and pepper
500g fresh snap­per fillet
Pinch of freshly chopped dill
Pinch of dried oregano
1 orange, cut into wedges
1 cin­na­mon stick
25g ginger (skin removed), finely sliced
Tomato and red wine salsa
5 ripe toma­toes, chopped
1 brown onion, finely chopped
2 cloves of fresh gar­lic, minced
20g fresh cori­ander, finely chopped
Juice and zest of 1 fresh lemon
Juice and zest of ½ fresh lime
1 free-range egg yolk
50ml extra-vir­gin olive oil
25ml red wine vinegar
15g mānuka honey
Salt and pepper
Method
Pre­heat the oven to 180˚C.
Start by rehyd­rat­ing the dried chil­lies. Bring a pot of water to the boil. Once it reaches 85˚C, turn off the heat and add the dried chil­lies. When soft, remove from the water, deseed and finely slice.
Line an oven tray with bak­ing paper. Pile the veget­ables onto the middle of the tray with half of the but­ter cubes. Sea­son with salt and pepper.
Rub the fish fil­let with dill, dried oregano and half of the rehyd­rated chilli slices. Sea­son with salt and pepper.
Place the fish on top of the veget­ables and squeeze a few of the orange wedges over it.
Place the rest of the orange wedges, the remain­ing rehyd­rated chilli slices, the cin­na­mon stick and the ginger around the fish and top with the remain­ing cubes of butter.
Finally, fold the bak­ing paper into a sealed par­cel and bake the fish for 15–20 minutes.
Mean­while, make the salsa. Place the toma­toes, onion, gar­lic, cori­ander and lem­on and lime zest into a bowl.
In a sep­ar­ate bowl, whisk the egg yolk with the olive oil, red wine vin­eg­ar, honey and the lem­on and lime juice until com­bined and creamy. Sea­son with salt and pepper.
Pour the vinai­grette over the tomato mix­ture and leave to rest for 10–15 minutes.
Serves 4