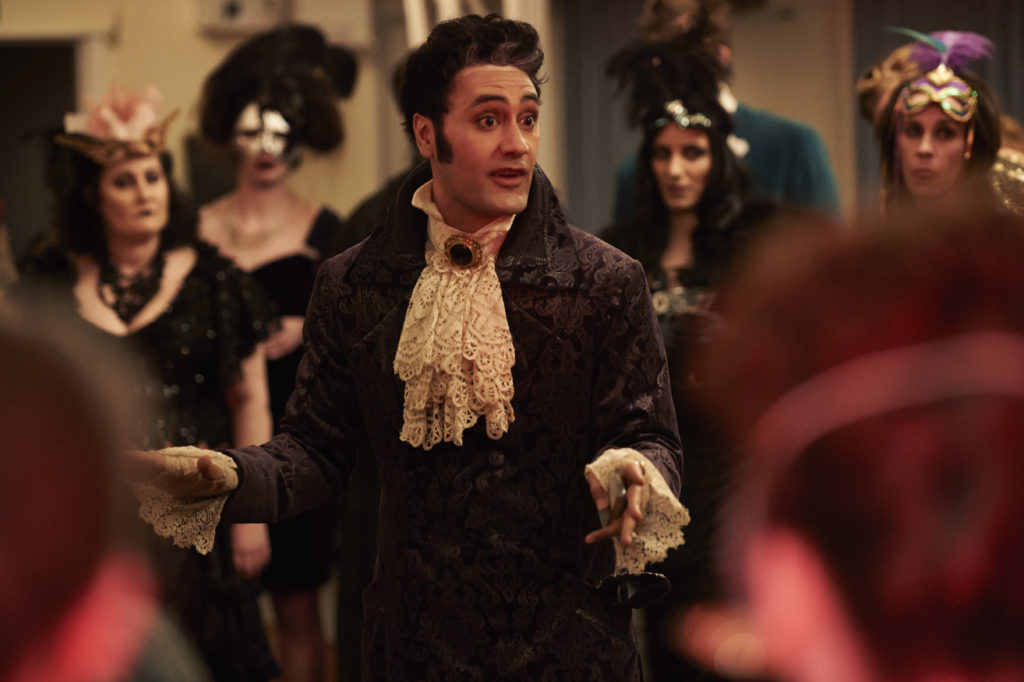 I first met Taika Wai­titi dur­ing a pre­vi­ous chapter of my life, as Wel­ling­ton man­ager of the 48 Hour film com­pet­i­tion. Taika won that event with a film, Hein­ous Crime, notori­ous for its humour, anarchy and eco­nomy (he played all the parts as well as writing/improvising the script and dir­ect­ing). Since then he has made an Academy Award-nom­in­ated short film and two fea­tures that demon­strated a will­ing­ness to go bey­ond the cheap absurd­ist joke and mine emo­tion as well as com­edy from stor­ies of the dis­con­nec­ted and the abandoned.
His latest film, What We do in the Shad­ows, (co-cre­ated by former Humourbeasts col­lab­or­at­or and Conchord Jemaine Clem­ent) is a won­der­ful throw­back to those heady days when noth­ing was more import­ant than a great gag — visu­al or verbal — and a remind­er that Taika is one of the finest comedi­ans New Zea­l­and has ever produced.
In the world of 48 Hour film­mak­ing, mock­u­mentry has become one the most reviled genres — usu­ally a tired mish­mash of clichés and one-joke stor­ies with the hand­held aes­thet­ic doing a poor job of hid­ing lack of resource rather than jus­ti­fy­ing its own exist­ence, and the open­ing couple of minutes of WWDitS feels like it might fall in to the same trap. But then a great joke lands with con­sid­er­able velo­city — and no small amount of tech­nic­al skill — and you real­ise that the exe­cu­tion of this film is going to be on anoth­er level altogether.
Taika is Viago, our host, show­ing the skel­et­on crew of doc­u­ment­ary makers the ropes of vam­pire life in New Zealand's cap­it­al city. He and his flat­mates, Jemaine Clem­ent, Jonny Brugh and the bril­liantly under­act­ing Nos­fer­atu-like Ben Fran­sham, bick­er about chores, jostle for suprem­acy and try and enjoy an etern­al mid­night chew­ing on the flesh of vir­gins (or as close as they can get). But a fail­ure to fin­ish off young Kiwi bloke Nick (Cori Gonza­lez-Mac­uer) leav­ing him as a vam­pire they find that their entrée into Cour­tenay Place night­life is a mixed blessing.
The only time the flow is inter­rup­ted is when Rhys Darby turns up as the alpha male of the loc­al were­wolf pack. It's not so much that he isn't funny — he cer­tainly is — it's just that he doesn't tran­scend his lim­it­a­tions quite as suc­cess­fully as the oth­ers and for a moment the illu­sion fails.
Invent­ive, pacy, con­fid­ent and unashamedly loc­al — What We Do in the Shad­ows is a dark lark. I'm a wowser so I always prefer my hor­ror to be comed­ic and I wasn't disappointed.
[info]
June Film Recommandations
DOCUMENTARY EDGE FESTIVAL
5–15 June: Over 50 recent doc­u­ment­ar­ies screen over 12 days at the Roxy in Miramar. If you are temp­ted to watch more than one title a day, take advant­age of the great Coco cuisine between films.
EDGE OF TOMORROW (Doug Liman)
Opens 5 June: Tom Cruise's annu­al sci-fi block­buster co-stars him with Emily Blunt in the tale of a sol­dier fight­ing the same day of a war against ali­ens — over and over again like Ground­hog Day.
MILLION DOLLAR ARM (Craig Gillespie)
19 June: Mad Men's Jon Hamm shows he has range by grow­ing some stubble and loosen­ing his tie as a base­ball scout search­ing for tal­ent in India. Alan Arkin plays Alan Arkin and they're joined by Suraj Sharma from Life of Pi.
TRANSFORMERS: AGE OF EXTINCTION 4 (Michael Bay)
26 June: Dir­ect­or Bay insists that this Trans­formers film will be a return to the indie char­ac­ter-driv­en dra­mas of the early epis­odes in the series rather than the bloat of Dark of the Moon. Time will have to tell, I guess. Safe-but-dull pair of hands Mark Wahl­berg replaces unstable Shia LaBeouf.
[/info]