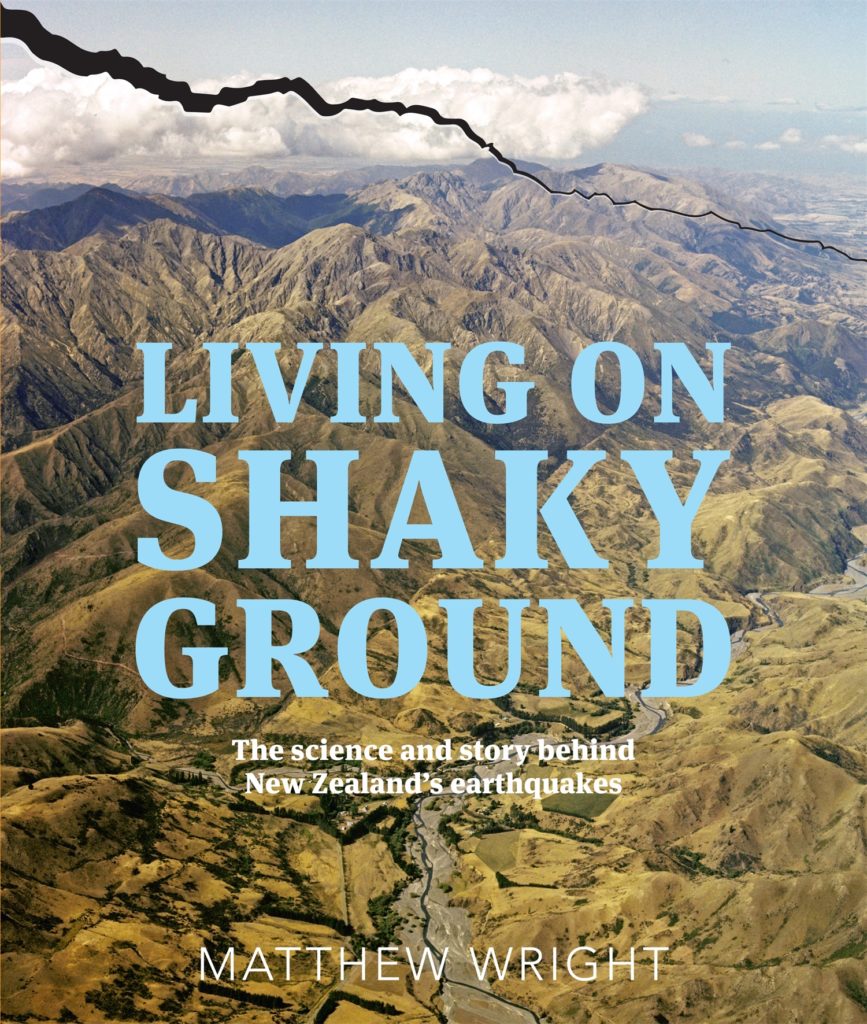 Fables were once told to Wel­ling­ton school­chil­dren about a myth­ic city of hub­rist­ic civic bun­glers in towers of glass. Our story bent these towers by seis­mic assault: frac­tured them into razor-sharp bul­lets, per­for­at­ing the Golden Mile's MPs and god-squad pamph­let­eers alike. This nightmare's earth would crack and swal­low hun­dreds, belch­ing flam­ing clouds of immol­a­tion; elec­tri­fied tentacles would scourge the streets, before mighty Whā­taitai rose from his har­bour-bound tor­por to drown the city under tsunami. The sur­viv­ors would envy the dead, as we real­ised that this city was our own; and that the tale took place not in the mists of myth, but in an over­due future for which Wel­ling­ton knew neither the day nor the hour.
This fanci­ful tale took on real-world grav­itas in 2011 — when nature, in its viol­ent and ruth­less aspect, reared up to remind the humans of Christ­ch­urch that their ideas of stone-sol­id sta­bil­ity meant noth­ing next to the arbit­rary caprice of tec­ton­ic inter­play. Res­id­ents clung to the Apol­lo­ni­an pro­clam­a­tions of author­ity, even when these proved no more prac­tic­ally use­ful in find­ing a safe time or place than the lun­at­ic mean­der­ings of met­eor­o­lo­gic­al-sooth­say­er Ken Ring. But for the grace of God, Wel­ling­to­ni­ans might have finally had to break into their Civil Defence kits.
Pro­lif­ic his­tor­i­an Mat­thew Wright's Liv­ing on Shaky Ground attempts to reclaim ter­rit­ory for the ration­al foes of nature's fury. Once the sub­ter­ranean stir­rings of imprisoned gods, earth­quakes now 'are' a set pat­tern of seis­mo­lo­gic­al dis­turb­ance. The dis­tinc­tion is drawn between 'what they used to think' and 'what we now know', a rigid delin­eation that — while mean­ing­less to many caught between geo­lo­gic­al vicis­situde and gov­ern­ment­al indif­fer­ence — will doubt­less com­fort those to whom this ulti­mate upheav­al of mean­ing remains an inter­est­ing consideration.
Wright's sur­vey of New Zealand's seis­mic life is exhaust­ive, syn­thes­ising a huge body of detail and know­ledge. His treat­ment of the Christ­ch­urch events deserves par­tic­u­lar praise for telling human stor­ies without mak­ing recourse to the dreaded 'resi­li­ence' — a term that, for today's Can­tab­ri­ans, stings with back­han­ded nuance. Wright's sens­ibly apolit­ic­al stance at times verges on myopia (the index con­tains not a single entry for 'frack­ing'), but the depth of sci­entif­ic and human dis­cus­sion is a cred­it to its author.
More unashamedly per­son­al accounts are among those offered by Once in a Life­time, launched at the Christ­ch­urch Writers and Read­ers Fest­iv­al. An impress­ive roster of con­trib­ut­ors — Helen Clark, Rebecca Macfie, loc­al treas­ure Gio­vanni Tiso, Ilam hero James Dann — offer voices and visu­al essays on the city's com­munity and future. The fall of Christ­ch­urch offered sober­ing glimpses of what a Wel­ling­to­ni­an cata­strophe might entail; but it also shook from slum­ber a richly cre­at­ive and com­mun­al spir­it, worthy of enter­tain­ing by any­one alive to the time­less truth of impermanence.
[info]Living on Shaky Ground: The sci­ence and story behind New Zealand's earth­quakes, Mat­thew Wright, Ran­dom House
Once in a Life­time: City-build­ing after dis­aster in Christ­ch­urch, edit­ors Barn­aby Ben­nett, James Dann, Emma John­son and Ryan Reyn­olds, Freer­ange Press[/info]
Tom is Fish­Head's book colum­nist. A Mas­ter­'s degree in Cre­at­ive Writ­ing from Vic­tori­a's Inter­na­tion­al Insti­tute of Mod­ern Let­ters launched Goulter on the life of an itin­er­ant man of let­ters, wan­der­ing the frac­tious United states in search of.. whatever it was Peter Fonda and Den­nis Hop­per were after, prob­ably. Instead of get­ting shot by red­necks (yet), he returned to Wel­ling­ton, where he essays semi-reg­u­larly into pop­u­lar cul­ture, psy­cho-geo­graphy, under­ground film-mak­ing, and the uncanny in all its myri­ad forms. Not a day goes by that he does not wish Man­ners Street still had Crys­tal city on it.