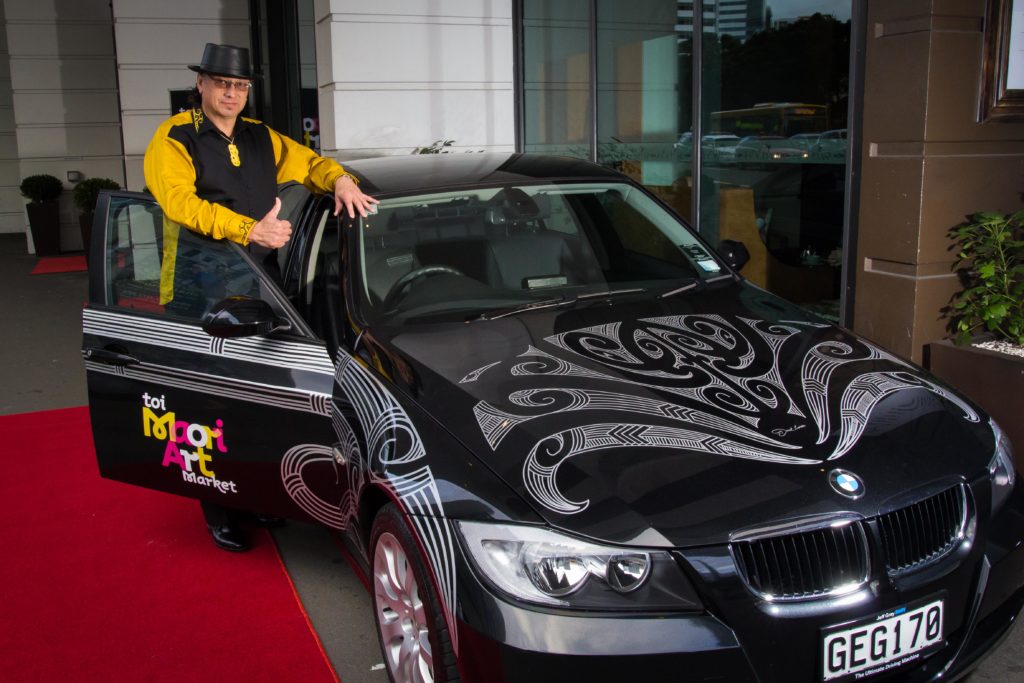 Art mar­kets and art fairs have been part of the inter­na­tion­al land­scape of con­tem­por­ary art for about 30 years. In Aotearoa they are a rel­at­ively new phe­nomen­on — the Auck­land Art Fair opened only in 2006.
In Wel­ling­ton, the art fair concept took a more spe­cial­ised route with the advent of the Māori Art Mar­ket in 2007, and this is the month to see it at Te Papa and the TSB Event Centre. Two hun­dred artists, includ­ing a num­ber of Hawai'ian and Cana­dian indi­gen­ous artist, will be rep­res­en­ted by their gal­ler­ies or independently.
The mar­ket was star­ted and is still run by Toi Māori Aotearoa, an inde­pend­ent artist-led organ­isa­tion set up in the mid-1990s to pro­mote and find oppor­tun­it­ies for con­tem­por­ary Māori artists. It is headed by the vis­ion­ary Nich­olas broth­ers, Gary and Darcy, and has been suc­cess­ful in pro­mot­ing artists and their work in Canada, Japan and, more recently, the Netherlands.
Darcy is a juni­or mem­ber of a group of well-known artists — includ­ing Ral­ph Hotere, Cliff Whit­ing, Sel­wyn Muru, Buck Nin, Fred Gra­ham, Sandy Adsett and Arnold Wilson — who gathered togeth­er in the 1960s and 1970s to fig­ure out how to stay in con­trol of pro­mot­ing and selling their work.
After the Te Maori exhib­i­tion toured inter­na­tion­ally in 1980s, interest in Māori art at home mag­ni­fied. A new gen­er­a­tion of artists had emerged from main­stream art schools and from new schools such as Toi­houkura in Gis­borne and Hast­ings, and Te Pūtahi-a-Toi in Palmer­ston North.
This new gen­er­a­tion, along with seni­or artists, came togeth­er in Patua at City Gal­lery Wel­ling­ton in 1996. This exhib­i­tion showed the breadth and diversity of con­tem­por­ary Māori art at the time. It was in the wake of this exhib­i­tion that Toi Māori came into exist­ence, with the object­ive of cre­at­ing an eco­nomy for artists using loc­al and inter­na­tion­al networks.
At the launch of the 2014 mar­ket in Septem­ber, a black BMW stood coolly out­side the entrance to the Rydges Hotel. I want to say the car was dec­or­ated, but this seems like the wrong word for the sil­ver designs that grace its exter­i­or — the way a moko inhab­its a face. It was sug­ges­ted by Waana Dav­is, who spoke at the launch, that an All Black should own this car. And this is where Toi Māori are pos­i­tion­ing Māori art and design — along­side high-end brands like BMW.
The design is by tā moko artist Derek Lar­del­li and the car will be fea­tured at the mar­ket along with paint­ing, ceram­ics, sculp­ture, carving, weav­ing, tex­tiles and jew­ellery from artists all over the coun­try. Espe­cially excit­ing is the inclu­sion of pieces by altern­at­ive up-cycled fash­ion artists Dav­id Roil, Char­maine Anthony and Suz­anne Tamaki. Watch out for events at Te Papa as well as the mar­ket itself, from 7 to 16 November.
[info]
Novem­ber Art
The Dowse is always worth the trip. At the moment, Eliza­beth Thompson's install­a­tion of moths cluster on the wall of the gal­lery just off the entrance — as if they were attrac­ted to the light of the walls (Invit­a­tion to Open­ness, until 23 Novem­ber). Next door is the truly beau­ti­ful Peter Pery­er exhib­i­tion, A Care­ful Eye (until 23 Novem­ber). Organ­ised in groups around the walls, Peryer's pho­to­graphs spark new con­ver­sa­tions with each oth­er, while high­light­ing the con­sist­ency of his vis­ion over the years.[/info]
Mary-jane is a Paekakariki-based poet and essay­ist, and Fish­Head's art colum­nist. She teaches poetry and aca­dem­ic writ­ing on the Whiyireia Cre­at­ive Writ­ing pro­gramme, tor­tur­ing stu­dents with half-rythmes and pan­toums, zom­bie haiku, and line breaks, ref­er­en­cing and struc­ture. Duffy has a back­ground in museum and gal­lery work, mak­ing a lucky escape from the base­ment of the City Gal­lery Wel­ling­ton in 2002 and open­ing the Mary New­town Gal­lery with Paula New­town in 2004. Art (across all the dis­cip­lines) feels like the closest thing she has to reli­gious exper­i­ences — see­ing, read­ing or hear­ing things that make her brain fizz.